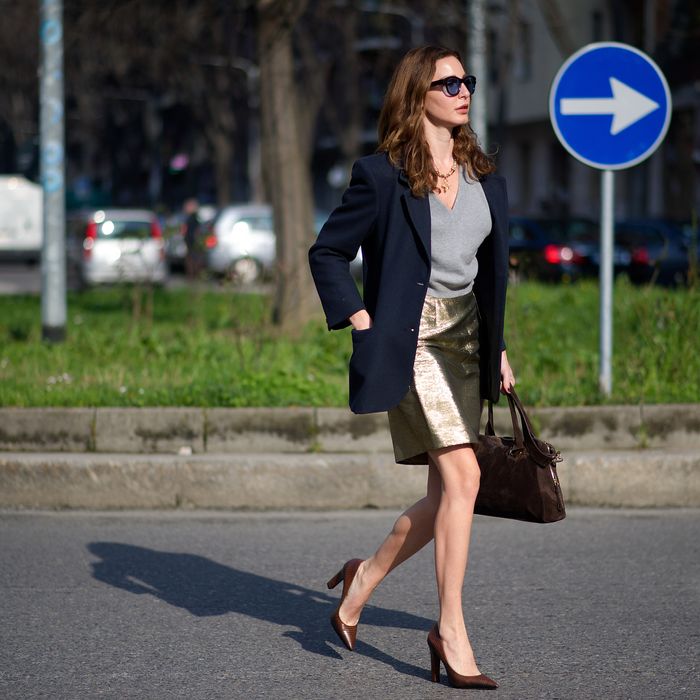 Photo: YoungJun Koo/I'M KOO
One night a few years ago I left my apartment in Corso Indipendenza wearing a new pair of 4.7-inch Gucci stilettos when a dog started growling at me. I was startled: I'm a huge dog-lover, and on any given day an average of 20 dogs walk up to me with big grins on their adorable faces and I give them an affectionate petting. What was going on? His owner, a lady, was quick to reassure him: "Hush boy," she purred. "That girl," pointing disdainfully at me, "is just having a hard time walking straight in her new heels."
I slunk away in shame — thankfully without tripping — but the embarrassing feeling stuck with me for a while. I'm 31 now, and while I'm not sure I'll ever completely master the fine art of being an Italian woman, I've come a long way in the shoe department. Here are a few hard-won tips I've picked up for walking — gracefully and comfortably — in heels.
Size matters.
As any Italian woman with some fashion sense will tell you, there is no legitimate middle ground for heels. It's either flats or real heels — anything below 3 inches is considered cheating. Heels up to 4 inches are very comfortable to walk in as long as the shoe is carefully designed; 4.5-inch heels are manageable by literally everyone if you've had enough practice, and a 1-inch platform can help keep you safe in 5.5-inch heels. Heels higher than that? We'll pass.

Your height doesn't.
If you feel like it, you can wear heels even if you're tall. And no, you don't have to wear heels if you're petite. Heels aren't about looking taller — they're about looking fierce. I am tallish at 5'8'' and I wear high heels all the time. At 6'2'' sometimes I'm the tallest person in the room. Do I feel like Gandalf summoning the Hobbits? Sometimes. It is still worth it. 
Fit really matters.
Every self-respecting Italian woman has a trusted calzolaio, or shoe repairer, who will competently file your heels to suit them specifically to your feet. Don't skimp on maintenance, either.
Design is key.
This is oh-so-important. While you can get away with poorly designed flats (rubber ballet flats attached to a tween magazine for $1 extra? I don't see why not!), you definitely want to avoid cheap heels. They will give you blisters and make your feet hurt, yes, but more important in the long run they could affect your posture and damage the bones in the soles of your feet. Before you pick up any pair of high heels, try the shoes on in the late afternoon when your feet are a bit swollen. How do they feel? Are your feet yowling like a baby fox caught in a trap? Not okay. 
Know when to name-drop.
Here are a few of my favorite Italian shoe brands in terms of comfort. It doesn't hurt that they make incredibly beautiful shoes, either. My go-to response, which is only a bit of a lie, is that heels are as comfortable as slippers. It's almost true in case of Sergio Rossi's stunning Cachet pumps. The Milanese fashion brand makes some of the best shoes around. Salvatore Ferragamo's feminine creations have the sort of subdued elegance and grown-up charm that girls start finding quite appealing when they feel they're becoming more of una signora — "a lady." No-nonsense Fratelli Rossetti shoes are the way to go when you plan to wear heels for a prolonged amount of time: They are sturdy and perfectly designed with a marked Milanese elegance. Luciano Padovan's creations, on the other hand, are more blatantly sexy — even what would be a mid-heel office pump gets a touch of the stripper-heel treatment with the Milanese designer.
Walk, don't run.
There are really no shortcuts here — the only way to learn to walk in heels is to do it a lot, practicing first with easier shoes. The basics: Don't walk on eggshells; do not tiptoe; step the heel first, then the tip of the foot. The more surface the shoe has, the easier it is — you might want to start with tight-fitting ankle boots (bonus point: pretty!).
Pick your battles.
High heels can be good for the soul, but they're not particularly good for your body. Choose when to wear them wisely. In Italy, you're expected to wear them by day to formal functions such as weddings and battesimi or christenings — we have many of them here — and by night whenever you're attending a special occasion. What makes an occasion special? Sometimes it's just the wearing of the heels themselves.