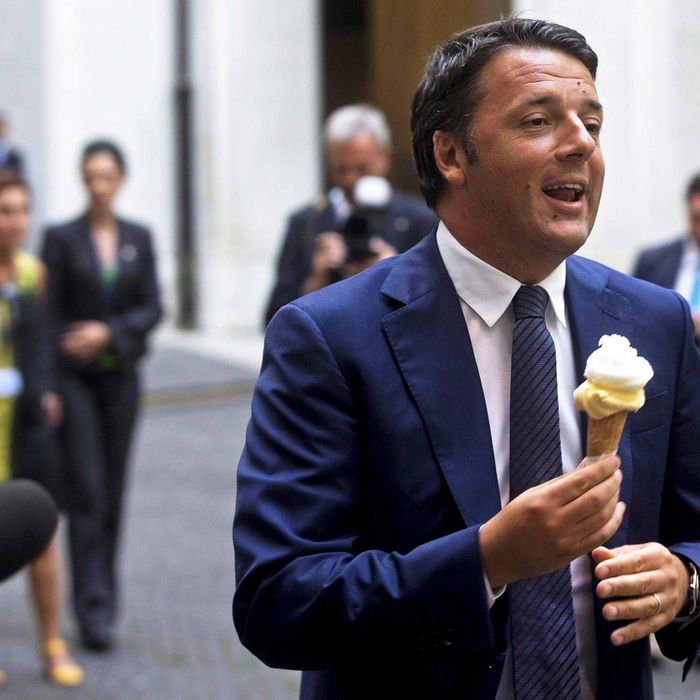 Photo: Claudio Peri/epa/Corbis
The first-time tourist who lands in Italy might be impressed by the style of Italian businessmen (and, yes, they are all men): the enormous tie with a massive Windsor knot, the shoes (brown, as if just carved out of a secular oak), and that tan, prodigiously natural compared to the orange hues of their Northern European or American counterparts. Not to mention, of course, the unique touches of Italian fashion, such as the sumptuously manicured side-brows, the tweezed-to-death eyebrows, and the random touches of originality (is that really a pocket?).
 
But even a short trip up and down the peninsula quickly reveals an ancient code, a color scheme of power accessible to all though wielded by few.
If you were impressed by that daring brown suit President Obama wore during a televised interview on terrorism, then you may be disappointed to learn that the language of power in Italy takes place exclusively in shades of blue. And each blue means something different. Once again, the old north-south divide is at play here. No serious Milanese bureaucrat would be caught with anything less than a black or — on casual Fridays — dark-blue suit, whereas below Florence you are freer to explore a coloristic landscape that might recall a Saint Laurent 1970s bag or the Yves Klein fakes on sale in art galleries in alpine resorts.  
 
Recently, right outside of Palazzo Chigi in Rome, the new Italian Prime Minister Matteo Renzi posed for a photo op with an ice cream in response to an Economist cover warning of economic inaction. What struck me most about the picture was not the silly prank, but the color of his suit. The former mayor of Florence, currently running the country with a tough series of tall orders all centered on notions of efficiency and just-on-time punctuality, was sporting the strongest sign of Roman power, the terrifying "bluette" suit. This color, which the French and Italian call "bluette," and which in English might be translated as "bright blue" or "royal blue," was the surest sign yet that Renzi, despite the gelato, means business.