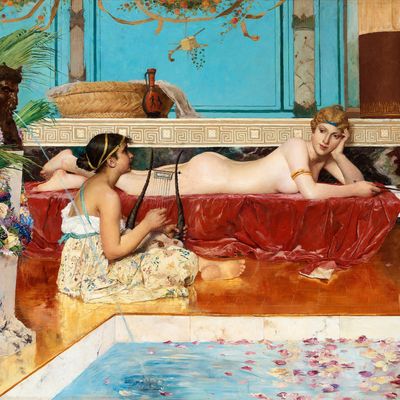 Photo: Fine Art Images/Heritage Images/Getty Images
Soon after we moved to Italy to open our new hotel we decided to try out massage therapists for the property. I distinctly remember the first tryout with a rather handsome man who also happened to be our second chef. I was lying on the table — front up — and to my surprise he removed my towel, poured oil on my nipples, and then for a good five minutes massaged my breasts. It wasn't erotic, but it wasn't completely mechanical either. "Perhaps," I ventured tentatively afterward, "you should ask our clients if they want that part of the massage before touching their chest. In America, we don't do that, especially when it is a therapist of the opposite gender." He looked at me with surprise, and said, "But surely they want their pectorals to be relaxed?"
After living here almost a decade, I have become entirely at home with this aspect of massage in Italy. (Although I do always suggest that masseuses inform our guests of this part of the therapy in order to avoid any embarrassment on either side.) But I am still amazed at the particularly strange mix of modesty and complete lack of it here, a cultural norm where pharmacies have no problem advertising cellulite creams with a full-size sexualized photo of a perfect pert ass, while there's also a prudish air against letting children run naked on the beach.
Case in point: the paper panties that you must wear during treatments. In most massages I have had the world over, you get to choose if you wear the disposable underwear left on the table, but in this country, not wearing them is a decided affront. We will whip off your towel and pour hot oil on your boobs, but don't think about taking off those ill-fitting and uncomfortable cardboard briefs.
I can always tell who are the German tourists and who are the Italian ones when I go to one of the spas in the northern part of the country. The Germans have absolutely no issues about taking it all off (nota bene: Leather sandals and hairy balls do not a good sight make) whereas the Italians will always wear a bathing suit even in a single-sex sauna or steam room. While we are on the subject of hairy balls (sorry), getting waxed in this country (except perhaps in Milan) is not the "completely bare" model of my Manhattan days. A bikini-line cleanup is fine, but if you ask to take it all off or even for a narrow landing strip, an uncomfortable silence descends and you will end up only with a conservative approximation of the request. I sometimes think about what they would say about the complete Brazilian of the J. Sisters kind, or the Completely Bare Swarovski crystal designs sometimes displayed on the otherwise-hairless downtowns of Upper East Side ladies.
There are some treatments in my new home country that are of a completely different emphasis than I am used to. For example, I love an intensive facial, one that involves extraction, including an old-fashioned needle, microdermabrasion, and a pain level close to a first wax experience. In this country, it is more an exercise in applying various creams, a fluttering-finger face massage, and machines that emit strange noises but don't leave any lasting results. It's not that it is an unpleasant experience, but for the months-lasting effect I get from places like New York's Christine Chin or my London favorite Peach on the Hill, it isn't comparable. So I tend to get massages and body wraps here, but wait until I am out of the country for my facials.
But going back to the pert backside. They have an expression in Italy: "liceo, museo," which basically is slang for a woman who looks like a person from high school (liceo) from the back and a museum (museo) from the front. Horrible, I know, but I have to admit that it is also kind of accurate. I sometimes see a woman sunbathing on her tummy who looks like a no-cellulite 16-year-old, but when she gets up she is actually closer to 60. I think some of it is a good diet and genetics, but having done my share of body wraps and "detox" treatments here, I do think they have some great potions for keeping the physique lean and not bumpy.

So here it is, my almost decade-long advice for spa-going in Italy: Go for the massage but expect some second-base action, get waxed beforehand if you want a full monty, try out the body wrap even if it sounds outlandish, and, whatever happens, don't ever take off those paper panties.
Five of my favorite Italian spas:
1. Vigilius Mountain Resort, Dolomites: Along with a gorgeous location in the Italian Alps (you can only get there by cable car), the spa here is breathtaking, with views of the snow-capped Dolomites from the sleek indoor pool. Don't miss the anti-cellulite, mountain-pine body treatment.
2. Yhi Spa and Fitness, Gran Melia, Rome: This tiny but lovely spa in the basement of the new Gran Melia Hotel right by the Vatican offers some of the best treatments in the Eternal City. While not Italian, the reflexology option is the bomb after a day of sightseeing on your feet.
3. Armani, Milan: This relative newcomer in the heart of the country's fashion capital is the opposite of the see-and-be-seen vibe in the rest of the city. Here an Asian Zen vibe permeates the place while the floor to ceiling windows give you a birds' eye view of the skyline. I love the "Fluidita" massage that involves jade oil to detoxify and promote lymphatic circulation.
4. Spa at the Four Seasons, Florence: I went to this destination spa soon after the hotel opened, and I go back as often as I can for the simple but incredibly effective organic-lavender massage, which leaves me completely de-stressed. Afterward, I always take time for a stroll in the 17th-century gardens, the best antidote to the tourist hordes in the center of town.

5. Vair Spa, Borgo Egnazia, Puglia: Talk about gorgeous indoor pools: This one would leave a Roman Emperor jealous. Perhaps you will want to avoid the shamanic dance therapy, but I love all the local products they use for the more straight-ahead massages and body treatments.