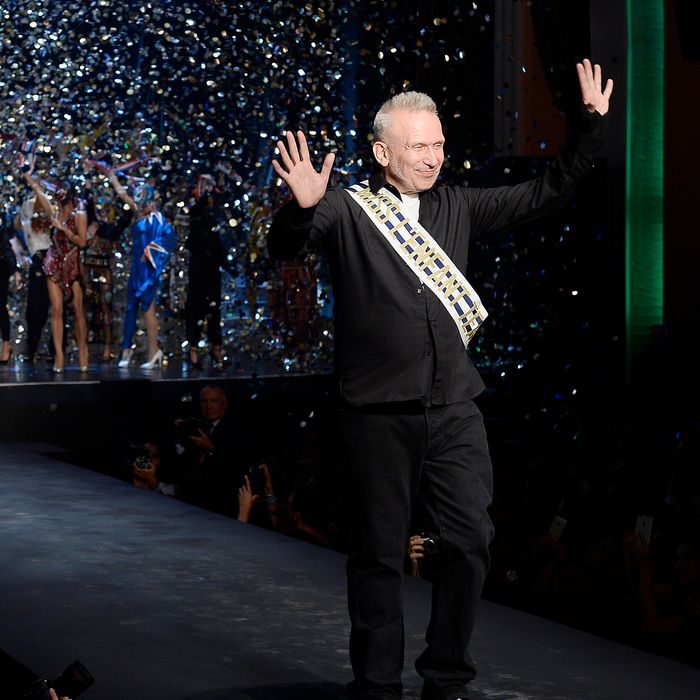 Yesterday Jean Paul Gaultier, Paris's greatest showman, bid adieu to ready-to-wear with an explosive beauty pageant spectacle at Le Grand Rex cinema.
Models portrayed contestants competing for the title of "Miss Jean Paul Gaultier 2015," and came down the runway in front of an audience of about 2,800 people — including Catherine Deneuve, Boy George, Alexander Wang, and Pierre Cardin — that filled all three levels of the largest movie theater in Europe.
It was a fitting look back to the designer's 38-year-long career — and even featured a soundtrack filled with old favorites, including "Vogue" (Gaultier designed the costumes for Madonna's 1990 video). RuPaul's Supermodel served a bilingual emcee introducing groups in nine categories, including Miss Redactrice De Mode (Miss Fashion Editor) — Gaultier's cheeky renditions of top fashion editors like Franca Sozzani, Carine Roitfeld, and Grace Coddington. Miss Vintage paid tribute to women of a certain age, like the 83-year-old Carmen Dell'Orefice. Coco Rocha was crowned Miss Jean Paul Gaultier, and when the designer came onstage, a celebratory stream of confetti fell from the ceiling.
"Thank you to the editors and the faithful who have supported me all these years," Gaultier wrote in the show's program, but for number of those in audience, it was all about paying tribute to him. The Cut spoke to designers and to an editor in the crowd about Gaultier's departure from ready-to-wear.
"It was fun. It was an expression of joy, but mainly I was here to honor Mr. Gaultier. He's one of the biggest aesthetic cultural icons of this generation and I want to completely endorse that. To be able to support that is an honor." —Rick Owens
"He made me want to be a fashion designer, so I'm here to celebrate him because he was one of the designers I saw and thought, Wow, he looks cool, he looks fun, he has a sense of humor. Wow, this was someone you would go and hang out with. He wasn't stuffy and wearing a suit and being really boring like a banker, and I want to show that love back to him. He knows it personally, but I want to show it to everyone that he still is one of my favorites always and forever." —Jeremy Scott
"It's a sad moment. It's a pity. [He's] such an icon, and it's really a pity that somebody who did so many incredible things has to stop, and it's not that he really wants to do it, I think, it's really because he has to, and that's a pity, the fashion business is so tough." —Walter Van Beirendonck
"I grew up with Eurotrash, that amazing program he used to do with Antoine de Caunes. He's just been someone who's always been there in my consciousness. It's kind of like a celebration of the icon that he is. Tonight is kind of a happy night. It's like a celebration of all the amazing things he's done, and I'm sure there's a lot more in him that we'll see, so I think it's fair to say that he's not going to go out without a bang. I'm quite excited to see what it is. I've never been to a Gaultier show before." —Gareth Pugh
"I think it was great. I love it. It was funny. It was really funny. Fantastic career and that we can only admire him." —Franca Sozzani