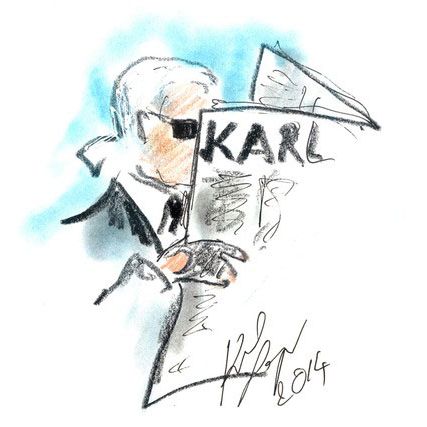 In a move straight out of the 18th century, Karl Lagerfeld has announced that he is launching a "satirical broadsheet." (Between this and the powdered hair, he's really channeling the Enlightenment.) In a few weeks, 150,000 copies of the paper, titled The Karl Daily, will be distributed in Europe and Asia. In a "Media People" Q&A with Women's Wear Daily today, the would-be Voltaire confides, "I'm a paper freak." He is, after all, known for his penchant for sketching and his impressive library, and he says that he reads as many newspapers as he can. "Somebody in the 18th century once said, 'I'm reading because I don't want to think'," the budding pamphleteer tells the paper. [It was the Portuguese poet Fernando Pessoa.] "I read because I like to read, not because I don't want to think." He's not a fan of iPads, finding them less sensuous than paper. But the same doesn't go for other Apple products: "I can't wait for the iPhone 6. It's my only ambition in life to have it quickly."
Several other things come in for the designer's ire: for instance, overly cumbersome coffee-table books ("They're coffee-table books for people who drink alcohol … They must not look like gravestones on a table. Sometimes they are too big, they come in boxes and things like this. No, a book has to be easy to open and you don't have to be a bodybuilder to lift it. I like books I can read in bed. Those big tombstones would kill me.") Social media: "I  don't do it for personal reasons because I don't want anybody to get inside my private life. I have no desire to share anything with unknown persons. Those social networks, there's something sad about them. Is it because they don't have enough knowledge about friends and people? I don't understand it. It's like a talkative mirror where people talk to themselves." Selfies: "And what I hate most in life is selfies." (Even imagining the Kaiser uttering the word "selfie" is an instant mood-lifter.) And don't get him started on blogs, but here he goes anyway:
Blogs are a little overrated. But in a way, it also changes something because the established writers have to make an effort. Because today people go on the Internet, on the blogs, so don't be too much like a fashion teacher, no? Don't be heavy, huh?