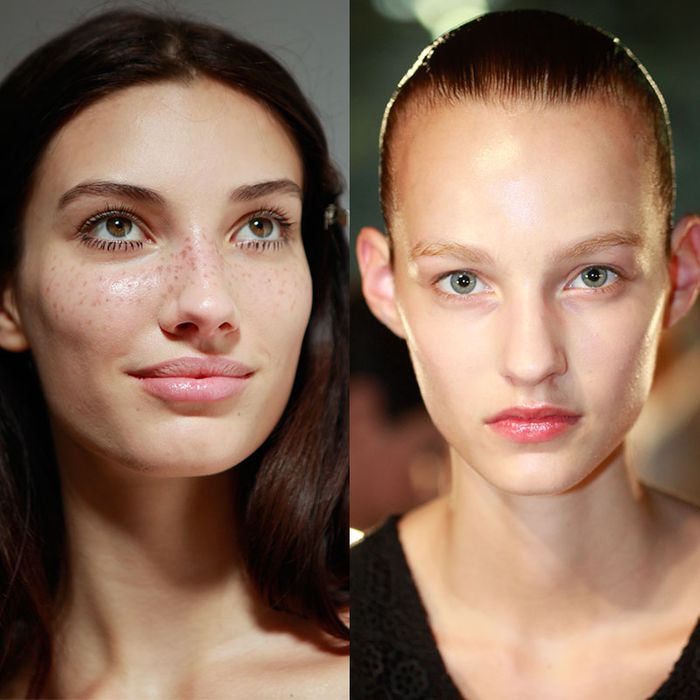 Last fall, mascara was the big beauty no-show at Fashion Week, but this season it's lipstick that's conspicuously missing.
The beauty looks of Prabal Gurung, Adam Selman, Alexander Wang, Thakoon, and Jason Wu have all featured plain lip balm on models — and some shows, like Creatures of the Wind and Tess Giberson, have shown the lightest of lipsticks and glosses to actually create a "my lips but better" look. But why? Makeup artists Diane Kendal (who created four of the no-lipstick looks) and Tom Pecheux explain:
Diane Kendal for NARS Cosmetics: "For this season, it just doesn't feel relevant to do a lipstick. And sometimes, with the lips, unless you are doing a neon color, it can look a little old-fashioned, especially on the runway. Sometimes, lipstick can look a little retro."
Tom Pecheux for MAC Cosmetics: "For me, as a makeup artist, I like either no lipstick or tinted balm or a real, pure, bright matte lipstick or a real glossy lipstick. There are also two different types of makeup. One where you don't see the makeup and it makes you feel and look better. And the other, which is colorful, which is to show something. Like, look at this girl with the glasses. Imagine her with no lipstick. The lipstick is there to put a point and character on her face. That is what the makeup is for. But for me, I'm a big fan of the makeup you don't see or only of lipsticks that are bold because then it isn't boring."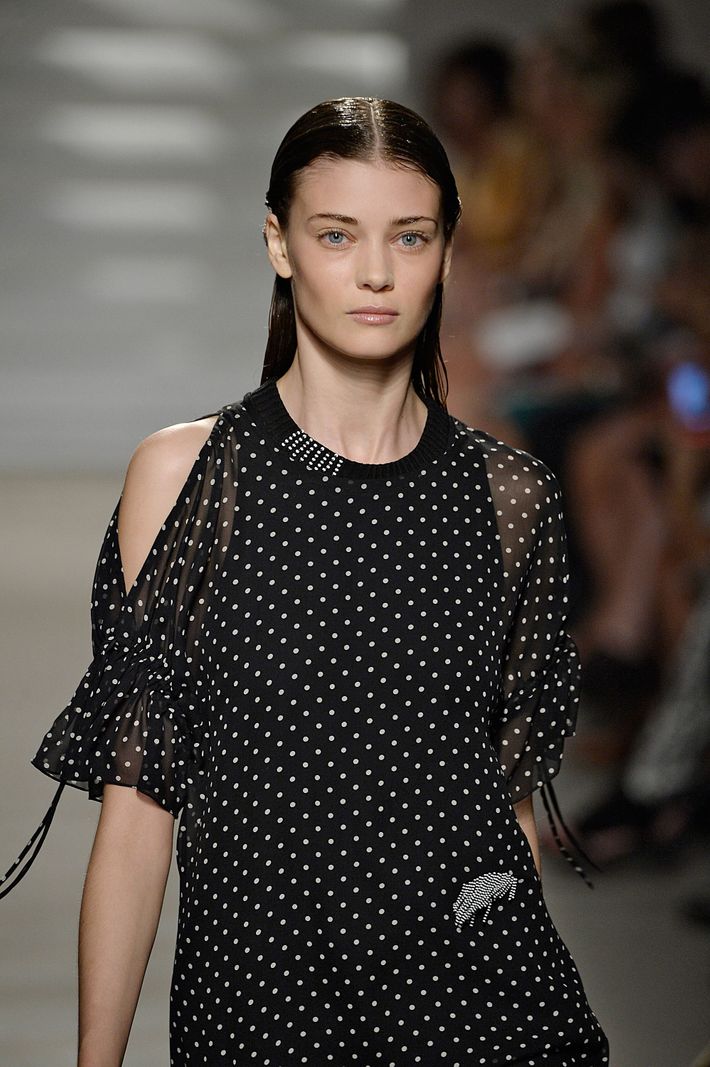 Here are a few other guesses: In the past few years, lipstick has evolved from retro to modern to street-style catnip — there's a possibility that it's rotating back to retro once again as a result of oversaturation. The clothing we have seen this season has been largely inspired by athletics — and a jaunty red lip doesn't look quite "right" paired with a sweaty ponytail. Or perhaps, we're all just really tired of hearing the phrase "bold lips." Either way, consider this to be another runway makeup trend we're one step ahead on. It's getting easier and easier to be on-trend for spring 2015.
See the full Alexander Wang show here.
See the full Prabal Gurung show here.