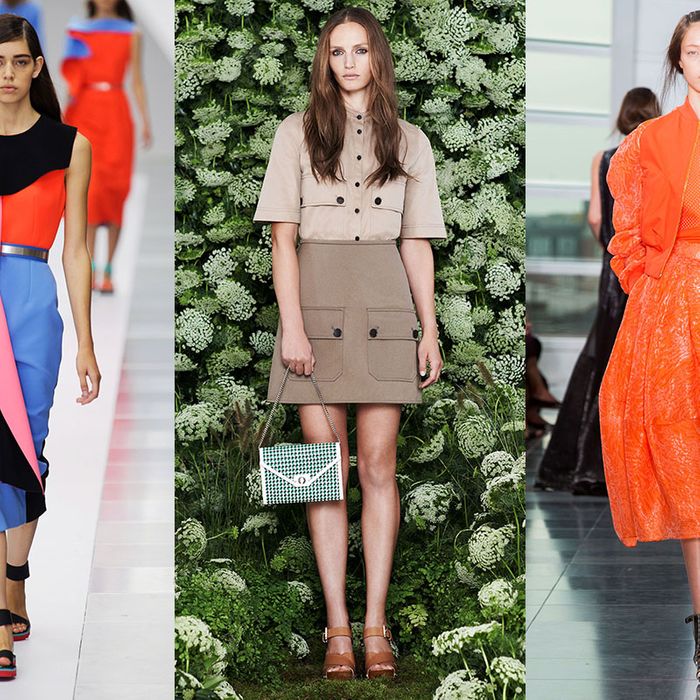 Photo: Imaxtree, Courtesy of Mulberry, Imaxtree
At London Fashion Week, being the first show on a Monday morning is a bold move. There's a high risk of losing guests who get stuck in the horrors of London traffic, not to mention those brave but unfortunate souls who are relying on rush-hour public transport (like civilians! Imagine!).
On the other hand, get the vibe right and you can offer a brief, refreshing moment of early morning calm to a crowd that really needs it. Antonio Berardi's bright, eighth-floor runway in wealthy Mayfair this morning felt like the perfect location for a 9 a.m. start.
Berardi is a designer who has excelled in the kind of structured, hourglass cocktail dresses best worn by "starlets," but today's collection saw new, looser silhouettes: full, shin-length skirts worn with boxy sweaters; dramatic, floor-sweeping evening gowns; and puffed-up, blousy sleeves. Those who prefer the body-con look needn't worry, however — pencil-sharp trouser suits and the occasional short hemline also featured.
It was straight on from there to Roksanda, who recently dropped the "Ilincic" from her brand — which made sense, as nobody used her last name anyway. This latest collection is full of the signatures that make her work so recognizable. There are neck-to-knee cascades of folded fabric, revealing contrasting colors. There are nipped-in dresses that skim down to mid-calf — and those neat little metallic belts that hold everything immaculately in place. These are the much-loved trademarks of her aesthetic — the details that have made her clothes popular with elegant women like Cate Blanchett.
So maybe the designer is sensible not to stray too far from a winning formula. But there are also new elements for SS15 — some shorter, sportier silhouettes and almost garish digital prints. To a soundtrack of heavy, industrial beats, she also showed embroidery and embellishment inspired by brightly colored wiring. It was fresh enough to attract new customers without losing the loyal fans.
Over at Mulberry, a low-key presentation marked a year since the last real show. The brand is yet to announce a creative director to replace Emma Hill, so in the meantime, the ultraluxe shows they used to stage at Claridges are on hold — and they are sorely missed.
There are things to be very grateful for, though — including an exciting new star in the bag collection. The Delphie bag closes with a flap that can be wrapped around in either direction, providing two different color ways. It's hard to imagine, but essentially it's the bag equivalent of the reversible coat you were so proud of when you were 11. The Delphie is a continuation of the "two bags in one"idea that Mulberry hit on with the Willow, and it's likely to be a commercial hit. Next season, surely, we'll see it coming down the runway on the arm of some supermodel.
See the full Spring 2015 Antonio Berardi show here.
See the full Spring 2015 Roksanda Ilincic show here.