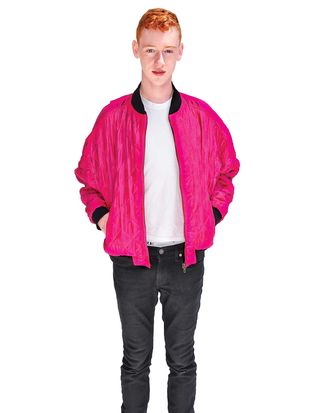 Photo: Lucas Michael/New York Magazine
Jamie McGregor, Student
Back to school yet?
It's go time! I'm in the middle of auditions; I'm a sophomore in the dance conservatory at SUNY–Purchase and am trying out for different classes. When I perform, I kind of go blank. I do all the movements, and I guess I do them well, but I don't really remember a lot of what happens while dancing; it just happens.
Do you go to the city on the weekends or stay in Purchase?
Mostly we stay. Dancer parties here are crazy. We can put our limbs pretty much anywhere. There's loud music, dancing on the walls, handstands, splits, twerking—though twerking is kind of going out of style.

Where's your jacket from?
A thrift store in Harrison, New York. There are really wealthy people who live around here, so you can find great things for cheap. Comme des Garçons is my favorite brand—you can dress it up or dress it down, but you just look like you have money when you wear their clothing. And who doesn't want to look like they have money?
Lightning Round:

From: Maspeth.
Favorite TV show: Grey's Anatomy. "I'm rewatching the whole series for the third time."
Social media of choice: Instagram. "But I'm no selfie queen. I much prefer things that are going on around me than, like, me."
Tattoos: One. "I have my initials—J.M.—on my forearm. It's a 'stick and poke' that my friend gave me at a party."
Favorite restaurant: "Is it okay if I say Chipotle?"
Favorite New York street: St. Marks Place.
Relationship status: "Single and ready to mingle."
*This article appears in the September 8, 2014, issue of New York Magazine.