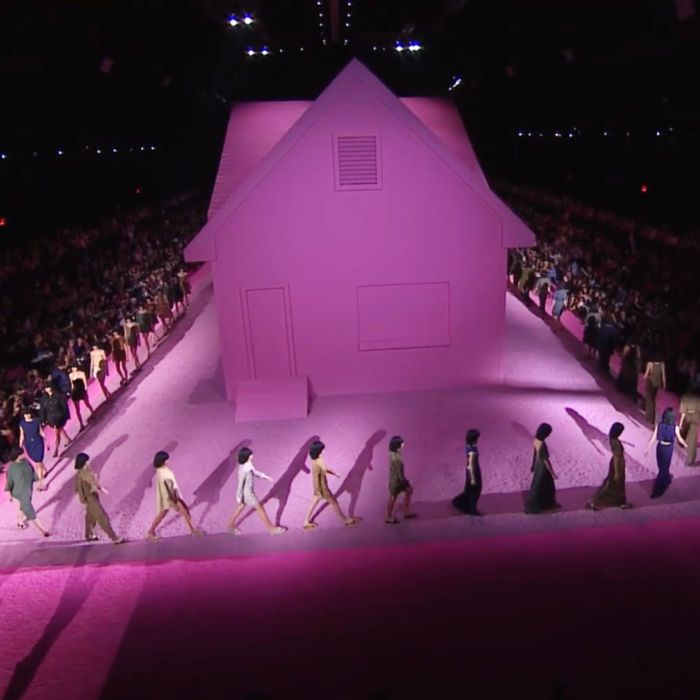 At the dot of 5:59, a woman carrying a toddler practically dove into a pink-shag-carpeted front row of the Park Avenue Armory as the photographers' pit jeeringly counted out. "One, two, three!" André Leon Talley, wearing a maroon dinner caftan, watched the scene impassively.



As usual, the Marc Jacobs show began on time and unfolded with military precision. That extended to the clothes — gold-buttoned coats and jumpsuits in olive drab, khaki, and navy, accented with oversize buttons and flower appliqués, and each topped with identical Polly Maggoo-meets-Patti Smith wigs. The models circulated around a massive Pepto-pink farmhouse that was constructed specially for the occasion. As Kendall, Gigi, Hanne Gaby, and all the other faces du jour — rendered identical in their Marc mufti — walked the pink gravel runway, showgoers listened to a recording on Beats by Dre headphones that were attached to every seat (following on the heels of Thom Browne's story time, it looks like spoken-word soundtracks are a burgeoning trend).
The automated male voice sounded like the kind of recording you encounter on hold with your bank — strings of disconnected phonemes. In this case, it uttered creepy, sometimes funny demands, like asking for a dog to bark in a style that resembled an early '80s hip-hop effect. He seemed to be narrating a domestic scene — the girls at home, jumping on the bed, a loyal dog at their sides, an Olivetti typewriter clacking away. Stefan Beckman's set, with its cutesy take on the pastoral and homey, intentionally contrasted with his clothes. If last season was all about keeping your head in the clouds, this season, reality felt unavoidable. While Jacobs has done military before, notably for spring 2010, he's always leavened it with a bit of femininity and whimsy. Here, he went for severe, largely unadorned silhouettes that read as straightforward army clothes. The dissonance between the clothes and the rest of the elements seemed inspired by uncertain times, where one minute we're fantasizing about escaping to a simpler life and the next taking up arms against unknown enemies.

As the models made their final circuit, everyone's phones were held aloft to the house, expecting it to burst open or reveal some sort of tableau — Rachel Feinstein doing performance art, perhaps, or campaign star Miley Cyrus doing a jig. Instead, it ended with an understated bow. Other shows may leave us feeling smugly satisfied, but Jacobs always leaves us wanting more.