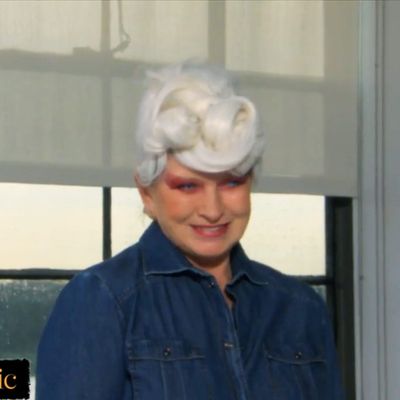 Sometimes, when she's too keyed up from the fumes of hot glue, Martha Stewart has a little relaxation exercise she uses to help her sleep.  She'll rest her head among her plump Down pillows and think to herself, Is there a blonde female multi-career mogul that I cannot outdo? And with visions of Gwynnie, Blake, and Reese dancing in her head, she relaxes into satisfied sleep.

Occasionally, there is one blonde who causes Martha's eyes to snap open and her body to break out in a cold sweat. Heidi Klum, she yells into the night. Why must you rival my Halloween passions with your epic parties and costumes? You already have Project Runway! she wonders, as she fights the urge to write "Are You in or Are You Out" over and over again on the walls with puffy paint.
Well, Martha is coming for Heidi's lunch. And she wants it in a fancy bento box so she can take it to go. This Halloween, Martha's decided to turn her legendary costume crafting over into a Project Runway–inspired design competition. Shriek or Chic, her six-episode web series, will follow three contestants as they try to create a winning Halloween costume for the DIY queen herself. What will happen when a starry-eyed FIT grad, a bougie chick who's been obsessed with Italian tailoring since she was an infant, and a scrappy teen who loves home ec all come together to make sure Martha Stewart's Halloween is the best? With their help, will she finally best the Klum?
Now, there are few souls on Earth who love Halloween more than Martha Stewart. Not a Pagan, nor a child who can only have sugar one night a year, nor a delinquent teen with a year-old carton of eggs and the gym teacher's address. Nobody. I'm not saying the loser will be trapped in some kind of fondant-rolling purgatory or anything, but good luck trying to top this Martha masterpiece, guys: