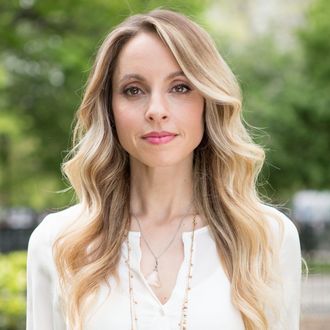 Transcendent Beauty – SK-II Series on Lifestyle & Skincare
SK-II's miracle ingredient, Pitera™, was discovered after noticing how remarkably soft aged sake brewers' hands were, in contrast to their wrinkled faces. Scientists discovered that a mix of vitamins, amino acids, minerals, and organic acids in the brew triggered skin's natural rejuvenation process. SK-II believes in the link between a healthful lifestyle and healthful skin. In part 4 of a series that delves into the connection between a balanced life and balanced skin, we explore how meditation affects your outer beauty.
A decade ago former publicist Gabrielle Bernstein had to hit a low—rehab, for substance abuse—in order find her salvation: meditation. Since then, she's been spreading her non-religious gospel of mindful thinking across the country, along the way, landing on the New York Times best-seller list and winning an acolyte in Oprah Winfrey. Meditation may have initially kept her sober, but as her flawless complexion will indicate, it's made her profoundly happier and healthier.
"You don't have to be a drug addict on your knees to need to de-stress. Everyone suffers in their own way. Unfortunately, stress is a massive epidemic. Even the most highly evolved spiritual teachers are stressed out!" she says. "We need a solution to the massive destruction this is causing in our lives. We all want that."
There are no excuses, Bernstein points out, because the act of meditation doesn't have to be time-consuming to be effective. "If you can meditate even one minute a day, that repetition in behavior will create long-term change," she says. "A lot of people are afraid of stillness, and afraid they can't calm their minds. I give away a ton of free meditation resources. That's a big part of my work. All you need is to be willing. And that willingness will open the door for you."
Best of all, meditation is a no-risk practice. "We have this tool that has the power to heal. There are tremendous health benefits to meditation: lowering your blood pressure, creating more sustainable energy, releases irrationality, supports your lymphatic system," she says. "It's quite simple: If you're reducing your stress through this process, you're reducing inflammation in your body. Meditation has even cleared up my skin."
A healthy lifestyle incorporates an all-natural beauty regimen. Bernstein is dedicated to achieving both clear mind and a healthy visage. SK-II Facial Treatment Essence, which enhances the skin's natural renewal cycle, is another foundation for clear skin.