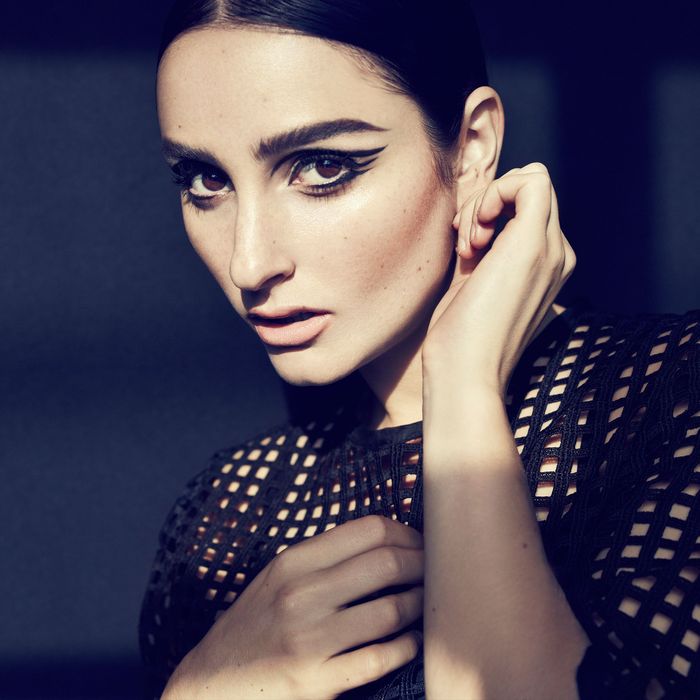 Photo: Williams and Hirakawa
This past Fashion Week in New York, there was nary a day without at least one performance by the Los Angeles–based soul singer Jillian Banks. It had a little something to do with the release of her debut full-length, Goddess (Harvest Records), on Tuesday — but even if her album weren't so fortuitously timed, she still would have been all over the after-parties. In the past year and a half since she dropped "Before I Ever Met You," her moody first single about a tumultuous relationship, she's become a celebrated musician to watch and the toast of the fashion world for her equally moody style: all Los Angeles black in flowing drapes and floppy hats.
Accordingly, Goddess is full of dark, opaque harmonies layered on futuristic R&B beats by excellent British producers like Jamie Woon, Lil Silva, and Totally Enormous Extinct Dinosaurs. In person, when the Cut nabbed 15 minutes of her time in the Dream Hotel lobby between styling and makeup sessions, she was centered, gregarious, sweet, and a little bit giggly. We spoke with her about sensitivity, skin care, and getting kicked out of a German fruit stand.

Your album is out today, in the middle of Fashion Week, and you've been everywhere. How are you holding up?
Good! Everything's been so crazy, and it's been over a year since I released my first song — a year ago this past February. I'd been writing for myself for ten-plus years privately, but hadn't been really too open about it. I kept it this little safe, special secret. Sometimes it would frustrate me because it was like this delicious, nutritious fruit in a box that nobody could taste. I just didn't feel ready.

Were you shy? Did you not think your songwriting was there?
No, the second I started writing I felt like my songwriting was there, because it's me! I never judge my own songwriting. It's just my heart. What's there to judge about your own heart? And if you're judging your own heart, then you write about it. 'Cause that's fucked up, to judge your own heart. Which is what guilt is! And I have a lot of songs about guilt.
But it was more because I didn't feel ready to let other people hear it. The most personal thing about me is my music. The most honest, pure thing in my whole life. If you meet me, you might not get to know me. If you hear my music? You'll get to know me. It's just, like, giving your everything to strangers, so I had to get to a point where I was at peace with that. It was just development in my own mind.

Is it scary to put that stuff out there? Your music is very intimate, but your live show kind of blows up the whole thing. You have a lot of presence and emotion live that maybe is not as up front in the production on your recordings.
It's funny, like, that's me at my most natural state. Me in my music and onstage — that's me without any fears of judgement, that's me when I'm shining. When my soul that I was born as is being itself. Everything else when you're in real life — I'm also really sensitive so I can, like, swallow peoples' energies, but when I'm onstage, and when I'm writing, I don't have to think. I'm just me, and I'm untouchable.
Up until a year and a half ago, I was so very private. I don't know why exactly. But it's new, to be doing everything and have my face everywhere. I know that it's in all these interviews that I don't have a Facebook and everything, but it's really true; I didn't have a Facebook or Twitter. I didn't like when people would take one image and judge. I didn't like it. So it's all so new being out there.

So many people talk about quote-unquote millennials on the internet and how we're all so unable to disconnect. Do you think not putting that stuff out there was a sort of rebellion or reaction to that?
No, I'm just me! Maybe I'm a weirdo. [Laughs.] Really! I don't think about that. Nothing I do is thought out or planned or premeditated. It's just that I'm breathing and living! You just have to breathe and live. When I do things that don't feel pure or make any moves that I don't feel like represent me or who I am, it makes me feel like I wanna throw up. So I just do me, and I guess people just take that how they do.

Okay, you're everywhere at Fashion Week and becoming known as a very stylish woman. But when I first saw you live, I was also blown away by your contouring! It was perfect, not too overdone like a lot of contouring these days. Your makeup artist is Ashley Gomila — do you give her directives?
Yeah! I like feeling fresh and having really dewy skin. I like feeling moisturized and having a good brow. But I like being glowy, like a goddess. I'm sure everybody says this, but I try and drink a lot of water. I can really feel it in my skin if I'm not drinking as much water as usual. And now that I've been doing so many shows, I've been wearing makeup a lot more than I'm used to, and I've been having to wash my face a lot more, so it gets dry, so I moisturize a lot. I use Malin & Goetz cleanser, which smells good and is affordable.
Actually, my favorite moisturizer is from CVS. This oil-free, CVS moisturizer, the normal two-dollar one, is just the best. 'Cause sometimes those really expensive ones make you break out. It's funny, I've been on tour almost all year, pretty much, and I ran out of it but I needed it, so I had someone send me CVS moisturizer to Switzerland! [Laughs.]
Being on tour that much, I like to take a three-hour, weird meditative walk where I just turn off my phone and listen to music and let my mind go. Sometimes that's the only time you get to see cities, that one or two hours you get to do that. I remember my first tour, I went with the Weeknd, the first place we went — I think Vancouver, or something — it was so fun to be alone in a new city and wandering and having the weirdest experiences. One of my favorite things is to try delicious different fruits from different places, in Japan or other places that have different fruits you can't get in the States. So we were in Germany and saw this beautiful shop on this gorgeous street and the fruit looked so juicy and brightly colored. One of us touched an avocado to see if it was ripe — I guess you're not supposed to do that there. And the shopkeeper screamed at us in German and kicked us out of the fruit shop. It was like we were murdering his new child, and we just touched an avocado.