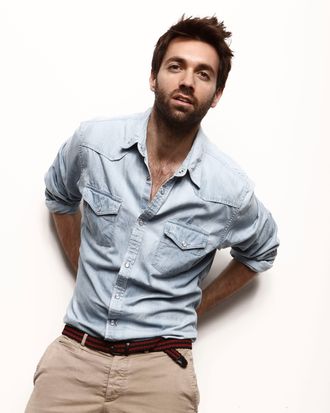 The most successful of Milan's young flock of designers is Massimo Giorgetti, whose well-priced, high-quality label MSGM has skyrocketed to commercial and critical success since it launched in 2009. Before his his spring/summer 2015 show this Sunday at Via Maiocchi in Milan, the 36-year-old fashion designer talked to the Cut about his advice for young designers, why it's always best to sleep on an angry email — and why he'd like to be Paula Cademartori's intern.
What was your first job in fashion?
I was a fit model at age 17. But my first real job was as a sales clerk at Nick and Sons, a beautiful store in Rimini that sold Tom Ford's Gucci and Helmut Lang.
What did you learn from being a shopboy?
I figured out how and when an item would sell. When we opened the boxes, I knew immediately when something would work.
What exactly was it that made people pull out their wallets?
Pieces that were strong and "wow!" — but also wearable. That was so long ago, but fashion is still the same in that respect. Another thing I learned was that heavy, heavy fabrics don't sell at all.
Did you ever go to fashion-design school?
No. The shop was my school. I am self-taught, I still teach myself. I visit exhibits, I read books. I never stop trying to learn.
How did MSGM come about?
I did my own capsule fashion collection at age 24 of jeans and sweatshirts. From there, I did five years of freelance consulting. In 2008 I wanted to do something on my own. I started MSGM with three friends — each letter is an initial of our names. [Editor's note: Giorgetti's former partners have subsequently left the company.]
Why was MSGM's concept successful?
Beautiful things that cost a lot of money are easy to make. It's very difficult to make a great product that is cool and that also has the right price. In 2008 [the contemporary market] was very developed in the U.S., but in Europe they didn't even know what it was.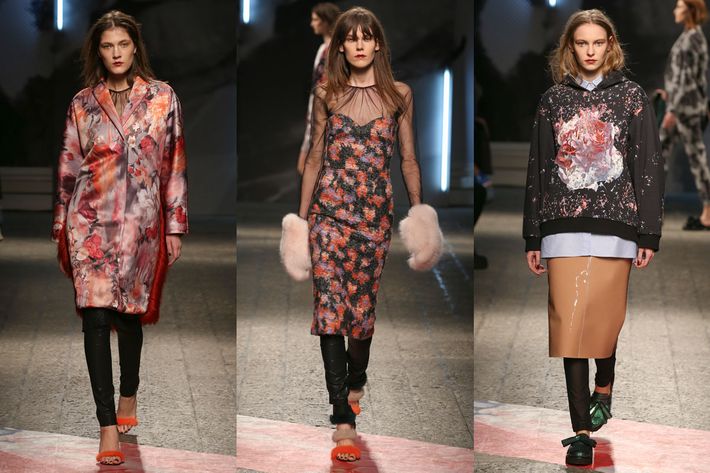 With everything made in Italy, how do you keep your prices reasonable?
When I have an expensive fabric like a beautiful lace or embroidery, I do a simple silhouette. When I have a more plain fabric, I play a lot more with volume and shape and details of the construction.
But you never get too fussy on the shapes, right?
We don't do any of that "witchcraft" fashion with all the weird extras and strange straps and huge sleeves. You need to feel good and comfortable in your clothes.
What's the key to your design process?
When we're doing fittings, the first thing I ask my team is "Would you wear it?" And then I ask, "When and where would you wear it?"  Because evening is easy [to design for], but it's disappearing. For my target — young, cool, and fresh [consumers] — evening no longer exists. It's finished.
How difficult is it to launch a new business in Italy?
If you have a new project and something to say, it can happen. What's hard is maintaining it and making it grow. You need a business brain, contacts, cleverness, a strong stomach. If you're not 50 percent a businessman today you're not going to make it. I had moments that made me cry, huge financial problems. I wasn't from a rich family. I was from a middle-, normal-class family. You need to have three strong collections in a row. If you mess up even one, you're screwed.
What other advice do you have for young designers hoping to achieve your success?
The other secret is sell out. That's what makes you grow. You can sell to stores, but if they don't sell, they won't rebuy.
So, what's the trick in achieving that?
You need to be clever and insert easy pieces they can sell: the lace shirt, the basic dress with a little detail in jersey.  Once you have 200 to 300 clients, you need even more of "cute, basic, and affordable."
Why aren't there more young Italian designers?
It's very hard in Italy right now. The economic and fiscal situation is dire.
But why weren't there more five years ago then?
In general, Italians are less entrepreneurial. In fact, the other designers you picked are foreign [Brazilian Paula Cademartori and Austrian Arthur Arbesser]. I want to be an intern for Paula [Cademartori]. I tell her all the time. She's such a great entrepreneur.
You are, too. Do you have plans to become the next billion-euro Italian brand?
Personally, I'd like to stay at this size. I'd love to have fun without having to launch perfume, T-shirts, and underwear and all the rest. But when you start a business, you have a responsibility toward the company and the people who work for you.
What's most difficult as you try to grow?
I hear from distributors telling me they want MSGM to become like Diesel, to sell only jeans and sweatshirts. It makes you want to tear your hair out. I used to be very impulsive. I was a bit hysterical. But then I learned a secret. If I am angry, I write an email full of insults, save it, and go to bed. In the morning, when I reread it, I almost always cancel it.
Is it possible you've matured into a fine, young adult, Massimo?
Yep, I've finally grown up.
MSGM is showing on September 21 at 3 p.m. in Via Maiocchi 5/7.