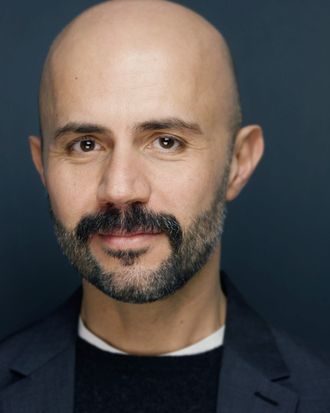 If you've been to any high-wattage fashion event in Milan over the past two decades, chances are you've tried Corrado Calza's food. The chef first dipped his toes into the style-set culinary world when he made minted pea soup for a dinner party Giorgio Armani threw at home. Together with partner Matteo Marciocchi, Calza's company, Food & Co., is now the go-to caterer for the city's top fashion houses, from Agnona to Zegna. And even more impressive: He remains the only chef Miuccia Prada trusts in the hallowed halls of her Via Fogazzaro show space. This season, Chef Calza was busier than ever, creating ricotta pyramids for Stefano Pilati's Egypt-inspired Agnona collection, fresh minted lemonade for the Tod's garden-party presentation, and an array of rustic crostini to accompany Mrs. Prada's postapocalyptic showing. The Cut caught up with him in between shows to talk gnocchi, Vespas, and why it's a mistake for a designer to match her food with her collection.
When did you first start to cook?
As a child with my grandmother in Milan. I remember making gnocchi with her, cakes, risotto, and all the traditional local things. I went to culinary school at age 15 in Milan, but it wasn't very well organized, so I left and studied geology at university.
What was your first food job?
I did an internship at Pasticceria L'Antica arte del Dolce di Ernst Knam. Then I went to work for Julie de Libran's [Sonia Rykiel's new designer] father's French bistro chain in California. Julie was a friend of a friend.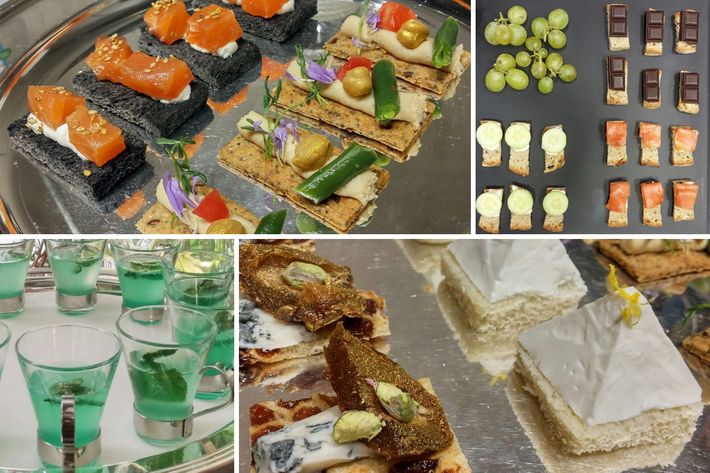 How did you start your own catering company in Milan?
I started working in my house in a very small, one-room apartment with my pentola [pasta pot] under the bed. During that time I made two dinner parties for Armani, and I was freaking out. I remember this cold minted pea soup and him coming to the kitchen and telling me it was really good and I went, 'Oh, thank god.'
What was your first fashion show?
It was a Neil Barrett presentation. He was one of my first clients. He still is. He doesn't do food at his shows anymore, but we organize the dinners at his house afterward.
What's the hardest part about making food for fashion shows and presentations?
The problem is that the more the food is good and studied, the less you can prepare it in advance. The difficulty is to think of something that is as beautiful and tasty as can be that can be done in big numbers and tight space.
What is your life like during Fashion Week?
I run around with a Vespa like the busiest delivery boy in town! It's typical that you forget something in the kitchen. Napkins, whatever. The most jobs we've done per day is five. For Vogue's Fashion's Night Out we once had 11.
What are the food trends in Milan these days?
A few years ago everyone wanted something that was the same color as their collection. I didn't really like the food like that, to be honest. You don't need purple food because the hair is purple.
How did you get involved with Prada?
They called me to reorganize the selling campaign catering, so I invented new menus for them. Then I started to consult on the shows. One of my first was a show with a perverse creative brief, and I couldn't sleep because I had to think of something perverse in the food. So I ended up proposing one small quail egg in reference to the movie In the Realm of the Senses by Nagisa Ôshima — it was quite erotic, and she [Mrs. Prada] ended up picking it.
What's the Prada food process like?
The brief is always complicated at Prada. It's like, "What are they talking about?" It's always a mystery. I usually go to the gym, into the steam bath, with my feet up against the wall, and usually I come up with some nice ideas. I speak with Fabio Zambernardi first, then we do the tasting with Mrs. Prada. We end up laughing and saying crazy things about the food. That's why even when it's hard, it's so fun.
What were your most memorable Prada food creations?
[When] we won the Wallpaper* design award for the striped finger sandwiches made of different colored breads. Another time we covered all the food with almond milk jelly that seemed exactly like linoleum. The time that OMA decorated the space with furniture, we served the food exactly like it [was on] a TV tray for one person.
Who else gets creative with the food?
You wouldn't imagine it, but Patrizia Pepe always sends me their press release and wants me to do something conceptual with it. Others just want good-tasting food.
How do you get inspired creatively for your work?
One thing that really helps me is that I'm super curious about art, fashion, and movies. When designers make a reference to something and they realize I know what they're talking about, it helps a lot … Fashion is hard. Sometimes clients are a pain in the neck, but when you give them what they want, and they're happy, all the stress and fatigue disappears.