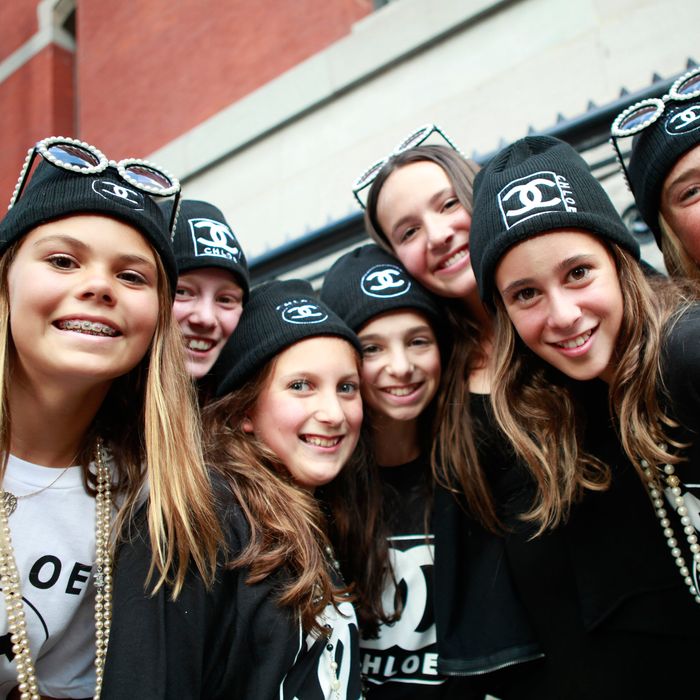 Chloe Cornell, a 12-year-old in Westchester County, took an after-school trip last week with six of her close friends and her brother to stand outside the Marc Jacobs show at Fashion Week. The gang wore shirts designed with the Chanel butterfly Cs (for Chloe Cornell) and garnered a wave of attention from street-style photographers and people-watchers. We spoke to Chloe about the excursion.
Hi, Chloe! Tell me about these photographs of you with your friends outside of the Marc Jacobs show, wearing "Chanel" shirts.
My initials are CC, so for my bat mitzvah we decided to do a Chanel theme.
Did you design the shirts?
My mom and I designed them. We designed different ones so it would look more interesting.
Tell me about what you were doing outside of the Marc Jacobs show.
It's was a video shoot for [the] montage for my entry video before I walk into my bat mitzvah. It's going to play and everyone is going to see it.
Was there a script?
All my friends were pretending to be my fashion followers. They're wearing all my clothes, and I was supposed to be the fashion designer. They were outside the Marc Jacobs show, pretending they were waiting outside for my show. My videographer person was telling them a script to say that was related to my bat mitzvah and the fashion show, so it would work for both. They were like, I'm so excited! and all this stuff.
Was the crowd curious? 
They were taking a lot of pictures with us and getting in pictures, and a lot of famous people and editors of magazines like Teen Vogue and the New York Times and the Russian Times were taking pictures of us. It was really fun, and we felt like we were famous.
And you signed some autographs?
Yeah. I gave like one or two. I signed my name then I wrote "CC" after it.
When did you start using the Coco Chanel Cs are part of your name?
So, when I was 8, my birthday party theme was a fashion theme. After we decided to do a fashion theme for my birthday party, we decided it should be CC because my initials are CC. That was my favorite birthday party ever, so ever since then, I wanted that to be my bat mitzvah theme.
Have you been interested in fashion since that birthday party? 
When I was little, I would go into my mom's closet and take out her clothes and her bags and shoes and stuff and try them on.
Do you have favorite designers or brands?  
Some of the stuff I don't fit into, but Chanel, Hermès, and I like Prada, and I like Gucci.
[Kim Cornell, her mother, interrupts: "What about your brands?"]
Oh, right, for my brands, I like LS and Brandy Melville and Alice and Olivia, some of that stuff, Ruby and Jenna.
Do you know what you want to wear to your bat mitzvah?
I'm not 100 percent sure, but I have a picture in my mind. It's going to be short and white, and on the top half it's going to be plain white, with gold sparkles, maybe, and a belt, and on the bottom half, it's going to be like feathers, kind of?
Are you designing it yourself?
Yeah.
Have you thought about becoming a fashion designer?
Yeah, definitely. The whole experience kind of inspired me. The comments on Teen Vogue — they posted a picture on the Teen Vogue Instagram — and people were commenting and asking where they could buy [our shirts]. It made me feel really confident and like I was good at this kind of stuff.
For my mitzvah project [a charity project to be completed before a bat mitzvah ceremony], I'm doing this charity thing called True Blue Friends, and it's about anti-bullying. I'm going to design shirts and sell them, and the profits that I make are going to an-anti bullying charity — I'm not 100 percent sure which one, but I think I'm going to do Stomp Out Bullying.
The design will hopefully be done this week, and I think it's going to be a happy-face emoji, with the sunglasses, with a halo on it. We have an Instagram for it already.
Did you post the photo outside of Marc Jacobs to your Instagram?
Well, I'm going to later, maybe after my bat mitzvah. I didn't invite my whole grade, so I'm still kinda … I feel kinda weird posting it without a lot of people [included], so I'm going to do it later, when people don't feel excluded.
Tell me about the trip to the show. 
So my mom picked us up from school and we drove to the city. When we got there, we put on makeup and put on our clothes. At first, [my friends] were learning their lines and doing practice runs. Then we got into the line and people were taking pictures, and we were kind of nervous. Then my mom explained to us how they thought we looked cute and fashionable and they wanted to take pictures of us because of that. We got more open to the idea of taking pictures, and then we started posing for them and smiling. Some random person was taking a picture of us, I think it was like a model or something, because everyone was looking at her and was like, that's so cool. And everyone was crowding around, but I didn't know who she was.
After we got burgers, and then crêpes, and then we went home. We got home at like 9-ish or 8:30 and had to do homework. Back to reality.
How did your friends feel about the excursion? 
They weren't really nervous, they were like really excited about it. When I told them they were like jumping and it was really funny, when we got put on Teen Vogue, when you guys emailed us, we were like, jumping for joy, and they were like, "Can we please tell people?" But we can't …