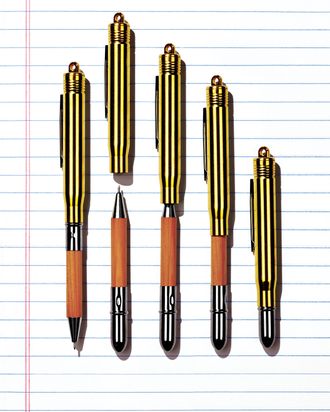 Photo: Bobby Doherty/New York Magazine
The goal: Find a ballpoint pen that's both exceptionally smooth and aesthetically appealing. We polled pen fanatics and narrowed the parameters to a fine point (less conducive to smudging); a consistent ink flow (no extra pressure or shaking required to get it started); and a comfortable, finger-cramp-resistant shape.
The verdict: With a 0.5-millimeter tip, the Midori brass pen ($25 at Goods for the Study, 234 Mulberry St., nr. Prince St.; 212-219-2789) produces a clean, fine black line: good for jotting thank-you notes as well as sketching portraits (Giacometti, incidentally, was a ballpoint fan). Pull apart the brass tube to reveal a wooden shaft, which nestles back into the metal casing, yielding a pen just long enough (5.4 inches) to keep fingers from bunching. While the Midori is several times pricier than the Uni-ball Jetstream (that beloved office-supply standby), it outlasts the pack with refillable ink (available at pen mecca jetpens.com) and the classic Japanese construction develops an antique mien over time.
*This article appears in the September 22, 2014 issue of New York Magazine.