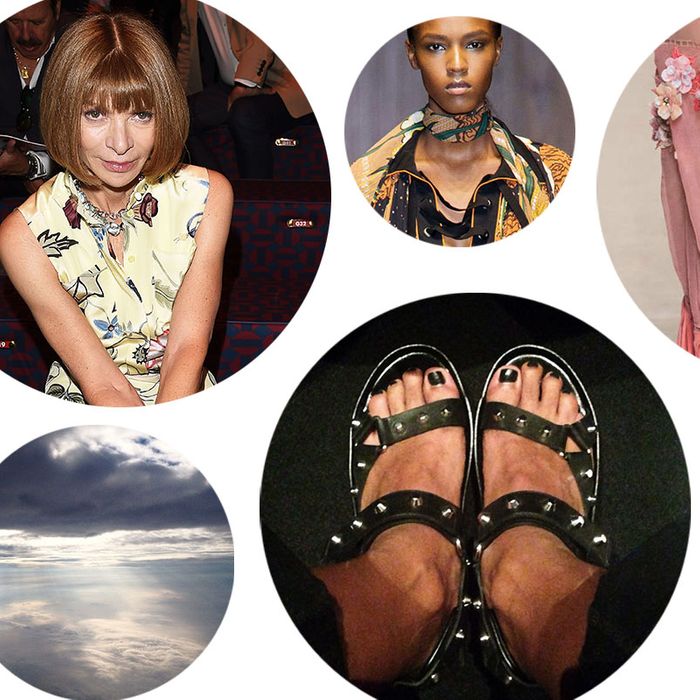 Milan Fashion Week began today, with many American editors arriving from red-eyes, going straight to their hotels and then on to a full day of shows, presentations, and parties.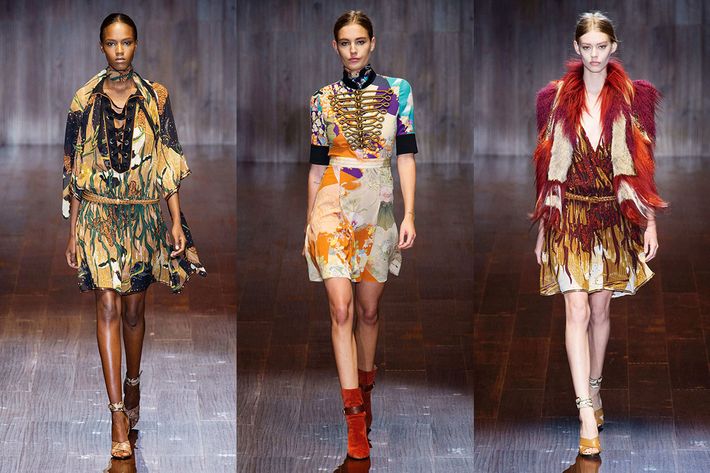 Powerhouse Gucci had an early-'70s vibe; Sergeant Pepper marching-band jackets mingled with colorful furs, kimono prints, and deeply cut leather dresses in jewel tones. The whole collection felt like walking into Megan Draper's closet — right after she left Don and moved to Laurel Canyon. If only starlets at Coachella looked this good.
Before the show started, I enjoyed watching people open Instagram, toggle to their news feeds, and anxiously refresh to see if more people had liked their posts. Not a good look.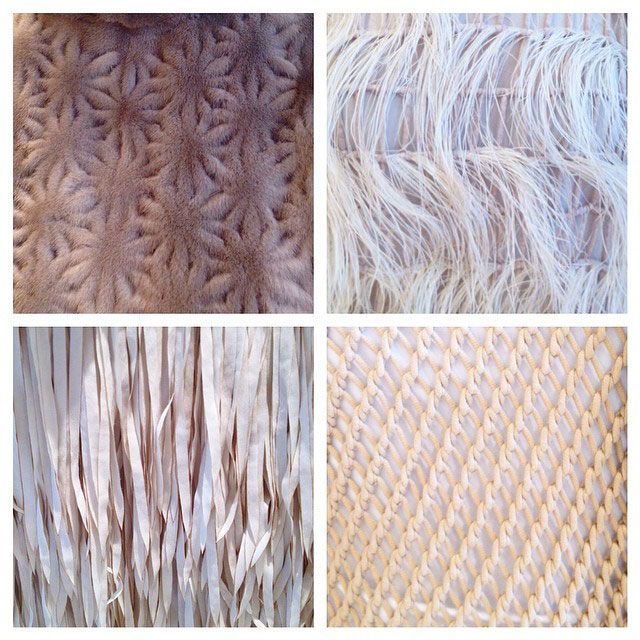 From there it was on to the Brunello Cucinelli presentation, where tasteful neutrals have achieved a kind of religious status. This season, textures like shredded leather, laser-cut mink, raffia, and waxed ostrich feathers made the range of whites, off-whites, custard whites, eggshell whites, taupes, greiges, and pale greys distinct and impeccable. Outside the showroom, editors were invited to sit at white-linen-covered tables and feast on the world's best prosciutto paired with wines. The conversation ranged from Tom Ford's nipple pasties on the runway to Scotland's upcoming vote on independence to how maybe we should all just quit our jobs and go work for Mr. Cucinelli because damn, that salami was good, and he serves it every day for lunch to all of the people who work for him in Umbria.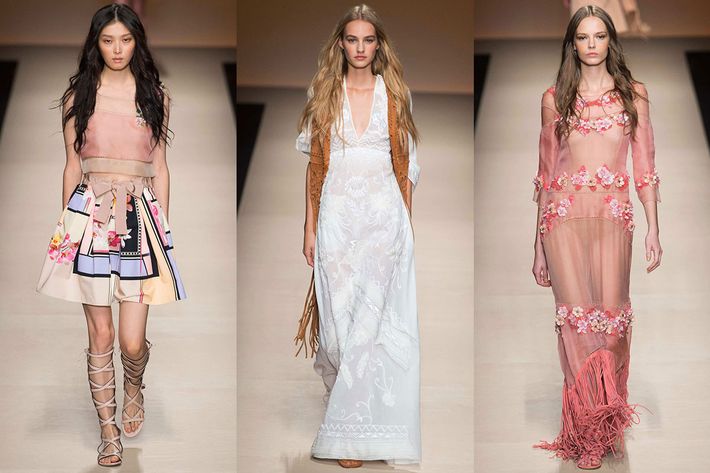 Alberta Ferretti was one flower crown away from launching her own music festival with many leather macramé vests atop flowing white gowns. Might I suggest this look for the next Vogue editor on her way to Burning Man?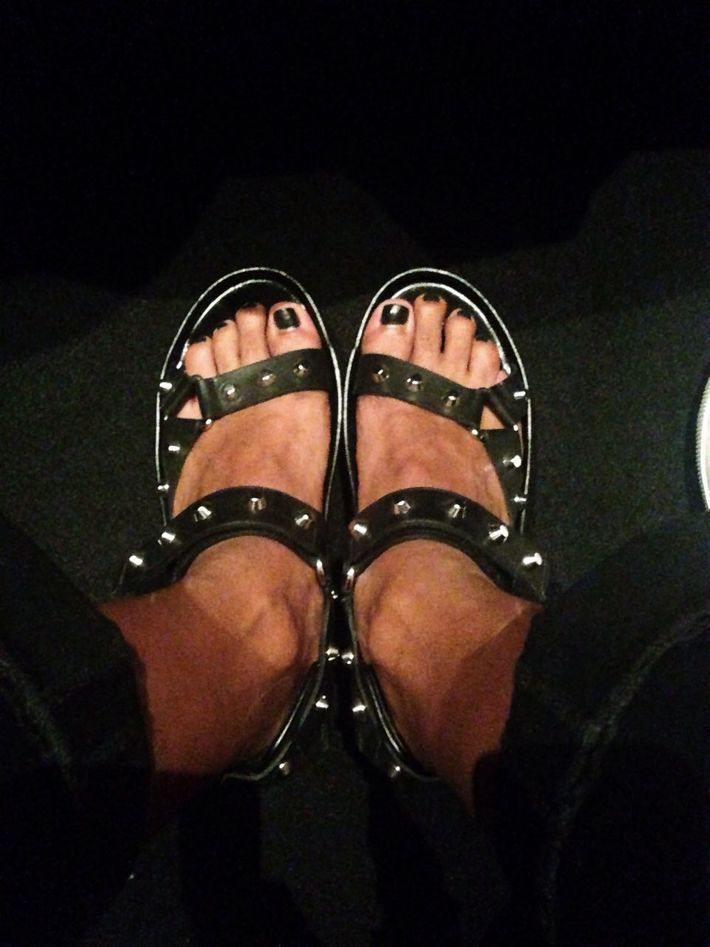 On our way to No.21, I ran into Interview magazine's fashion director Miguel Enamorado, whose Chanel pedicure in a rich, gunmetal grey matched his women's Balenciaga sandals. I was a little jealous of both.
Two parties on the same block, one for Gucci (for its beauty line) and another for Loewe (for its new store) made it so you could leave one glass of Champagne half-finished, hop down the block, drink another, then return to empty your first glass. By the way, it's pronounced "low-eh-vey" and not, as some of us might have said, "Low." Go ahead and correct the next person who says it wrong. It will feel really good, promise.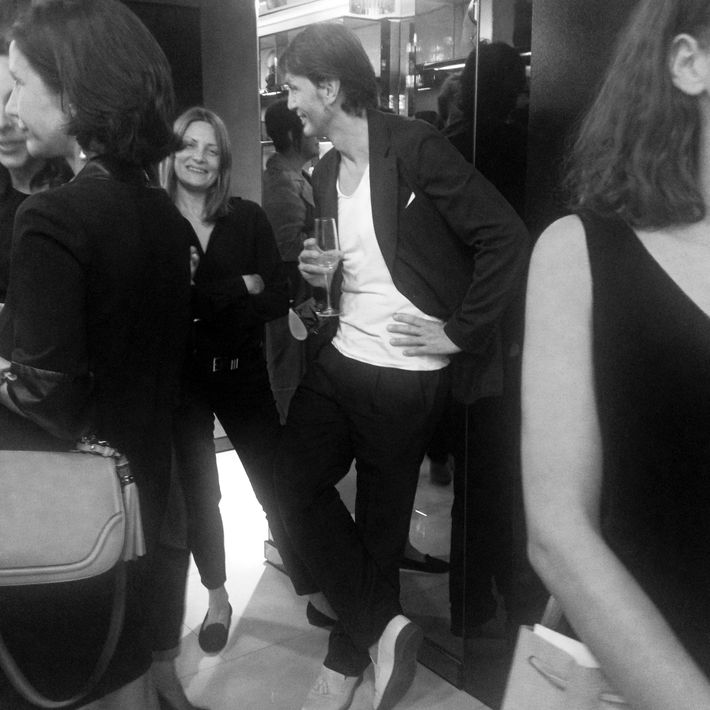 I'd been hoping to run into Charlotte Casiraghi because she is the stunning face of Gucci beauty, but I missed her. Instead, I spotted this gentleman — a mix of John Paul Belmondo and Javier Bardem — and decided that more men need to wear white shoes and low-cut crew-neck tees with blazers and pocket squares.
Clearly the jet lag was catching up with me. And what better way to deal with that then hightailing it to the hotel gym (after a few glasses of Champagne), where I worked out next to Joan Smalls. That did wonders for the self-esteem.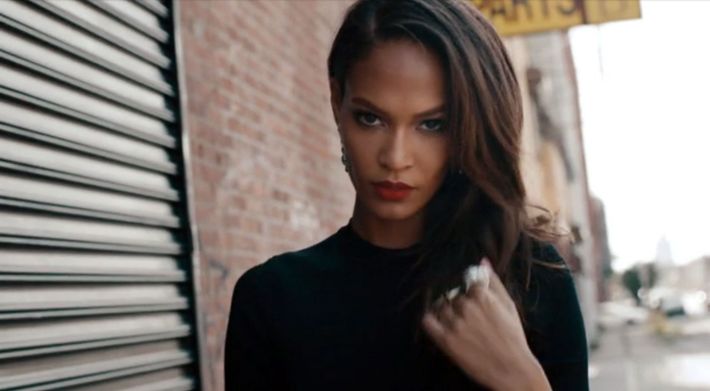 Better get some sleep. PRAAAAAAADDDDDDAAAAAA walks tomorrow.