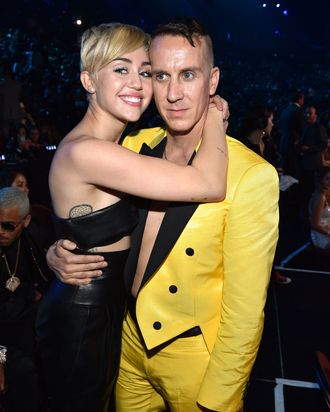 Photo: MTV/MTV1415/Getty Images
Apparently all Miley Cyrus's Instagram-friendly craft projects had an actual purpose — an actual purpose beyond our delight and merriment, that is. Her neon stoner-meets-summer-camper collages and jewelry are actually pieces from her art collection, "Dirty Hippie," she tells V magazine. She'll debut her work at Jeremy Scott's September 10 runway show. Cyrus says of her nascent yet already prolific art career:
This seems so f—ing lame to say but I feel like my art became kind of a metaphor — an example of my life. Because a bunch of sh—y things kept happening. I've always been so f—ing lucky. Everything has always just been easy for me. And at the beginning of this year, I hated 2014 because everything that could go wrong kept going wrong. Being in the hospital, my dog dying…Everything just kept sh—ing on me and sh—ing on me. So then I started taking all of those sh– things and making them good, and being like, I'm using it. My brother and my friends all said that's what they felt I was doing. So, that's how I started making art. I had a bunch of f—ing junk and sh–, and so instead of letting it be junk and sh–, I turned it into something that made me happy.
The collection is a commentary on her journey as a pop star and her way of proving to us all that she is more than just some "pop dumb dumb," she tells V. 
There's a lot of material here: her relationship to her fans, her friendship with Scott, the thoughts she thinks, and stuff she finds at Petco. If you're not familiar, here's a brief description of an item from her early period:
This one's a vibrator, which I got from a fan. They threw it on stage. And that's a joint [attached to it], so that's the vibe. I've gotten more and more about piling things on, but I try to put thought into everything. Even though it's so stupid, I did the pineapple because you know what they say about pineapple, right? … Yummy cum? If you drink a lot of pineapple juice you're going to have yummy cum. So that's why I put it on the dick with a bunch of babies, and it says, "Fuck." I try to think about everything so it has a story to me.
"Dirty Hippie" debuts September 10 and will be on view at V magazine's gallery space, 11 Mercer, starting September 11.