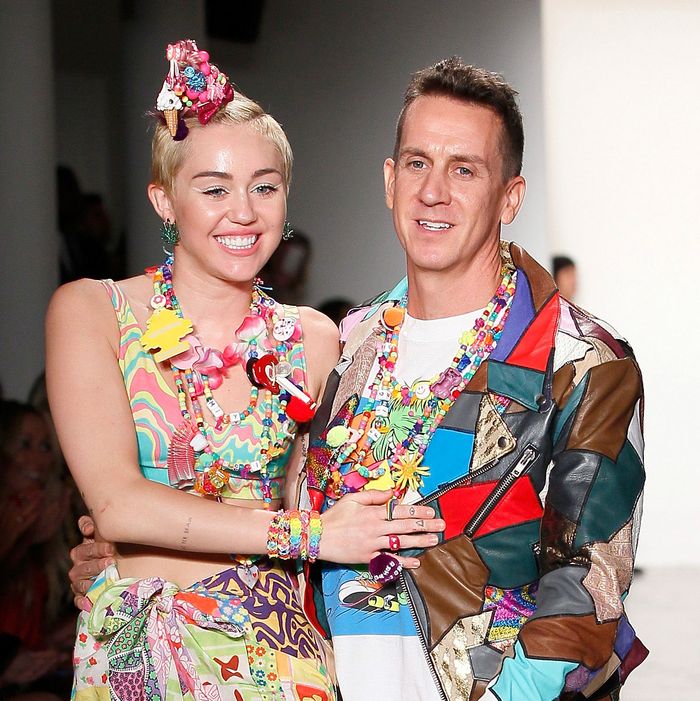 Photo: Joe Kohen/Getty Images
Jeremy Scott specializes in crazy. His shows are packed to the gills with a smattering of unexpected celebrities — last year, there was Jared Leto, Joe Jonas, and Nicki Minaj; this year, 2 Chainz and Whoopi Goldberg. The manic energy in the room before a Jeremy Scott show is one of the things we look forward to the most about Fashion Week. But today, people were extra giddy anticipating that Miley Cyrus was contributing "art" to the show.
It turns out that meant hand-crafted, techicolor beaded jewelry. Troll dolls on necklaces and single earrings made out of plastic candy that, somewhat impractically, extended down to a model's waist. There were giant amalgamations of candy sparkles and alphabet beads that looked like something you made in middle school. The whole thing matched perfectly with Scott's collection, which he described as "very DIY" and inspired by "music festivals" and "beach bonfires."

At the end of the show, Scott skipped down the runway and grabbed Miley — who had been sitting in the front row and, frankly, was so swarmed by photographers, we didn't even know it was her. The two walked down the runway arm in arm, smooching like a young couple in love.

After the show, we asked Scott how the Miley collaboration came about. "It was really organic," he said. "I just went over to her house on 4th of July, she was having a little party. She started showing me the things she was making, and I was like, This is exactly my show. It's like stream-of-consciousness jewelry. It's kind of an amalgamation of different objects and things. So I just asked her, 'Would you consider doing the jewelry for my show?' And she was like, 'Yeah!' The next day I was like, 'I'm dead serious,' and she was like, 'I hope so, because I really am too — I want to do it!' She has just been so on it. She has made it all by herself, all by hand — being inspired by the things I was showing her, inspiring me with things. It was a really beautiful process."