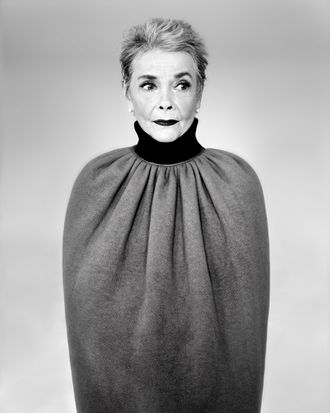 Betty Halbreich sees white jeans everywhere, and she is not happy about it. In the late-August isolation of the Upper East Side ("It's just me and the doorman"), the legendary personal shopper has been walking down to her office at Bergdorf Goodman every morning, and they are blanketing the sidewalks like an out-of-season blizzard. "I see them from my window, I see them from the rear end. The whole world is in white pants! If you saw the broadside of a ship in white pants that I see every day — and then the front! Someone must do a marvelous cartoon on that. It's a real New Yorker cartoon."

But Jackie Onassis wore white jeans, I tell her. "That's one person, not the whole community. I mean, once everybody gets on a trend, then everybody has to wear them? Everyone has to carry the same handbag? Wear the same white jeans? Wear the same puffer coat? Are we a nation of sheep?"
It's clear that Halbreich feels very strongly about certain things. For one, her girdle, which she wears every day. ("It's holding my insides in.") Her pantyhose: "I only feel secure with pantyhose. Which makes me the 102-year-old woman. But I don't care." Vodka — she's just discovered a $12 variety at her deli that's made in South Carolina, and that she refers to as "moonshine." Her favorite actors, Johnny Depp and "Mr. Cumberbatch."

We're sitting in her office on the third floor, around the corner from a Rick Owens display of intimidating leather garments hung on faux stalactites. It has the vibe of a small-town doctor's office, complete with a photo board of friends and clients. There's a photo of Lena Dunham, who's at work on a still-in-preproduction HBO series based on Halbreich's life, hugging her boyfriend, Jack Antonoff. There's an Onion clipping that reads, "Nation's Grandmothers Swept Up In Textile-Messaging Craze," showing a dowager knitting a scarf that says "Running L8."

BG, the store's restaurant, has sent up an assortment of tea sandwiches, which we eat at her desk. "Now I've become a restaurant rather than a couturier," she quips, adding that the other day, she finished an interview, only to realize she was "covered in quinoa." The 86-year-old has become resigned to having reporters going in and out. At this point, she's become an institution, having operated her personal-shopping business, Solutions by Betty Halbreich, inside the store for almost 37 years. Besides the upcoming HBO series, she's been prominently featured in last year's documentary Scatter My Ashes at Bergdorf's, and, today, releases a memoir, I'll Drink to That.
She wrote the book longhand — "it's almost like the diary I never wrote." Unlike its 1997 predecessor, Secrets of a Fashion Therapist, this one is a personal story. It begins with her upbringing in Chicago, in a well-to-do family. "They always had big dinner parties," she tells me, "and I always had my ear to the keyhole. We all ate well, they gossiped well, they went and had abortions well." She chronicles her unhappy marriage, her nervous breakdown and stint in a mental institution, and her eventual redemption when she found her calling working at Bergdorf Goodman. "It was awful," she tells me of entering the job market at age 50. She had done part-time work for a few designers, including Geoffrey Beene, but "I had never done anything like this and I was scared to death, I have to tell you. They said, 'What are we going to do with her?' I said, 'I know what you're going to do!'"

She opened Solutions, whose name sums up its mission: Halbreich sorts through the confusion of the collections and trends to find the pieces that will solve her clients' problems. Half her business consists of helping private clients shop, the other half of studio services — pulling clothes for film and TV stars. A glittering array of actresses has walked through those doors: Mia Farrow, Lauren Bacall, Glenn Close, Meryl Streep. "Minnelli, what's her name, Judy Garland's daughter. She used to sit in the dressing room." Once Gerald and Betty Ford stopped by and Halbreich painstakingly instructed the president on how to properly carry a garment bag. But she seems reluctant to dish about her celebrity clients. "Once the fitting-room door is closed, and the clothes come off, you're all the same," she maintains. "It doesn't matter who you are. As long as you have one head." And whether the client is an Oscar winner or a CPA, Halbreich has become famous for not withholding judgement. "It's terrible, a terrible habit I have. But you know what? I'm usually right. If they go out in that [dress], it's usually a bastard, it's usually ill-fitted, dreadful. I can't do it." For people who are used to constantly hearing yes, Halbreich's honesty helps build a sense of trust. With clients who might be more reluctant to try, for example, a sequined blazer by Libertine, "I'll just say, Look, you're never going to buy this and we have time. Let's play. A lot of it is playtime. I don't sell them all the things I bring them. It's all experimental for me as well. The things I hit well on, I really hit well on." Above all, she takes her time. "You have to make people comfortable when they're spending a lot of money. That's my attitude. It's not hit-and-run. You're giving them, hopefully, some sort of expertise."
Another thing that distinguishes her from most personal shoppers: She doesn't call clients. "They come, they go, they die, they get married, they have children, they come back, they disappear for a while, and then all of a sudden: 'Hi, I really miss you.' It could be ten years. They take a chance that I'm still here." Over the years, she's even worked out a way to deal with the inevitable husbands who tag along. "I just say, 'You just don't want to spend the money. It's too much money. Why don't you come out and say it? Or go find something else.'" She chuckles. "You get them into your clutches."

Halbreich has managed to get more than just her clients into her clutches. She and Dunham met through Halbreich's daughter, Kathy, the associate director of the MoMA. "We get along very well. I like her as a human being. She's kind and loves her dog and her boyfriend," Halbreich says, adding that she's also bonded with Dunham's mother, Laurie Simmons. "She gave me a book on dressing Japanese fetish dolls, so I told her I just loved that book. And she said, 'You're kinky!' And I said, 'If that makes me kinky, then okay, I'm kinky.'"

Rick Owens, whose cape Halbreich is wearing backward in her book's cover photo, is one of the few luminaries she hasn't yet managed to connect with. He once called her to say he was paying a visit, but Halbreich was taking a rare day off. "He said, 'I love your office. I'm going through all the drawers and all the closets.' I said, 'Terrific, help yourself.' And I never heard from him again."

As if to bring us back to the topic at hand, a man in white jeans rolls in a cart of yellow hardcovers for her to sign. Halbreich manages to hold her tongue vis-à-vis his attire. She tells me she's thinking of having a stamp of her signature made. And she adds, with faux outrage, "The divisional, the head of whatever, says, 'We'll have her sign these. And we'd better not do any more because we might have to return them.'  I said, 'Well, that's the compliment of the Western world.' We haven't even gotten the book out yet and he's thinking about the returns … This is like running the war here, they've taken part of my gut out, but they can't have it all!"

But despite the public profile, her schedule hasn't changed so much, Every morning, she comes in early and traverses all seven floors of the store, each the size of a city block, "yelling at the stock people that all the dresses are going in the wrong direction. The ticket's inside, so you have to get up on a ladder. Well, at 86, I really don't love a ladder at eight in the morning. So I yell."

I ask if she has another book in her. "Are you crazy? Are you asking this as the finale? Is this the final question?" she says to me. "Unless it's in the funny pages. It would be a cartoon rather than a book. A book? I haven't read this one. I wouldn't do another book. What do you want from me? I only have one head."