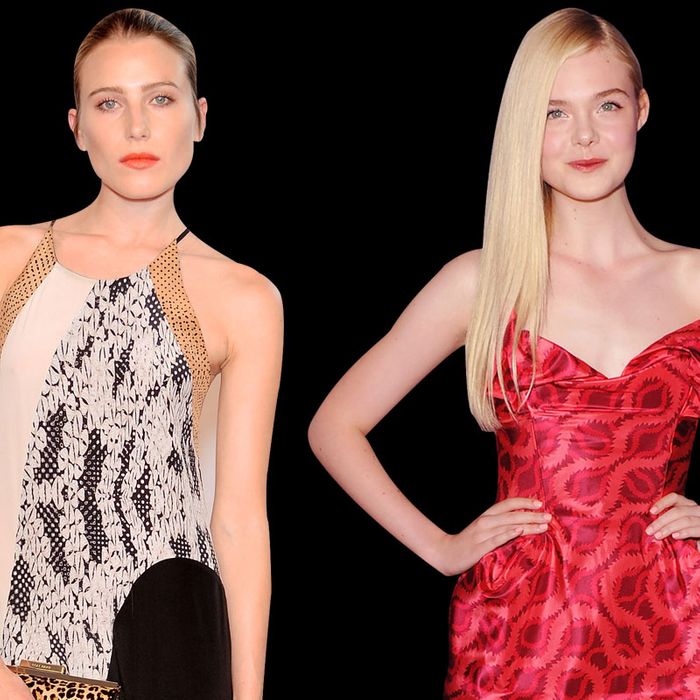 Photo: Dimitrios Kambouris/Getty Images, Jon Kopaloff/Getty Images
Instead of putting on a usual show this season, Opening Ceremony staged a one-act play written and directed by Spike Jonze and Jonah Hill. Guests (including Kathleen Hanna, Mindy Kaling, Kim Gordon, Ellen Barkin, Yoko Ono, and many more) shuffled into a dark, disorienting space on Amsterdam Avenue, in what appeared to be a garage behind Alice Tully Hall. Editors and celebrities took their seats on massive risers in front of an enormous stage. Opening Ceremony always does something cool and creative with their locations, so everyone knew to expect the unexpected. But when the curtain parted there was an audible gasp. We were behind the stage at the Metropolitan Opera House, looking out through the stage and beyond to the rows of red seats and aisles and enormous chandeliers.
The show was a fictionalized story of the making of the Opening Ceremony collection — with John Cameron Mitchell as Humberto Leon and Catherine Keener as Carol Lim. (Rashida Jones makes a cameo as Lisa Love and Karlie Kloss, of course, as herself.) Dree Hemingway plays Bella, an "It" girl model who's showed up for a run-through of the spring-summer 2015 collection, and meets Julie (Elle Fanning) a corn-fed youngster straight off the bus from the Midwest who's there to walk in her first fashion show. At first, Bella talks down to her, but soon, she opens up about the brutal world of modeling, delivering a monologue that, in the midst of an upbeat show, rang with a dark note of truth. Backstage after the show, the (real) Humberto Leon explained the decision to explore the underbelly of the modeling world: "Anybody can relate to that in any profession. At some point in time you did feel like, were you good at what you're going do? So I think there's something really humanizing and that's what so good about telling a personal story." Read below the full transcript of the dialogue:
Bella: You want to know what modeling is?  Most days you don't even model. You spend hours in the morning worrying about what you're going to wear, or say, or do. And then you get on the subway anxious about what people are going to think about you. And then you have people in a fitting or a casting or a meeting look you up and down for 30 seconds without even looking at you in the eye. And then you get back on the subway, and you try desperately not to see your reflection in the window because they made you feel like the ugliest girl in the room. And then you spend the whole rest of the afternoon trying to wash off your make-up and everything else they threw at you that day. All for 30 seconds of shit.

Julie: I'm really sorry. It sounds like you really don't like what you do. So why do you do this?

Bella: That's a good fucking question. I don't know. I mean I lived in Seattle with my mom and whatever other sketchy boyfriend she had living with us that week. But my thing that nobody else was a part of was fashion. I just loved that it was this cool, glamorous, creative thing. Fashion was always about invention or reinvention. I mean people say, don't judge a book by its cover. But when you meet somebody for the first time you first see what they're wearing. You totally judge a book by its cover. I just love that you can create yourself. I mean every morning you get to choose what type of person you want to be or how you want to be perceived. I mean, I remember when I was 17, it just happened.

Julie: What happened?

Bella: I was at a Subway, and this guy came up to me he was like, have you ever thought about modeling? And I was like YES! Where have you been! I've been waiting for you! And then he signed me and he brought me to New York, and I met these designers, and I started to book jobs and I was like "I'm a model." And I'm going to all the parties I used to look at on my computer and I'm on the Tumblrs I used to look at – and it's so great. But I still feel like shit. It's like a whole new set of things that make me feel shitty.

Julie: So what are you going to do?

Bella: I don't know.

Julie: Well one of the things that my dad always does – is that he tries to break down into different options. And it sounds like you have three options: one, you quit and you just go do something else. Two, you change the way everyone in the whole fashion world thinks and behaves and acts. Or three, you stay and you just try to enjoy the moments that you love. Just enjoy the good moments. I mean, you're only 20 and you've pretty much gotten to do everything you ever wanted to, right? So maybe try to just ignore all the bad parts.

Bella: Jesus. How old are you again?

Julie: 18. But I'm very sophisticated.