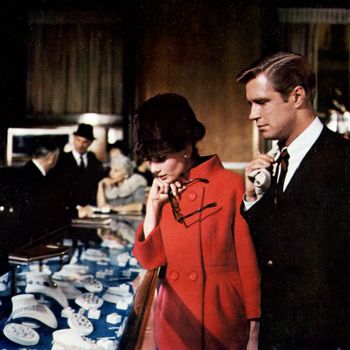 Photo: Paramount Pictures/Getty Images
About a month ago, I was brimming with delight. I was drinking whiskey at the Algonquin with E. Jean Carroll, the advice-column maven who specializes in bracing transfusions of her own radiant confidence. She was trying to locate a mural of Dorothy Parker, and I was basking in her zest. Our meeting followed a bouquet of endearing emails in which she sought my collaboration on a mysterious project, and I found myself unable to decline. Her skills — like tying scarves, or using words marked as antiquated in the dictionary — were evident and formidable.

She wanted to discuss her latest attempt to guide my misguided generation: a matchmaking service called Tawkify, which she co-founded. It employs a team of dating concierges who locate the unattached, pair them, and send them on offbeat dates. It bucks the longstanding trend of meeting people for drinks. Meeting for drinks, says E. Jean, is dull and terrible. E. Jean and I were meeting over drinks at that very moment and it was extremely pleasant.
Why go to a bar, she said with vicious emphasis on the last word, when you could go on a first date to register for wedding gifts at Tiffany's!!!
I can't imagine anyone my age, who isn't cosplaying the 1950s, registering at Tiffany's. I'm not sure Tiffany's can imagine me. I have a nose piercing nearly the size of a binder ring that I can't remove because it's new. My hair is largely unkempt and invites everyone over the age of 70 to gently suggest I should comb it.
But E. Jean is selling this Tiffany's idea. She has given it an impressive title: "The Most Dangerous Date in New York." It writes its own headline, she seems to indicate. Do I dare to shop dangerously at Tiffany's with a man I've never met?
Of course I do — not out of a love of danger or dates or hyperbole, but because E. Jean is arranging it. It's too much fun to say yes and talk conspiratorily. Eagerly, she tells me that a West Point cadet has already backed out on the date. A military man! she holler-coos, in her way. Well, there are different types of bravery, I suggest. She nods. I want to talk about different types of bravery with E. Jean for hours.
Bravery being a given, she also demands details about my taste in men. Creative, intellectually challenging, fit, observant, well read, and adventurous. It's great that you're not picky, she says. I am cheered by this response. She is cheered that I don't care about height.
She calls the day before to tell me, apologetically, that my date works in finance. She says that she made an appointment for me in the registry department. I'm to tell them I am her niece. Her niece! The niece of E. Jean Carroll.
She says my date and I will find each other outside the building. He will make himself known to me by holding a copy of the New York Times or The New York Times Magazine. He hadn't decided which.
What about me, what do I hold? I ask.
Oh you? I told him he can't miss you.
I spot the fellow slouching against the building. He is a man with Ken-doll features and a Ken-doll name that was not actually Ken. He's holding neither item of reading material, but he unmistakably works in some arena of finance.
Before we take the elevator up, he suggests that we invent a backstory for our engagement. We met in Aruba, a year and a half ago — he says, as if he has dreamed about this scenario for some time — while snorkeling. We were in the same snorkeling group. This is preposterous. Anyone that needs to be put into a group for snorkeling cannot explore the seas properly. But, fine.
We elevate to the fourth floor, where a silky man approaches us. Filled with pride, I declare that my aunt made an appointment. The record cannot be located. He suggests we start with the silver. There are a half-dozen options and only one acceptable one. Not-Ken doesn't select it. He and I do not like the same types of things at all, if we limit types of things to: silver, platters, crystal, crockery, candlesticks, what to do when snorkeling, and china.
He develops a quick habit of affirming everything I say that I like with a confusing "You're right." I tell him I am clumsy. He agrees he is clumsy, too. He is not. I drop the first thing I am handed, which is, luckily, a business card.
Our swanky attendant checks in with us and gives us his congratulations on our engagement. His voice has all gestures of politesse, but I can tell his heart isn't in it. Perhaps he knows about the jig, I wonder hopefully. Not-Ken says thank you.
I find myself saying things like: That flower vase looks like the fingernail of a fancy dragon. Not-Ken still says things like "You're right," even when it's quite a big stretch. It usually is. I am feeling disoriented in this glistering showroom.
After fully examining every option of unnecessary home décor available to us, I suggest we descend. We debrief outside: How dangerous was this date? Not that dangerous. He thought we would go skydiving. I thought we would browse each other's internet histories or be allowed phone calls with each other's most vicious exes. Not-Ken is very pleased he did something a West Point cadet could not do. I am very pleased I didn't break a single thing.
We both announce we are walking in opposite directions, with no gesture to exchange numbers. It's still bright outside, and I haven't been in this general vicinity in over a year. I walk into Central Park and get a hot dog and read Fran Lebowitz. The next morning I am thrilled to get an email. It begins: "Dear Niece." I zip through the lines, so excited to receive them, that I have to go back over them twice for content. E. Jean is wondering about china patterns and if the red dress I wore was an alluring choice. I reply that I learned a great deal about this fellow, omitting mention of anything I learned. She quickly writes back:
Yes, the quickest way to judge a man's 

strength of character, mental capabilities,

and docility, is NOT to "meet for drinks," BAH!

But to take him to the fourth floor of Tiffany's.

There you can judge his prowess in bed (and

so much more!) by how he touches, holds, and 

flicks a crystal candlestick.

Ravishing regards,

Auntie Eeeee
I doubt I will ever return to Tiffany's. I am certain I won't see my date again. But I am rosily happy to be acquiring so many fantastic ideas about how to format my correspondence into pleasantly chopped lines, with a secret and unique rhyme scheme. I consider infusing all that I say with symphonic and self-possessed power, the kind that somehow encourages a similar and giddy confidence in everyone else. I vow to only sign off with alliterative whimsy. The world seems ravishing indeed.