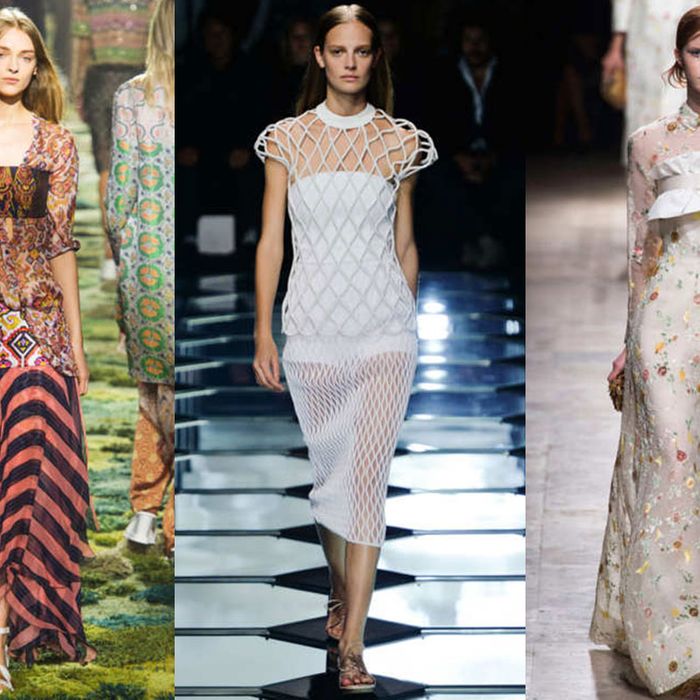 Fashion can carry with it a whiff of the unnatural: all the reshaping of the body, all that embellishment. So when fashion engages with nature, the results can be unpredictable. At Dries Van Noten, the models — in wonderfully mismatched garb, including chevrons, paisley, and rainbow stripes — lounged on the grasslike carpet that stood in for the runway. Loose shapes, print mixing, and expert layering — dresses over pants, skinny bandeaus under oversize shirts — had an attractively cobbled-together feel. It was simultaneously eccentric and chic. As an ultraquiet birdsong soundtrack played, the Grand Palais was transformed into a sanctuary of calm amid the bustle of a city already well into the frenetic energy of Fashion Week.
Van Noten wasn't the only designer to take a page from Mother Nature. At Rochas, Alessandro Dell'Acqua embroidered pastel flowers on voluminous, infantalike dresses. But he never let things get too sweet; he tempered them with sexy transparent shifts and ruffled variations on the corset.
The final two shows of the night used dazzling visual effects that made nature seem utterly unreal. At Vionnet, delicate shadows "chased" models as they walked, and in some cases pirouetted on their own. Shapes were graceful: Grecian-inspired draping accessorized with gladiator sandals and belts that reminded one of ancient breastplates. In the show notes, designer Goga Ashkenazi said she was inspired by "an idea of Olympic fierceness."
Alexander Wang knows how to put on a show. At Balenciaga today, the smoke of dry ice wafted up from a honeycomb-patterned floor; all three Kardashian-Wests were in attendance. Many of the looks were cagelike. Sci-fi maidens wore Star Trek–esque wraparound sunglasses with their icy, pastel hues. Was it natural? No, but then fashion rarely is.
See the full Dries Van Noten spring 2015 collection here.
See the full Rochas spring 2015 collection here.
See the full Vionnet spring 2015 collection here.