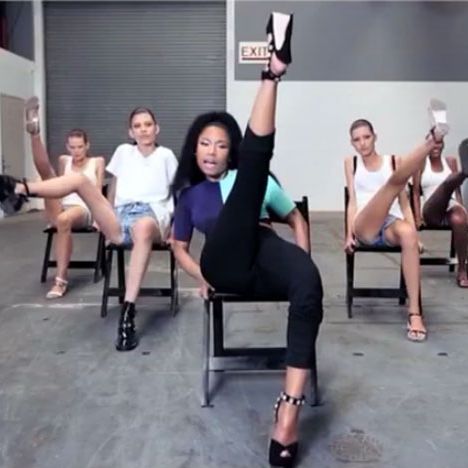 So, Vogue had a cute idea and decided to follow Nicki Minaj backstage at Alexander Wang's show, where she tried to teach a few models — Irina Kravchenko, Ewa Wladymiruk, Valery Kaufman, and Aleah Morgan — how to replicate the moves from her recent booty-praising anthem "Anaconda."
But in a move we can only hope was orchestrated by Minaj (like the Machiavellian genius we know she is), the models just end up looking skinny and awkward. They seem to lack that crucial element of the Anaconda.
And then do this like Nicki.
This impromptu dance lesson is the best visual representation of the song's dedication: "This one is for my bitches with a fat ass."
See the full Alexander Wang spring 2015 show here.