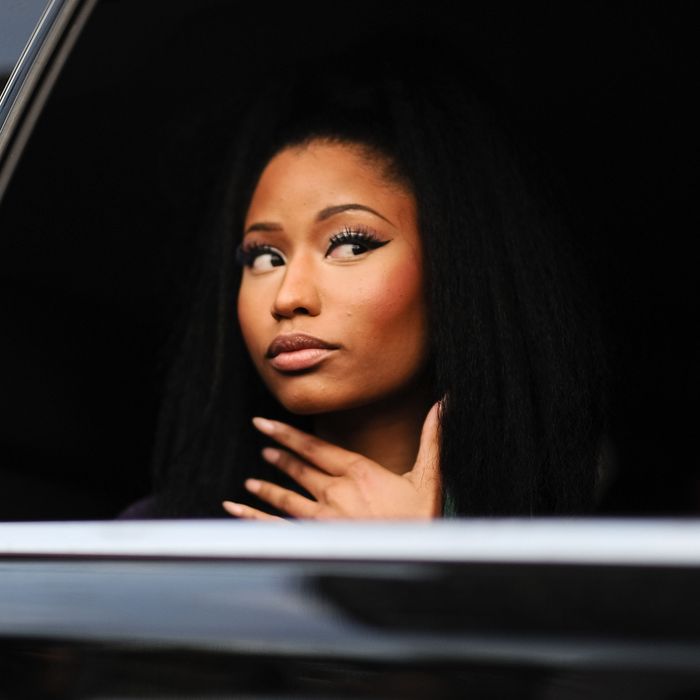 Photo: Daniel Zuchnik/Getty Images
How does Nicki Minaj greet visitors to her home, you might wonder at this moment, as you often do.
Wonder no more, Minaj daydreamer: According to a recent Dazed profile by Phoebe Lovatt, Nicki Minaj greets visitors wearing yellow rubber gloves, which she will then rip off before changing into a designer bikini. This is Minaj's home and this is how she welcomes you. She is an active preserver of domestic hygiene and a glamorous sunbather. She is the very spirit of variety.
Next, like every woman who is profiled for a magazine, Minaj answers questions "curled up on a paisley couch, brushing out her demure Veronica Lake waves":
Minaj says she has every intention to "stop what I'm doing and be a mother and wife. But not yet." Before she can settle down to a life of quiet domesticity, Minaj wants to release five albums in total. "I have to make 500 million dollars first," she says. "That figure has been in my brain for a long time. I want to be the female who earned the same amount of money that the Jay Zs and the Puffys were able to earn. I feel like when I reach my 500-million-dollar goal" — she pauses to cackle at the Monopoly-money sum, teeth bared — "then no other woman in rap will ever feel like they can't do what these men have done."
It's her five-year plan, if you will. A cool, hot 500 mil, some wee babes, and the knowledge that she eradicated pay-disparity concerns for future female rappers. Those are the things that will lend Nicki Minaj a full and sated life. Those are the things that will allow Nicki Minaj to have it all.