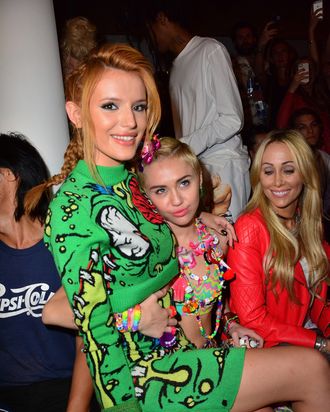 Photo: Brian Killian/WireImage
The scrum outside Jeremy Scott's show on Wednesday afternoon spilled well into the street, as paparazzi and plebes alike jostled their way toward a clear shot at the door in the hope that Miley Cyrus's car would pull up and they'd get a glimpse of Our Lady of the Tongue. She was launching her Dirty Hippie line of accessories for Scott, and no doubt would be on hand to admire them. A few enterprising individuals used this as an excuse to make their own grand entrances, including a girl in a yellow catsuit, a gigantic wig, and a visor who clearly hoped people would mistake her for Nicki Minaj. But alas, even Nicki Minaj no longer wants to be mistaken for that incarnation of Nicki Minaj, so all the woman got were some whispered comparisons to V. Stiviano.
Inside the venue, we spied Whoopi Goldberg, Miley's clear sartorial soul mate. She had on baggy jeans, a white shirt, and a long black button-down/duster combo, with her best leopard-print Vans for the occasion. "I am too old to wear any of it," we heard her say of Scott's collection. "But I'm going to find some way to put some of it, somehow, on my body. Anything with SpongeBob on it. Even if it's just around my neck." Excellent. We look forward to this next season of The View being all about Whoopi's atypical use of cartoon pants.
The insanely tall rapper 2 Chainz came out next, wearing at least three, and seated not too far from Bella Thorne. Mr. Chainz did a pretty good job distracting everyone, but not even the gargantuan 2 could keep people from anxiously hovering near the mouth of the runway, waiting for Miley. And waiting. And waiting. It wasn't until organizers had mostly cleared the catwalk that she appeared, with mom Tish and sister Brandi in tow. Miley was decked out in a pastel-rainbow-colored sports bra and matching sarong-style pants and sported a cockeyed stub of a fascinator that looked like a 99-cent store had exploded on her scalp. We suspect this was of her own design, as all her Dirty Hippie accessories for the show were made with found objects that look like a toddler's reject bin — or, as Miley herself said, total fucking junk and shit (she does have a poetic way with words). She told V that designing this line was her way of ensuring a legacy beyond being "a pop pop dumb dumb," and a giant party hat made of things you can buy for one ticket at an arcade does nothing if not anoint her a sculptor par excellence. Miley Cyrus, out; Mileyangelo, welcome.
When Miley wriggled her way to her seat, Bella Thorne muscled in for a photo op, even sitting on Miley's lap while Miley's face looked several degrees below lukewarm about that state of affairs. We suspect that in the hierarchy of former Disney starlets, Miley is not the one who's supposed to serve as someone else's armchair. Miley eventually evicted Bella and settled in next to Stephen Gan for the show; when it ended, Scott grabbed Cyrus for his bow, and to loud applause, they did a full lap of the runway before disappearing backstage. When we finally got downstairs, the throng awaiting her was as pulsing as ever, even though she probably came in the back way and would likely leave that way, too. But if waiting for a glimpse of Miley crowned with Total Fucking Junk and Shit made them happy, well, let them have it. Because in truth, we find the whole thing extremely entertaining, and everyone knows that if Miley Cyrus goes subtle on us, the world may bounce off its axis.
See the full Jeremy Scott Spring 2015 show here.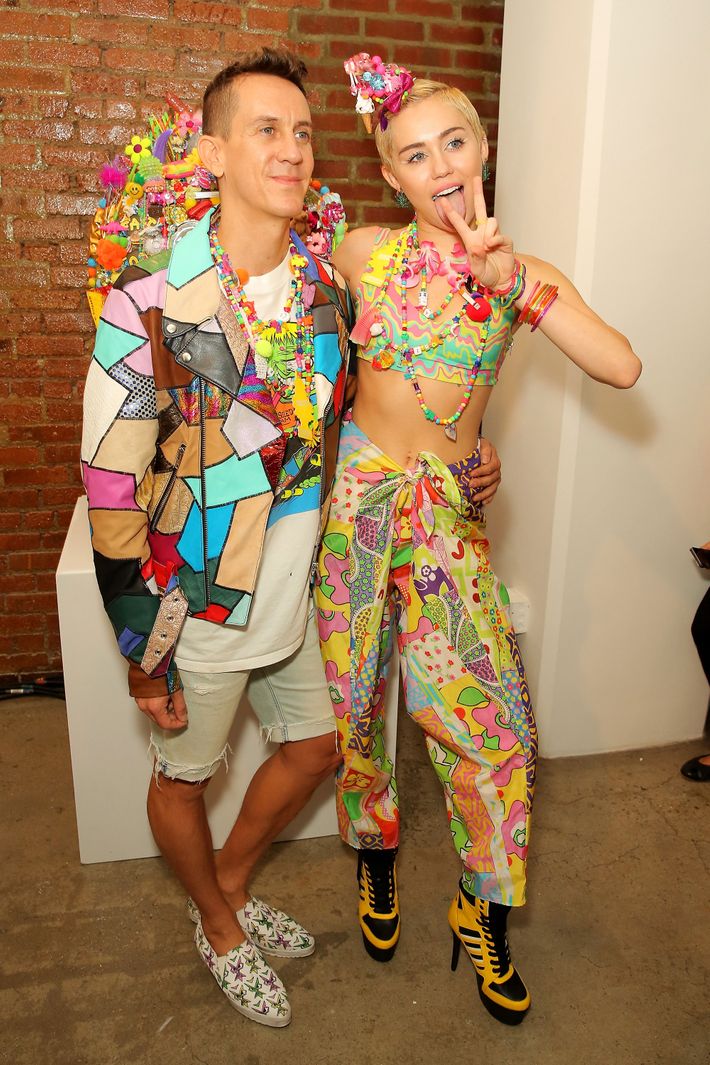 Jeremy Scott, Miley Cyrus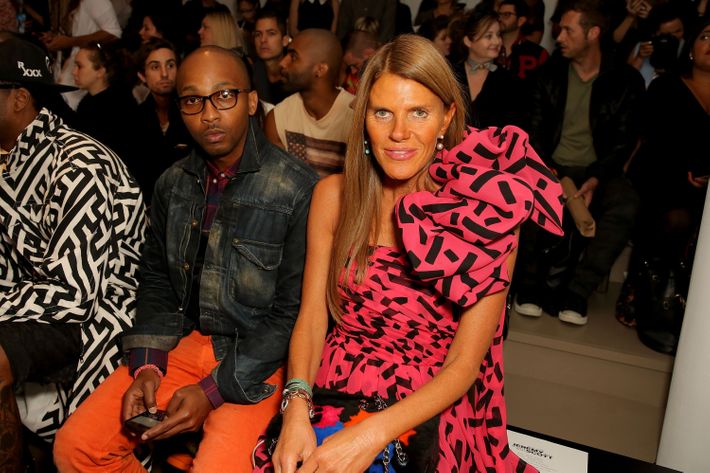 Anna Dello Russo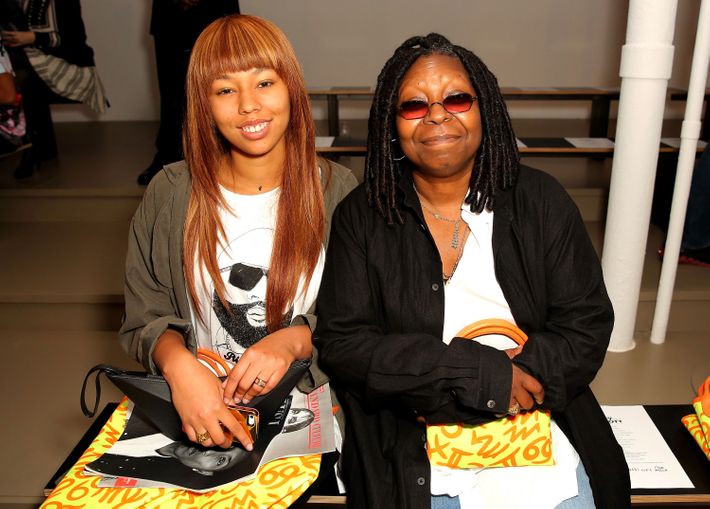 Jerzey Dean, Whoopi Goldberg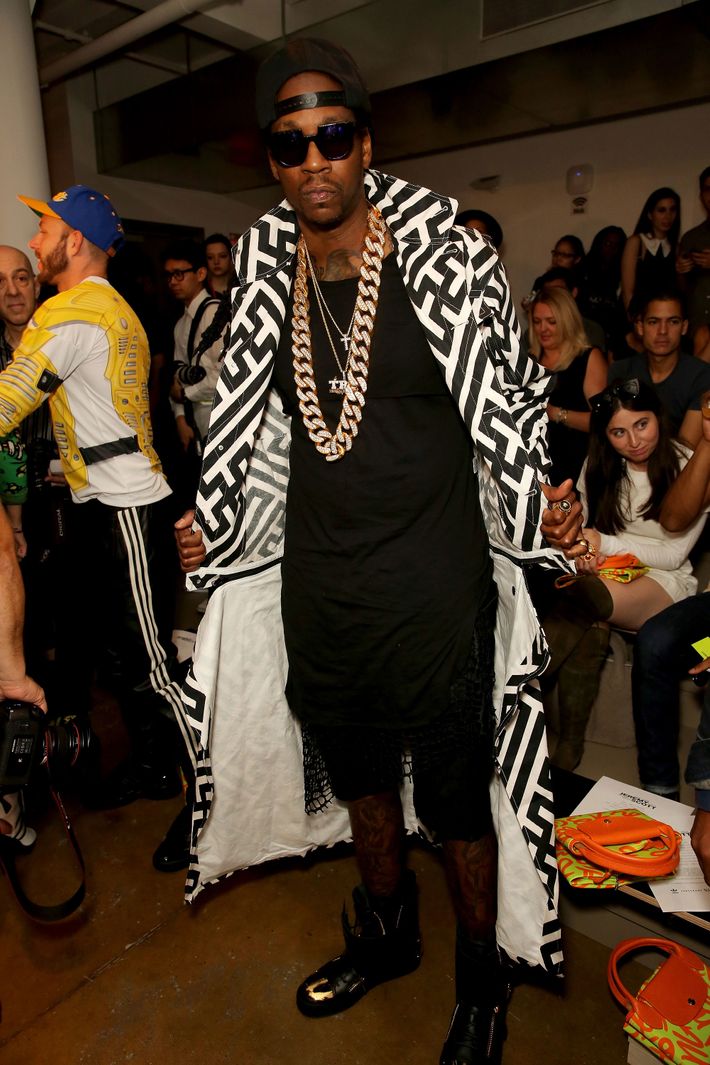 2 Chainz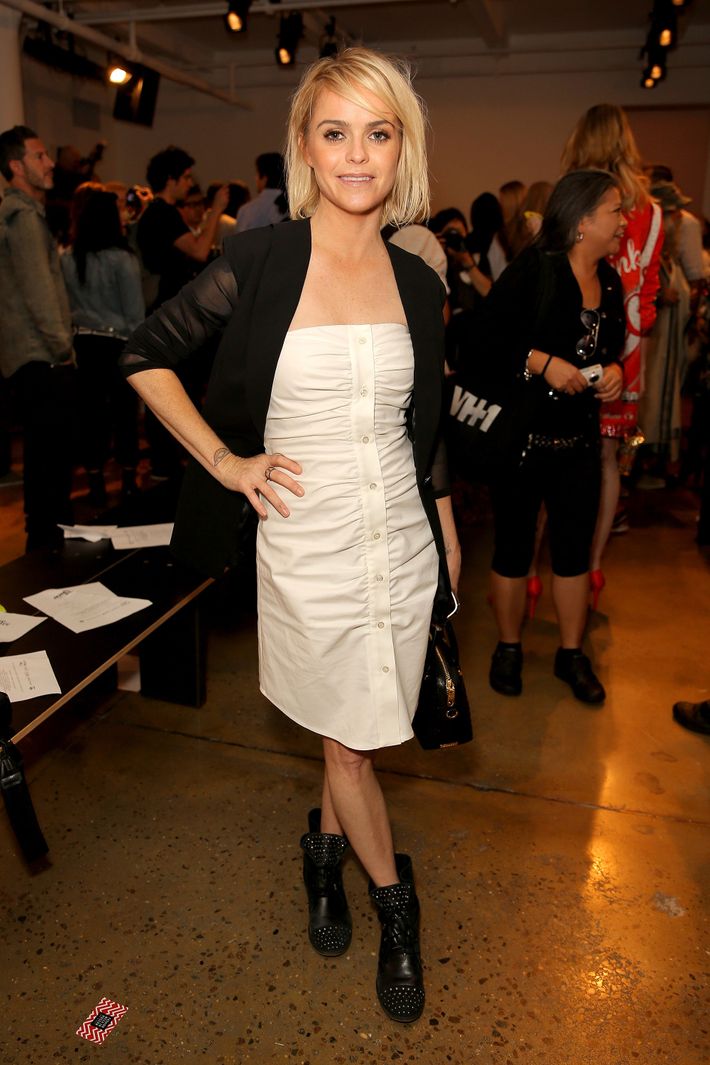 Taryn Manning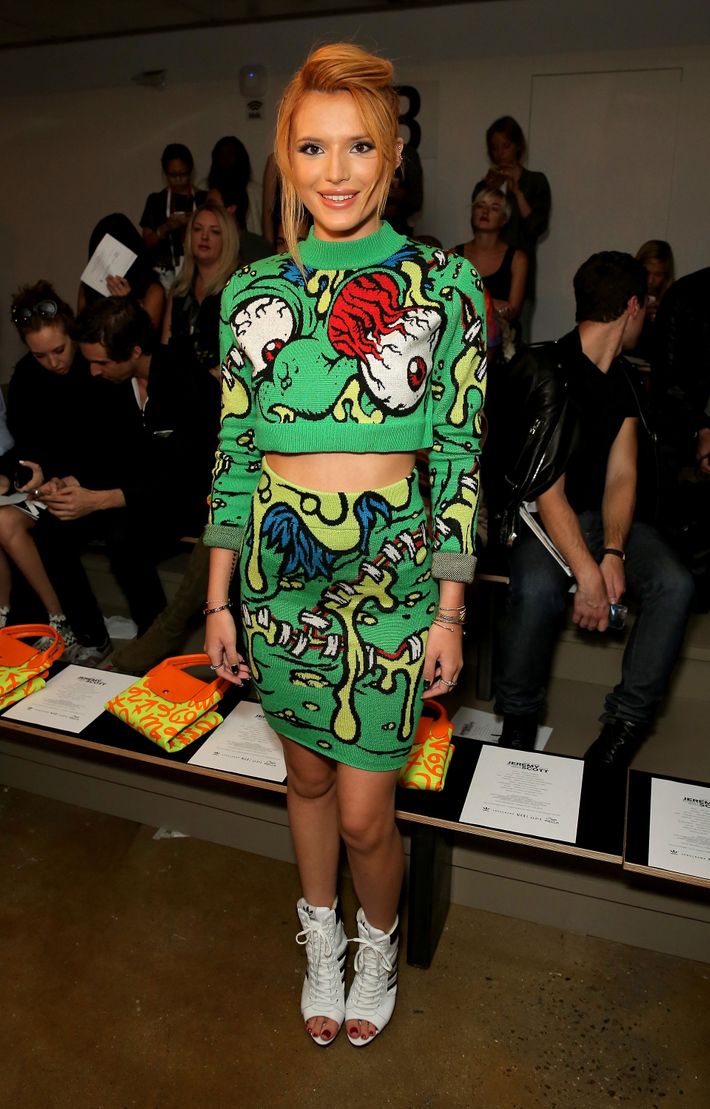 Bella Thorne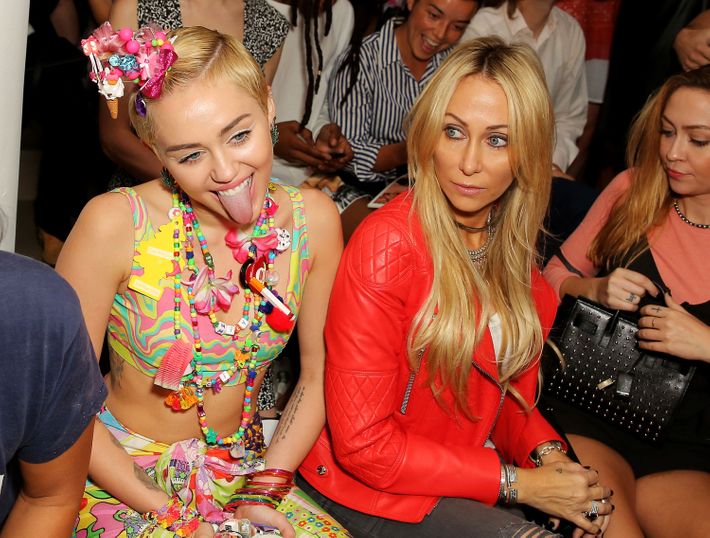 Tish Cyrus, Miley Cyrus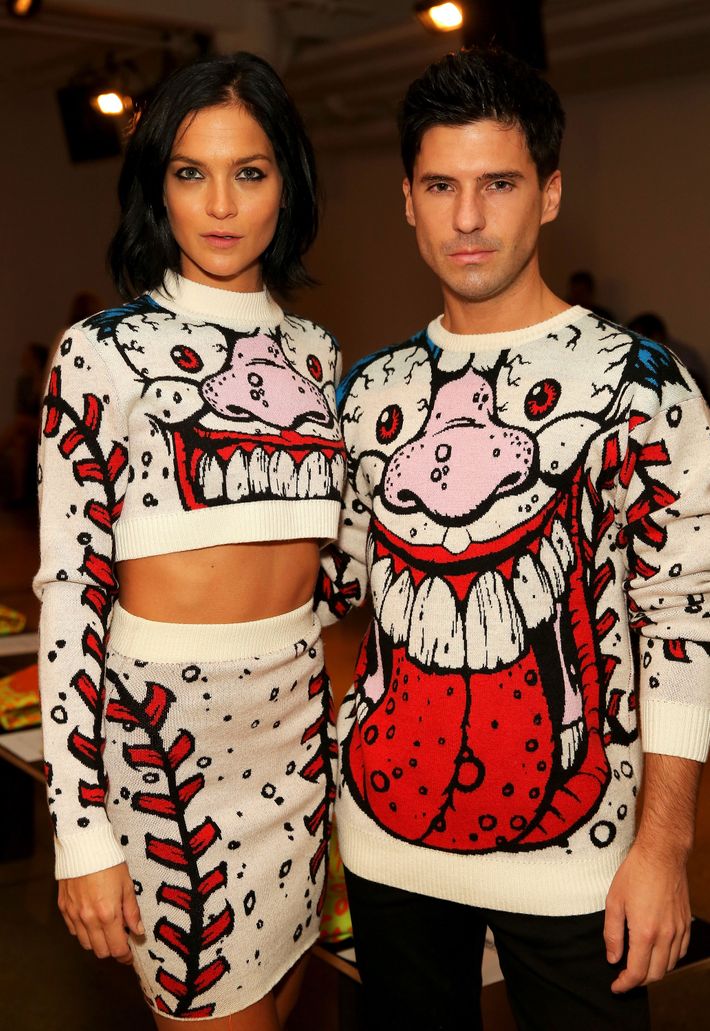 Leigh Lezark, Geordon Nicol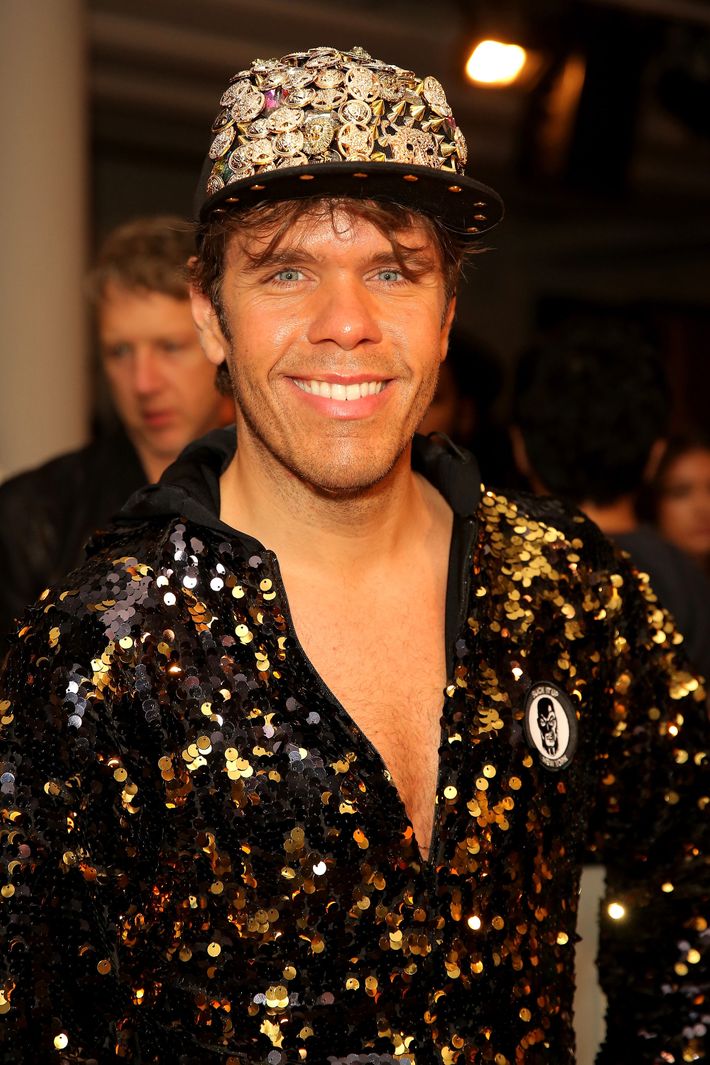 Perez Hilton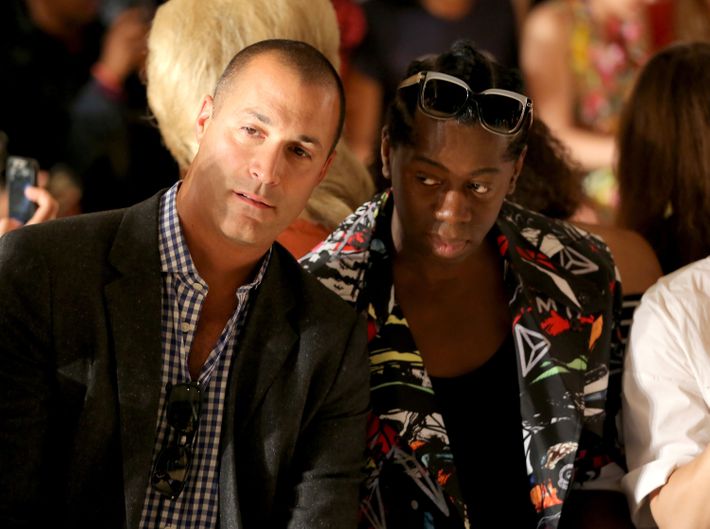 Nigel Barker, J. Alexander