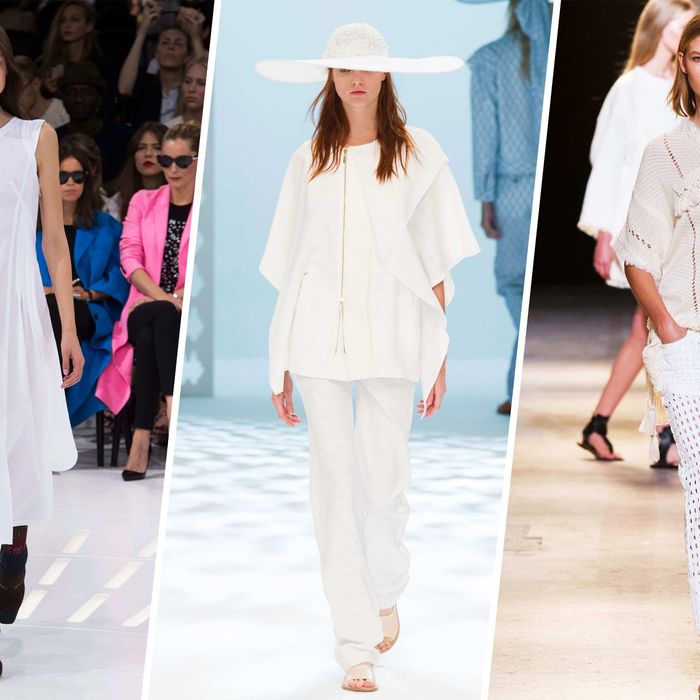 Anyone looking to find calm in Paris on Friday would have done well to avoid the Louvre. The crowd rubbernecking at Dakota Fanning and Carla Bruni before that afternoon's Dior show was intense. But inside, things were far more tranquil: The venue was divided into circular salons, isolating editors and buyers from the celebrity scrum.
Raf Simons's collection built on his sober, down-to-earth couture show in July. Said the designer in his show notes, "For this collection I wanted to continue; I thought there was more to explore." The show was called Providence (Extended Remix) and many of the looks had an angelic feel: Many were all-white and voluminous, inspired by 18th-century court coats. They also referenced astronaut uniforms, with a touch of '60s futurism. The last two looks featured sweeping gilets in bright pink and gold, a stunning visual complement to Simons's white canvas.
Issey Miyake let loose a bunch of white balloons in his show tent, an image of calm and cheer that jibed nicely with a collection that was inspired by clouds. The balloons were attached to strips of audiotape, an invention of the composer Ei Wada, who "played" them during the show. The haunting experimental music paired nicely with Miyake's white cumuluslike creations, many in a new proprietary fabric the company is calling 3-D Steam Stretch, used on oversize jackets and puffy dresses.
Isabel Marant always has pieces you want to buy and wear straight out of the show, and this season was no different. She jumped on the serenity bandwagon with looks like a loose white tunic with origami folds and a rope belt, paired with perfectly frayed white pants. When she wasn't going full Zen, Marant squeezed in some sex appeal, in the form of shimmery micro-minidresses, perhaps for when you're feeling less contemplative.
"Moor's Gaze" was the title of Hussein Chalayan's latest collection, and he drew interestingly on Moroccan paneled windows, which found their way into a black-on-black print on a silk dress. Another intricate print looked like the aerial view of a Moorish garden, an enclosed oasis of peace. Of course, the designer, who's celebrating his 20th anniversary, had to shatter the calm with a note of provocation: a series of prints of women in burqas, with fiery red nails.
See the full Christian Dior collection here. 
See the full Isabel Marant collection here. 
See the full Issey Miyake collection here.
See the full Chalayan collection here.