Oscar de la Renta Loved Powerful Women
Photo: Theo Wargo/Getty Images, Ron Galella/WireImage, Dimitrios Kambouris/FilmMagic, Ron Galella, Ltd./WireImage
Plenty of designers pay sound-bite-length tribute to so-called "strong women." Oscar de la Renta actually dressed them. The designer, who passed away today at the age of 82, was the preeminent outfitter of powerful women over his nearly five decades in business, whether they were First Ladies, CEOs, society grandes dames, or everyday women.
De la Renta had his share of A-list front-rowers over the years — Beyoncé, Jessica Simpson before she was a designer, Victoria Beckham before she was a designer — but he never based his choices only on star quality. (Plus, as he told New York in 2005, "[Actresses] are more of a hassle to deal with than anything else. They tend to be insecure people. Insecure and capricious. These are two bad qualities.") No, de la Renta's clothes always stood for something larger than the celebrity red-carpet circuit — they are part of a larger tradition that has now touched generations of women. "When you wear Oscar, a little bit of New York's Gilded Age rubs off on you," Lauren Santo Domingo told New York last year. 

Still, he was not just the official attirer of the "ladies who lunch," a term he claimed to hate. His designs — color-splashed, feminine, and most often bearing the imprint of his island home, Santo Domingo — were a far cry from any idea of the "safe" political wardrobe, yet he garnered admirers like Hillary Clinton and Huma Abedin. ("This man has been working for more than 20 years to turn me into a fashion icon, despite [my] best efforts," Clinton joked while presenting de la Renta with Carnegie Hall's Medal of Excellence last year.) He also counted among his fans fellow designers Diane von Furstenberg and Tory Burch, CNN correspondent Alina Cho, former Planned Parenthood head Faye Wattleton, and burgeoning mogul Aerin Lauder, all ladies who do far more with their lives than just lunch. De la Renta's genius lay, in part, in unlinking femininity and flightiness. Yes, you can wear taffeta or florals or a dangling pair of statement earrings and still be taken seriously, he proved.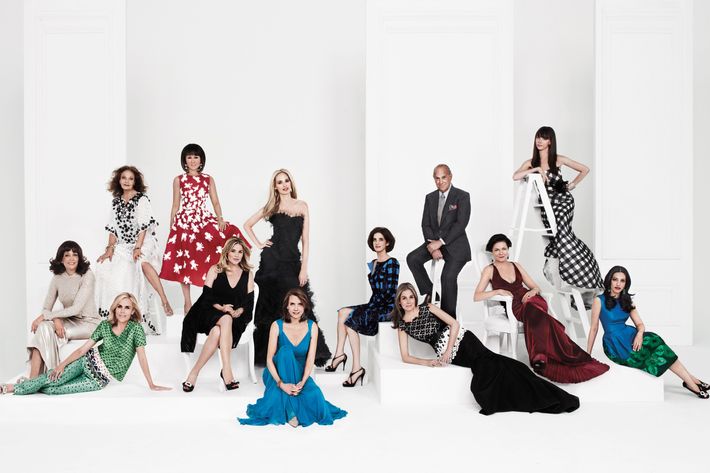 "Whether it's for First Ladies or the lady on the street, he really tries to understand what people want, what people need, he tries to get people," de la Renta's son-in-law and CEO Alex Bolen told the Daily News earlier this year. And his rapport with his clients was legendary. Born in the Dominican Republic, he apprenticed at Balenciaga, under Cristóbal himself, and at Lanvin under Antonio Castillo. He began his solo career by dressing Beatrice Cabot Lodge, daughter of John Cabot Lodge, the actor turned American ambassador to Spain. (She wore her de la Renta debutante gown on the cover of Life magazine in 1956.) From then on, de la Renta moved smoothly through a network of social swans. He attracted Diana Vreeland as a mentor; she got him a job working for Elizabeth Arden, designing custom gowns. Soon, Babe Paley and Pat Buckley became clients. He dressed Jacqueline Kennedy, beginning a tradition of First Lady outfitting — he'd later clothe Nancy Reagan, Laura Bush, Hillary Clinton, and Michelle Obama. When he was hired to helm Balmain Couture in 1993, de la Renta became known as the "Concorde Couturier," jetting to and fro to work on his collections, which strutted out on the likes of Linda Evangelista and Naomi Campbell. "I don't really know how to do casual clothes," he once told Women's Wear Daily. Instead, he favored cream-puff poufs and dramatic gowns. De la Renta once said he hated the word pretty, which is a tad surprising given the ultrafemininity of his clothes.
The designer was also known for always speaking his mind, courting controversy in a world where most designers' interactions with the public are carefully PR-managed. When Michelle Obama wore a J.Crew cardigan to meet Queen Elizabeth in 2009, de la Renta told WWD, "You don't … go to Buckingham Palace in a sweater." Two years later, he took the First Lady to task yet again for wearing Alexander McQueen to a Chinese state dinner. Again speaking to WWD, he said, "My understanding is that the visit was to promote American-Chinese trade — American products in China and Chinese products in America. Why do you wear European clothes?" The First lLady never responded, but his designs were absent from her wardrobe until they made a notable appearance at this month's Fashion Education Workshop at the White House.
Though de la Renta was known to speak out, at heart he was a mild-mannered family man. Despite his affection for so many prominent women, those he was closest to were his wife Annette, a publisher, and stepdaughter Eliza Reed Bolen, who heads up the designer's licensing arm. (Son Moises has also worked for him.) And despite his glittering array of prominent friends, he was, by all accounts, no snob. Anna Wintour once observed, "You can be having dinner with Oscar and the Clintons, and he's a vivacious host who takes care of everything. Then, after the meal, he'll go back into the kitchen and play dominoes with everyone who prepared the meal."
Relive some of de la Renta's greatest moments in our slideshow below.