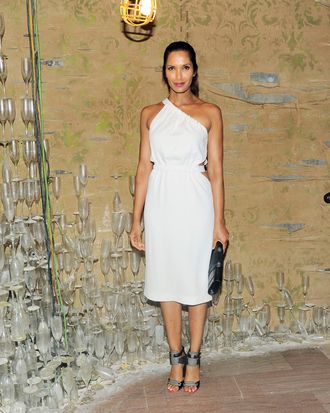 Photo: Nicholas Hunt/Patrick McMullan
It's no surprise Top Chef host Padma Lakshmi has been everywhere around the globe and then some, but when the Cut caught up with her at InStyle's 20th Anniversary Party last night, she was all about talking la dolce vita.
While she hasn't been to Italy recently, Lakshmi spent six years on the pasta-filled peninsula earlier in her career and landed her first acting roles in a pair of Italian miniseries. The former model has a particular affection for Milan and was quick to offer up recommendations for those making the pilgrimage to the fashion capital: "I would stay at the Principe di Savoia or the Hotel Edy Milan."
And for food: "I would go to Latteria di San Marco," she said, noting a diminutive restaurant that specializes in cheeses and creamy desserts, sourcing its ingredients from a neighboring outdoor market. "I would also get gelato at the Via Solferino." Her favorite flavor? Fior di latte.