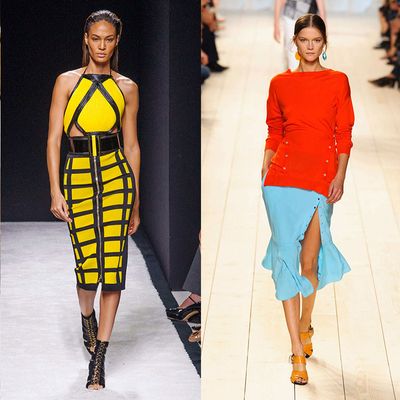 In the standard fashion profile, a designer will be asked to identify his or her "woman," or, alternately, the less PC "girl." It's a construction that lends itself to cliché-mongering — this woman is "uptown meets downtown," "bohemian meets boardroom," she's "not afraid" — as if such a thing could induce real fear — to mix "high and low, " "masculine tailoring and feminine frills," "chic and street."
Today four designers with very different "girls" in mind had a chance to unveil their respective visions, and the results were anything but abstract. At Carven, Guillaume Henry looked to the '60s for inspiration. "There's something really dynamic in the silhouette of this era," Henry said. "Tiny-shouldered coats, A-line dresses — there's always this kind of leggy silhouette." As for the Japonisme-esque prints, he scoured Tumblr and Google Images for them, drawn especially to bright shades of yellow and red.
At Balmain, designer Olivier Rousteing is hung up on a different era. "What I love about fashion is the '90s," said Rousteing backstage. "The models were not hiding behind clothes: Claudia, Naomi, Carla." Though the designer is barely old enough, at 28, to remember the supermodel era firsthand, he paid it a fine tribute. The clothes, too, recalled that late '80s, early '90s heyday, with their body-con shapes — the better to show off Kendall's and Karlie's hard-won physiques — and comic-book-bright palette. The crisscrossing black lines and preponderance of bandeaux were inspired by Instagram censorship. "Sometimes we [as designers] forget that women are wearing our clothes," pointed out Rousteing. "You just don't show your clothes, you show a type of woman, a type of body, and I love the idea of the woman in my clothes." So did the audience, including a pretty sexed-up Kim K.

In a massive tent in the Tuileries thronged by camera-phone-wielding looky-loos, Peter Copping unveiled another romantic vision of his Nina Ricci "woman." So Balmain's Dick Tracy colors were replaced by macaron pinks and baby blues, while delicate ribbonlike slits in skirts and artfully crinkled textures added to the jewel-box atmosphere. Copping delivered, as always, when it comes to sweeping evening drama, but his knitwear, in the form of sober sweaters belted over pastel skirts, was a dark horse that almost stole the show.

Rick Owens has always been clear about his muse, which is a person rather than a semi-fixed place in the past. She is Michele Lamy, his wife, who sat front row at his show in a pair of giant gum-heeled wedges — the shoe equivalent of monster trucks. No wonder Owens's models wore towering chopines. But Owens is the rare experimental designer whose experiments are embraced by the public. Maybe it's because he tempers oddball moves like painting some of his models' faces and limbs statue-white with a fundamentally intellectual approach to clothes. This season, linear shapes had winglike extensions or oversize cowl-neck add-ons. His innate romanticism isn't often remarked upon and doesn't read as directly as Coppings's, but it's there in the cloudy, ghostly waves of fabric and the beauty that Owens so deftly intermingles with toughness.
See the full spring 2015 Carven show here.
See the full spring 2015 Balmain show here.
See the full spring 2015 Nina Ricci show here.