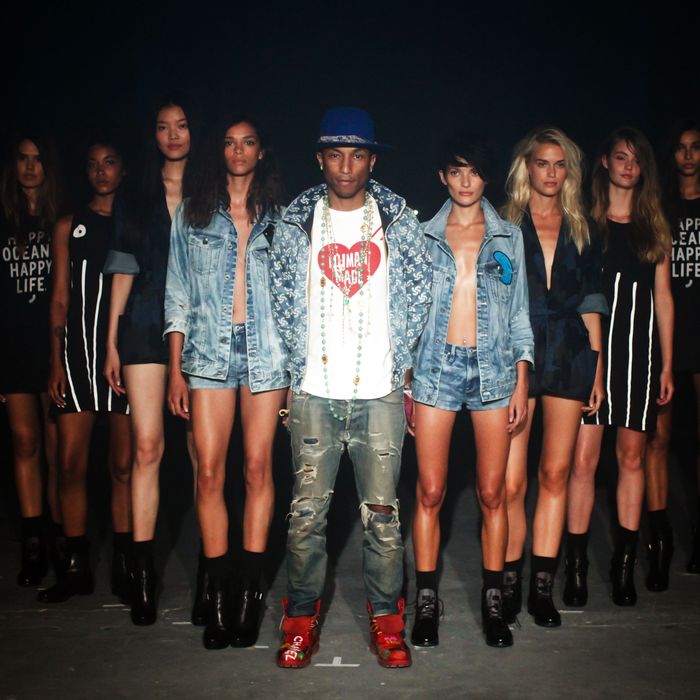 Photo: Benjamin Lozovsky/BFAnyc.com/BFA NYC
"Follow the light," an usher advised last night, directing partygoers to the "reveal" of RAW for the Oceans, the latest collaboration between G-Star and Pharrell's Bionic Yarn, a textile made from recycled ocean plastic, on sale today. Waiters popped out from the foggy, blue-lit darkness, like underwater divers swimming with trays of red wine. A hollow beat clicked like dripping water to introduce Frank Ocean's voice singing, "This water tells my story, this water knows it all …" from Jay-Z's "Oceans." Projections in the center of the warehouse space made it feel as if gray whales were swimming above.
Pharrell slowly emerged from the darkness, flanked by twelve models, and stopped before the crowd. A spotlight flashed to reveal the collection of deep-blue and black T-shirts, sweaters, and caps, as well as denim, pants, vests, and jackets printed with a cartoon-y octopus. "The planet is our home. It is very easy to get caught up in the things that we do everyday in the minutia of the things that we consume ourselves with," Pharrell told the crowd. "But until then this planet is made of 75 percent to 80 percent water, just like we as a species are made of 75 percent to 80 percent water in our flesh. We've got to take care of our bodies, literally ours and the one that we live on … We don't want to just talk about it, we actually want to put it in practice." Of course, if you do consume, he probably wants it to be from his collection.