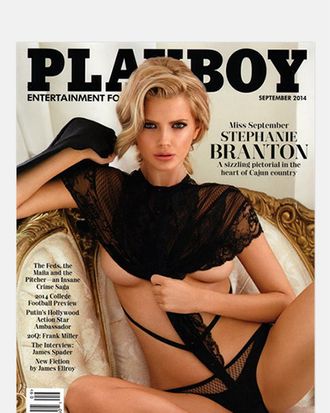 When nude photographs of celebrities swarmed the internet this week (without the subjects' consent), Playboy knew there was a way to get in on the action.
The magazine has offered incalculable photographs of naked women — women of all degrees of celebrity — for decades. Thus, it published an article called "Here Are Those Celeb Nudes You're Looking For," because who would doubt it? That phrase could, in all fairness, have been the magazine's tagline since its establishment.
The slideshow is their punchline. To give little away: These are not the celeb nudes you're looking for. Consider it a prank decades in the making.
But, even with their kicky new sense of feminist-friendly decency, Playboy is not the sort to offer a slap on the wrist without a kiss on the ass. Punctuating their slideshow of HACKED NUDE-CELEB PHOTOS JUST KIDDING, banner ads for alternative Playboy content beckon you toward a variety consensual nudes: a nude in a bath, a nude in jorts (a contradiction, but also accurate?), and a nude holding a daisy.
Playboy: here to offer you the proper alternative for gazing at the naked female form.