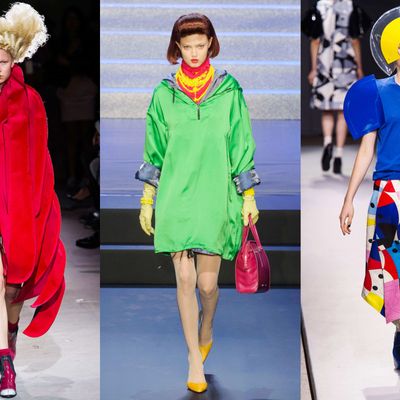 Junya Watanabe's early-morning show felt like mass, with the faithful arriving in their avant-garde finest to pay respects. (They've been tithing all year long at Dover Street Market.) The show was bare bones by Paris standards. There were no show notes on the seat. There was no designer bow at the end. There wasn't even a Kanye sighting. Still, Watanabe managed one of the most invigorating efforts of the week. The circle — that most simple of shapes — was the starting point. There were clear helmets, oversize leather paillettes welded to the front of a dress, and semicircles that formed sleeves, of a sort. The designer seemed to be collaging freely, pushing the boundaries of geometry.
Comme Des Garçons' Play line is beloved for its heart-with-eyes logo that adds a "yeah, I know about fashion" cachet to simple sweaters and mariniere tees. Rei Kawakubo's inspiration for her main line this season was like a raw, dramatic inversion of that adorable mascot. With a more anatomical conception of the heart as her jumping-off point, Kawakubo showed a brilliant collection. Some pieces were Oldenberg-esque soft sculptures that turned the models into walking tangles of aorta and vessels; some were done in fabrics that looked like blood-stained sheets. She explored constraint, enlacing the models in straitjacket-like constructions. There was even a Little Red Riding Hood cameo, though the fairy-tale heroine turned threatening with an ominously oversize topper that evoked an executioner's hood — wolves beware. Foregrounded by polished, perfected, corporate fashion, Kawakubo's rawness was a bold rebuke to the status quo. Women aren't products, she seemed to be reminding us, they're living creatures who bleed and throb with life.

Jean Paul Gaultier's RTW swan song marked an endpoint to decades of memorable runway moments. Gaultier recognizes that fashion is theater in a way that no one else does, and he's not afraid to have a little fun at the industry's expense. To wit, his "fashion editor" thread where he gussied up Lindsey Wixson as Suzy Menkes and Magdalena Jasek as Grace Coddington, or the "Loco Logo" section where he gently mocked the return of obvious branding. There was so much joie de vivre in Gaultier's faux-beauty-pageant celebration of French icons: sailor stripes, the Tour de France (in the form of sexed-up jerseys), and even le smoking (in the sense of both cigarettes and lady tuxes). This delightfully cornball finale, a combination of the Eurovision Song Contest and Miss America that came complete with confetti sprays and a coordinated dance number, was a joyous sendoff to someone who is a French icon in his own right, but it had a bittersweet aftertaste. There aren't many independent spirits like his still standing; with his exit, we're losing one of the most irreverent voices in fashion.
See the full spring 2015 Junya Watanabe show here.
See the full spring 2015 Comme des Garçons show here.