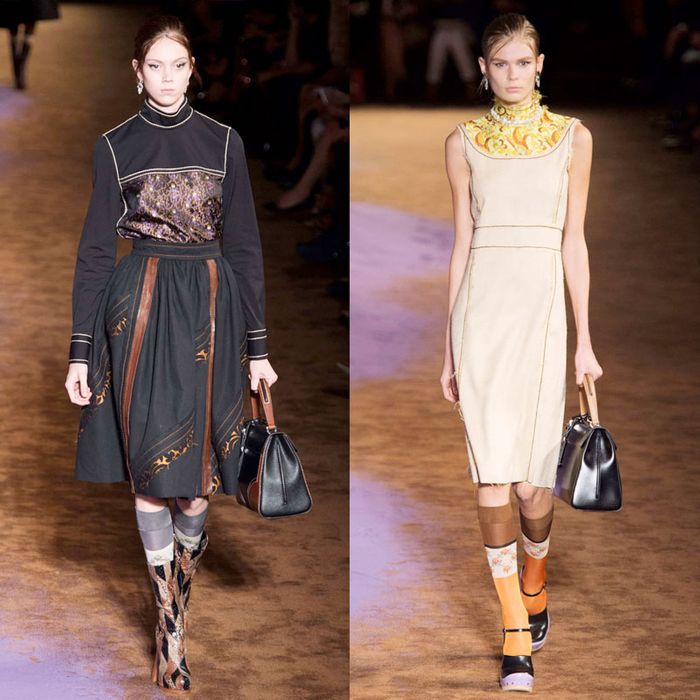 When the dissonant, glam-rock-esque soundtrack started up at Prada, spectators might have been forgiven for expecting a glam-rock extravaganza. But Miuccia Prada is rarely that thematic. Instead, the collection was a hodgepodge of eras, and, in some cases, a remix of the her own past work.
Prada's genius was in juxtaposing frayed, ultraplain, almost burlap-sack-like textures with extremely ornate ones — the overall effect evoking an aristocrat who's been forced by circumstance to go DIY. She's patching things together, literally. Her heavy, rich fabrics — jacquards, silks, damasks —seemed intended more for furniture than for clothes, giving the whole collection an intentionally half-upholstered feel. Think of it as Miuccia's glamorous answer to Marc Jacobs's apocalyptic, olive drab-clad combatants. This collection, too, seemed meant for life after the burnout, full of many of the same anxieties as Jacobs's, but with more of a flinty, make-do feeling.
As for that era mixing, there were hints of Victoriana in the high necks, the '30s in the Dust Bowl set, the '70s in the patchwork and the '90s in the omnipresent contrast stitching. And it wouldn't be Miuccia without a few self-referential moments: the designer's love of "ugly" color combos (burnt orange and pool-sludge green, anyone?) and round-toed Mary Janes got plenty of airtime. She brought back favorites like Gemma Ward and Lara Stone, welcome comebacks from her past repertoire. And her continued focus on, for lack of a better term, ankle interest, was evident on the homespun, patched knee socks that extended well above the edges of boots. If only we all could look this good during the end-times.