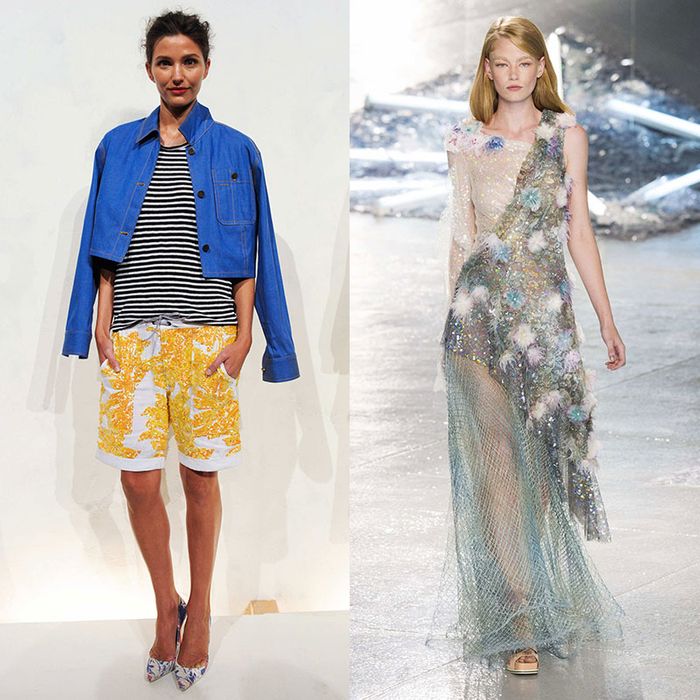 Is prettiness the ultimate provocation? At J.Crew, womenswear designer Tom Mora employed the label's favored accent, the sequin, adorning items as quotidian as a pair of slouchy board shorts or an outsize shirtdress. "How do you make it feel not so precious?" mused Mora, as models — one with a stick-and-poke ankle tat that read "HARD" — mean-mugged behind him. "You know, we're J.Crew, we love sequins, but it felt different this time. I think it's about silhouette, and also color." The aurora borealis, he explained, inspired this season's gentle color gradations, which made the pieces look like dawn was just breaking across them. It was a nice way to wake up.
Oscar de la Renta is always the height of unabashed prettiness, and yesterday's show might as well have been set to the strains of Nancy Kwan singing "I Enjoy Being a Girl." De la Renta injected his ginghams, tweeds, and baby pinks with just the right amount of youthfulness. Crop tops and bell skirts came in abundance; now, these are the clothes Taylor Swift should be leaving the gym in. And while florals for spring might not be the most groundbreaking concept, he had fun with the motif, via a stylized rose print that sprouted all over the collection — even on massive silver earrings.

"It's complicated," would probably best describe Kate and Laura Mulleavy's relationship to beauty. The Rodarte desigers are never content to merely make something beautiful — they have to mix in some ugliness, some horror. Yesterday's show drew on a grab bag of elements, including equestrians (the wide-ring belts and jodhpurs), mermaids (ocean-hued sequins and fishnet accents that, at one point, snagged on the elaborate crystal-encrusted set), and even, perhaps, Arctic explorers (jackets with a comical number of pockets, set against a chilly white scene). There was beauty here, particularly in the case of the glimmering gowns, but it was mixed with plenty of flotsam and jetsam and junk, for a result that was more interesting than straightforwardly stunning.

Oversize speakers and rainbow, rave-style lighting greeted you at the entrance to Pier 94, Marc by Marc Jacobs's cavernous show space. But while Luella Bartley and Katie Hillier are still mining the street, they've moved on from the overt surf and skate references of fall to something a little sweeter for spring. "It's the same character, but a different collection," said Bartley postshow. Looking to DIY culture, the two combed the work of industrial artists of the 1950s, "who created these beautiful things out of what lay around," along with early '80's ravers. "They created something euphoric, and almost a church-like feeling out of these huge warehouses," Bartley said. Polka dots on pastel channeled that '50s inspiration perfectly, adding a spoonful of sugar to another streetwise collection.  

There must have been something in the air, because even Narciso Rodriguez, whose sporty, body-skimming designs tend toward the ur-minimalist, worked a little sparkle into this season's collection. It was nice to see such a master of severe abstraction soften up, at least by a small degree.
See the full J.Crew collection here.
See the full Narciso Rodriguez collection here.
See the full Marc by Marc Jacobs collection here.
See the full Oscar de la Renta collection here.
See the full Rodarte collection here.