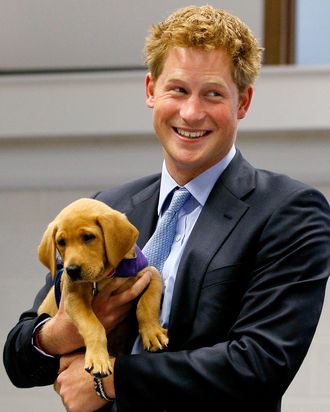 Photo: WPA Pool/Getty Images
A royal source informed MyDaily that Prince Harry, a 29-year-old royal, "wants a labrador puppy [for his birthday] and that's what he has asked for." 
Good afternoon! You really look splendid and nice today. No, nothing is wrong, I just think you look quite tremendous, that's all. So I was wondering if you remember what day September 15 is? Yes, it is the exact halfway point of September. That is something I appreciate about it as well. But do you remember, like, what it means for me, individually, I suppose?
It is my birthday; that's a fantastic memory you have. Well, I thought that, because I'm getting a little older and I have been quite well-behaved and responsible with my chores and such, that I could ask for a special birthday gift. No, no, everyone just uses the cameras on their phones now. Oh, they actually take good pictures these days. Really, I would just lose it. I was thinking that it might be nice if I got a — Oh, honestly, I probably won't ever use a bike, even if I had one. I think I do have one actually, but maybe I lost it? No, I don't want one to replace it, that's the point of what I was saying.
But do you know what I wouldn't lose if I had one? A puppy! Yes! Oh no, not a stuffed one, I gave those up ages ago. No, I know they're still in my — you know what, it doesn't matter. I would like a real puppy: a Labrador puppy!
All right, I knew you were going to say that, but I promise I will walk him every day. And feed him, of course, yes, I was going to mention that. I will even share my meals with him, if that sounds like something that's allowed. No? Well, then I won't in the house. Strictly bowl-related distribution of food in the house, understood. But he doesn't even need to be in the house that much! We will run together and frolic together and nap together under the sun in the grass. Maybe if he's brave we will swim together. Depending on his dog politics, we can hunt together. And we will grow together and perhaps chew on a little furniture together. Please, please, please.
We'll see? Okay. That's fine. I'll take it.