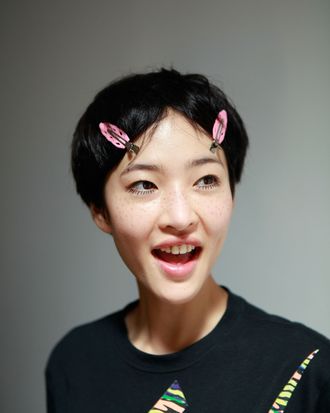 Thanks in part to Cara Delevingne, many people this Fashion Week have been sporting fuller, bushier eyebrows. And backstage at the Adam Selman show, the bushy eyebrow was alive and well — thanks to a new brow gel that channeled the freshness of a '60s model.
Maki Ryoke, who led the show for beauty.com, used Too Faced Cosmetic's Bulletproof Brows in a taupe shade. She kept the freckles very light and randomly applied along the cheeks, for a Cintia Dicker (rather than Raggedy Ann) effect. Skin was kept bare, except for moisturizer and concealer as needed, along with an imperfect set of dolly lashes, drawn on the lower lash.
With the heat outside, everyone in the audience had a natural glow anyway, so the freckled look — as shown here by model Yoogian — looked right at home.