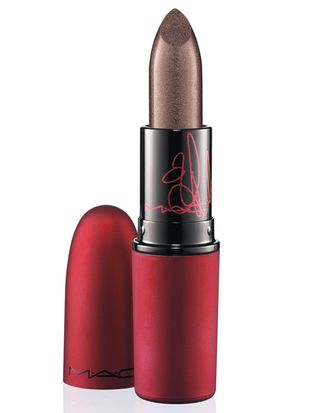 Photo: Courtesy of M?A?C Cosmetics
When Rihanna's sophomore MAC Viva Glam collection landed on my desk, I'd just about had it with the beauty concept of "good girl gone bad." The stars of her partnership with MAC are two frosted shades: an iridescent purple gloss and a warm amber lipstick buried under a veil of icy shimmer. Sure, these would work for her, but so do see-through dresses and, Rihanna, try as I might, I cannot live your life.
So there I was, alone with frost and midnight hues, the two things I despise the most in all of cosmetics, each of which are selling for a palatable $15 (gloss) and $16 (lipstick). I tried on both, despite my loaded prejudices, and fell into a deep, and befuddling, lust for the lipstick. That bad girl is good.
True to MAC form, the lipstick glides on velvety smooth, and its staying power is longer than most. I'd describe it as an evening nude. When mixed with my darker lips, it draws reflections of raisin and chestnut. The color is a proper '90s R&B video throwback, in all of its dark and brooding glory. In fact, I think the last time I saw a similar shade on a Billboard 100 member was Missy Elliot in "The Rain" (you know, the one where Missy pays homage to Stay Puft and wears a trash bag).
Despite its eye shadow color and glimmer, the lipstick just works. It's bold but not loud — like, say, a bright red lipstick. The rouge is best worn at night, with a smart outfit in a neutral hue.
Viva Glam Rihanna 2 Lipstick is on the fast track to becoming my signature night lip, which speaks loudly, as nude tones are my constant handbag companions. After all, nude screams good girl — but, thanks to Rihanna, I'm actually ready to embrace something a little bad.