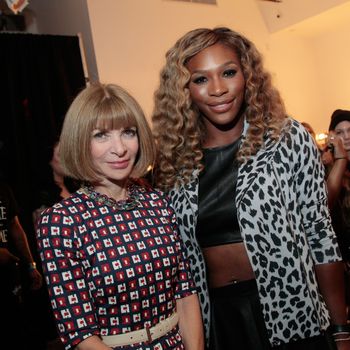 Photo: Thomas Concordia/Getty Images
Serena Williams's first-ever New York Fashion Week runway presentation at Style360 felt more like a victory lap, considering her performance at the U.S. Open last week. There, Williams won her 18th Grand Slam singles title — matching Chris Evert and Martina Navratilova for the record — without dropping a set.
But there was nothing unsportswomanlike about it, either. Her finals opponent, Caroline Wozniacki, was seated in the front row, next to Vogue editor and tennis fan Anna Wintour, wearing a red freakum dress with zipper accents from Williams's Signature Statement Home Shopping Network collection.
Wearing a black leather crop top and matching flared skirt backstage, Williams posed with fans and Real Housewives while Wozniacki gushed that Wintour had floated a photo shoot and suggested a haircut. Williams told the Cut that she'd been able to keep the presentation out of mind while on the court at the Open, but used her off-court and treatment time to approve looks and makeup.
"Some models had to pull out but I was able to cast new ones by FaceTime," she said. (Williams also smartly cast Denise Bidot, this season's breakout plus-size model.) In fact, the presentation might have been a welcome distraction. "I played better than I ever have, so I think I'm going to have to do this every year."
See the full Serena Williams Signature Statement collection here.