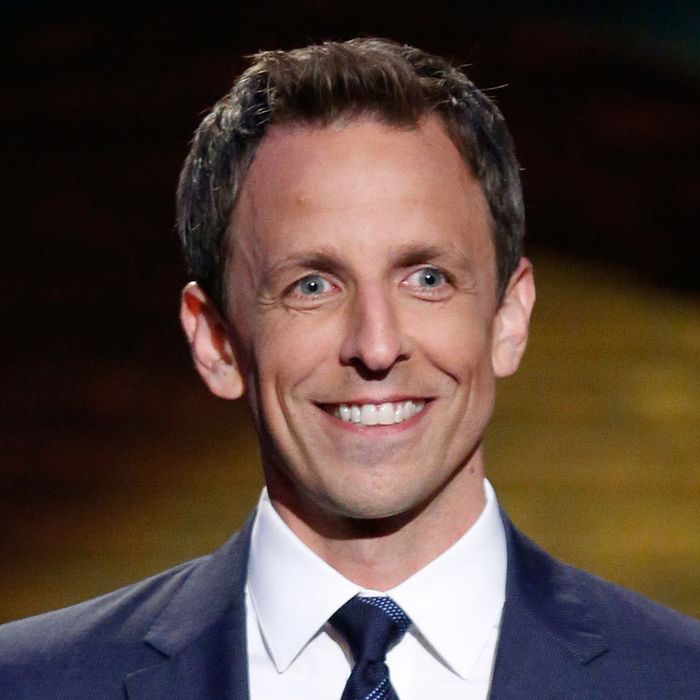 Once, Seth Meyers says, he looked much better than his wife. And it was an important day, too! It was their wedding day and Meyers feels that this was a championship for grooms everywhere. Vanity Fair reports that Meyers told this tale of handsomeness while presenting Carolina Herrera with the F.I.T. Couture Council Award for Artistry in Fashion:
I called her, I said, 'How are you feeling?' and she said, 'I'm at the E.R., I have food poisoning.' So I went to the E.R., and let me tell you, on the list of how you want your wife to look on your wedding day, very low on the list is on a gurney, attached to an I.V., wearing a hospital gown. And I know, Mrs. Herrera, you don't do a line of hospital gowns, but I do think there's a market there. They're really not doing much with them at all.

In a testament to my wife's will, and my wife's strength, she got herself pumped full of fluids, and she rallied and made it to the ceremony. But as she went to get ready, I'll admit, as the groom, I was terrified. I was terrified because she did not look good. She did not look good at all. And I should say—and I know this is important—that I looked great. And nothing's worse on a wedding day than the groom killing it, and the bride being way below average.
But after Meyers's fiancée put on her Carolina Herrera–designed dress, she looked extraordinary and all was right in the natural hierarchy of looking beautiful at weddings, meaning everyone could fairly say that the bride looked best and the groom certainly wore a suit and shoes but no one could quite recall any other descriptions of his attire.