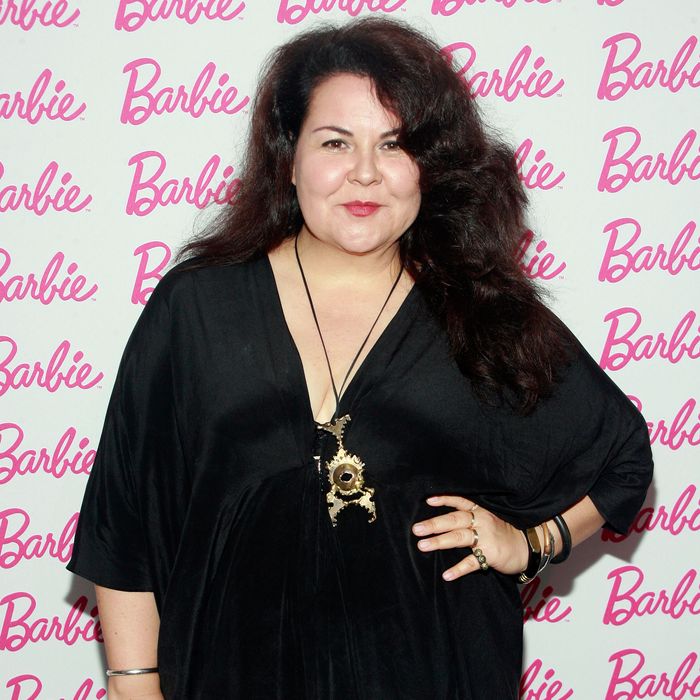 Photo: Sylvain Gaboury/Patrick McMullan
This weekend, at 14th and Ninth, five models stood behind plexiglass scrims and pretended to be Barbies. Their hair was pouffed and curled, and their feet were tucked gracefully into killer heels, and they wore the designs of Charlotte Ronson, Cynthia Vincent, Rebecca Taylor, Tess Giberson, and WHIT. The CFDA designers had partnered with Mattel to celebrate the release of the Barbie Fashion Design Maker, an app that allows fans to design and print clothes for the doll. (As it happens, Karl Lagerfeld will also be releasing his own doll, "Barbie Lagerfeld," later this month.)
The Cut talked to Cynthia Vincent about the adventures her childhood Barbies survived — which included lava rocks, a homemade washing machine, and palazzo pants.
Did you take any style secrets from Barbie over the years?
No, but I definitely got my chops on her. I told my mom when I was 6 that I wanted to design clothes for my Barbies when I grew up, so she taught me how to sew so I could make clothes for my Barbies.
I've heard that before from designers.
I was constantly making clothes for them. I experienced her as a tool to make clothes. I loved doing her home. It was a full lifestyle.

What was your Barbie's lifestyle like?
There was a little fountain made out of lava rocks growing up in the patio of my childhood home and it was perfectly Barbie-size. So they hung out in the Bahamas a lot. They had many vacations. Once I made a washing machine for them, and I left all the clothes I had made in the washing machine I guess too long, and when I came back all the colors had bled. I was so sad. I had ruined her wardrobe. I had to make a new one.

What sort of styles did you make for your Barbies?
I mean, everything. I made bathing suits, of course, and caftans, and I once made palazzo pants and a smock top in this wild paisley print, and I attempted to make myself the same outfit so we had matching outfits. It was pretty intense.

Did you succeed?
I don't think my outfit lasted more than a day or two. I think I got injured on the monkey bars in my palazzo pants.