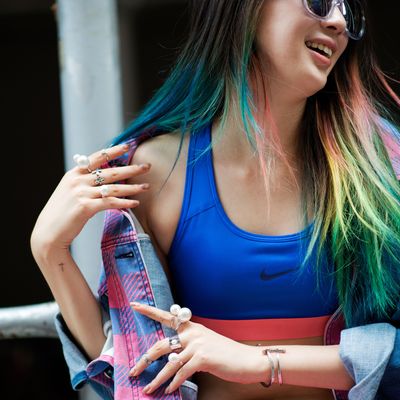 Photo: YoungJun Koo/I'M KOO
If you've been meaning to try a pricy workout class but are intimidated by the crowds and their fancy leggings, now's your chance: As far as I can tell, no one works out during Fashion Week. It's the one time when members of the world's most image-conscious industry — for whom ballet barre qualifies as networking — are willing to forgo exercise and get another day out of their blowouts.
It's partly a matter of scheduling. Adding the gym to the day's itinerary requires the efficiency of a supermom, like the Real Housewife of New Jersey Melissa Gorga, who was out until two, up at five, managing to get the kids to school and a workout in before the Betsey Johnson show — plus the commute from New Jersey. Or it requires an app. Fitspirational DJ and entrepreneur Hannah Bronfman skipped a few shows for training sessions booked on, what else, her bookings app, Beautified. "No matter how planned out my day is, it always gets turned around, so Beautified is perfect because it's all about last minute," she said. "The Movement is great because it is in Flatiron and all my shows were in Chelsea!"
For the less geographically optimized, merely getting from Lincoln Center to the Meatpacking District and back is enough to blow up your FitBit. And those who stay out and dance with the enthusiasm of Alexander Wang probably burn off their Champagne. "I biked from my house in Bed-Stuy to Manhattan to drop off some clothes," Homeland actress Morgan Saylor said. "Does that count?" I think so. In fact, some would say one could write off all her SoulCycle classes as training for this, the big event. "You've almost got to work out for it," said photographer Nigel Barker. "Just to be in sort of fashion fitness." (This season's street-style olympics were so intense, several women thought it merited a sports bra.)
The darker truth is that no one stresses their caloric output during Fashion Week because there's so little input. "You're so busy, you're not eating," said a publicist, who asked not to be identified for her "Fashion Week anorexia." "I don't feel guilty at all." Same goes for the models. Aside from some light yoga and crunches in the hotel room, "they're too afraid of adding bulk," a veteran model told me, "not that I think that's right." It's only the poor male models who need to wake up and hit the gym, fine-tuning their modest bulk. "I can see them working out from the steam room at New York Sports Club," said photographer Riccardo Nelson, "where I'm detoxing from the night before."
Additional reporting by Laura Rosenfeld.