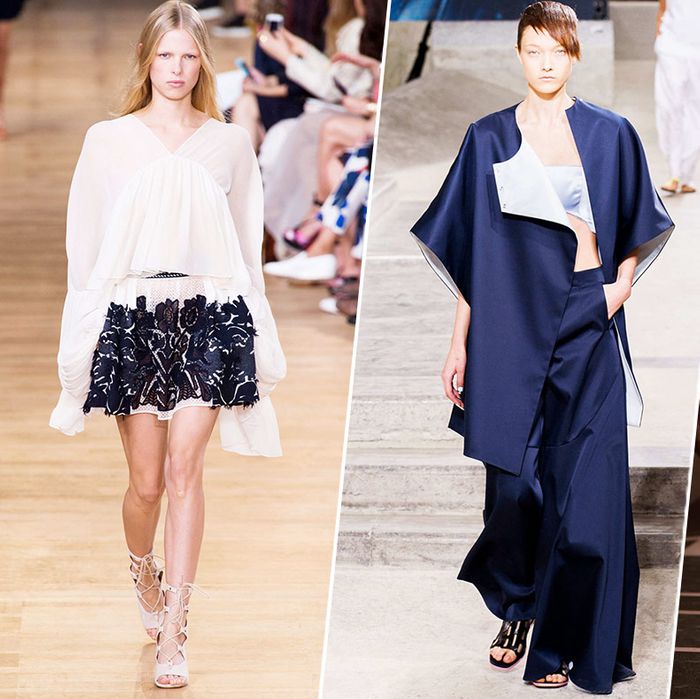 Those clambering around the skate park in the 18th arrondisement where Humberto Leon and Carol Lim held their latest Kenzo show may have missed a key figure lingering near the entrance. Kenzo Takada, the 75-year-old founder of the brand, was taking photos with a smattering of fans. Leon and Lim have big shoes to fill, but they're proceeding in the designer's spirit while still marching to their own beat — in this case, the EDM heartbeat that soundtracked their show, which featured a satisfying collision of streetwear and sportswear. Post-show, Leon reflected that the collection's inspiration came from "our vision of this kind of optimistic future and thinking about things in a clean way … this collection was about that purity." They used an animated avatar, Nola (portrayed in real time by a model hooked up to a futuristic headset), to narrate the show. Said Lim, "We're not sure where she's from and we like that." The same could be said of Leon and Lim's international dateline-crossing skater girl, whose wardrobe mingles Memphis-like pastel prints, dressed-up denim, and novelty sweatshirts — a worthy continuation of the Kenzo spirit, but with the designers' SoCal imprint.
Chloé designer Clare Waight Keller dedicated this season's show to the brand's co-founder and onetime designer Gaby Aghion, who just passed away at age 93. Keller advanced the femininity  Aghion had forged, incorporating an element of what she termed "modern folklore." To come up with her embroidered tunics and brief broderie anglaise dresses, she looked to textiles from around the globe, noting, "A lot of these fabrics were originally created to tell stories." The tension between pattern and shape was apparent: Waight Keller wanted to create "something quite personal and poetic, but very crisp and sharp in the silhouette." Meaning that while these dresses verged on folksy, the clever cutouts and unfussy shapes kept them from feeling at all frumpy.

Hubert de Givenchy and Riccardo Tisci aren't exactly cut from the same cloth — at least, it's hard to picture the former partying in Ibiza — but they aren't at odds, either. The lush embroidered gown Givenchy created especially for Audrey Hepburn to wear in Sabrina and Tisci's darker, more complicated collection share a certain Romantic attitude and a flair for the dramatic. For spring, Tisci's heroine was at times a swashbuckler in a striped pirate shirt, a medieval maiden in ruffles and furbelows, a sorceress in lashings of black lace, or Joan of Arc heading to battle in a studded gilet. The designer often references his Catholicism: Here, it turned up in the form of crosses that he provocatively placed on the bodices of sheer shirts. It was unmistakably Tisci and, at the same time, unmistakably Givenchy.
See the full spring 2015 Kenzo show here.