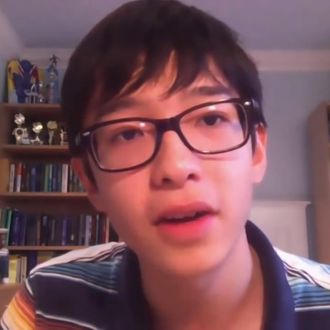 On Monday, the 2014 winners of the Google Science Fair, an international competition for 13- to 18-year-olds, will be announced. All the finalists are scarily impressive, but Kenneth Shinozuka, winner of the Scientific American Science in Action Award, stands out for an impressively practical invention for helping with the difficult task of taking care of a relative with Alzheimer's or another form of dementia.
Here's his description of the project on its website (chopped up into paragraphs to make it more readable):
Caring for my grandfather, who is afflicted with Alzheimer's disease, has caused our family significant stress, particularly when he wanders out of bed at night and suffers accidents. My grandfather is one of the 5.2 million Alzheimer's patients in the U.S., 65% of whom wander. To protect their safety and alleviate the burdens on their caregivers, I invented a low-cost wearable sensor technology for real-time, reliable detection of patients' wanderings. 

Once the patient steps onto the floor, a sensor worn on the foot will immediately detect the pressure caused by body weight and wirelessly trigger an audible alert in a caregiver's Smartphone. I developed three enabling technologies: an ultra-thin film sensor that is comfortable to wear, a coin-sized wireless circuit enabled by cutting-edge Bluetooth Low Energy, and apps that transform Smartphones into caregivers' monitors. Integrating them, I created two prototypes: a sensor sock and a sensor assembly that can be conveniently adhered to a foot.

A six-month trial on my grandfather validated my hypothesis: the systems detected 100% of the 437 known cases of his wandering and issued alerts within one second of his stepping out of bed. No false alarm was issued. I am in the process of testing my technology in nursing homes and investigating patterns from sensor data. In addition to solving the originally intended problem, using the sensor to monitor a larger population of Alzheimer's patients could lead to a fundamental understanding of the causes of wandering and thus ways to mitigate or prevent it.
And as if that left any doubt, this video of Shinozuka explaining the project further proves that he is a lot smarter than, say, me:
Kids these days!