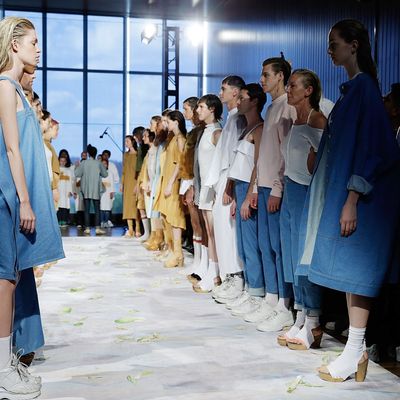 Photo: John Lamparski/Getty Images
Shayne Oliver, 26, was backstage after another smash hit show for his label, Hood by Air, which drew everyone from a K-Pop princess to a man in a bandanna-printed SARS mask to tween Instagram sensation Mike the Ruler. "I feel like I'm growing up in front of the world," he said. "And it feels okay." Oliver has already been a finalist for the LVMH prize and been nominated for a CFDA award, but he's been smart about retaining his ties to the streetwear culture that built him up. "I don't come from this otherworldly place," he says. "It's like, people can get to know me."
His loyal fans were with him through flights of fancy that included imprisoning models in Plexiglass headpieces that also cuffed their hands and bags welded out of what looked like bike handlebars. Out of context, those pieces can read almost Zoolander absurd; looking as outrageous as possible is what Hood by Air is about. But this collection also had clothes you could imagine people wearing in everyday life: printed Bermuda shorts and great deconstructed denim plastered with '90s-style logos. Retailers, get ready.

And then there was Eckhaus Latta. Like Oliver, designers Mike Eckhaus and Zoe Latta are relative newcomers, and their fashion-outsider quotient is even higher than his is. (No Establishment accolades have yet come their way.) When I visited the recent RISD grads at their Chinatown studio this summer, Latta was wearing a tank top emblazoned with a photo print of Eckhaus's hairy chest. So it wasn't a surprise to arrive at the show venue and find a runway strewn with lettuce leaves, in true neo-Dadaist fashion. Or to watch as the show unfolded into a performance piece, with the models contorting themselves into an avant-garde game of Twister, all foregrounded by the singing of a children's choir. At times, there was an attention-grabbing, gender-bending twist, as in the case of a ruffled pinafore-style top for men.

But again, amid all the sound and fury, the collection had great design at its heart: Latta and Eckhaus turned denim, cotton, and jute into a refreshingly unadorned whole. The designers often use deadstock fabrics, "rescuing" what might otherwise go unused. Elevating the commonplace — whether denim, with its workwear origins, or streetwear, which was once more subculture than culture — is a truly American impulse. And while one would confuse the duo's designs for Oliver's, the block-busting line around the corner of the Standard Hotel was proof that they, too, have a fervent fan base. In a sea of sameness, let's be glad that these talents are getting the chance to let their freak flags fly.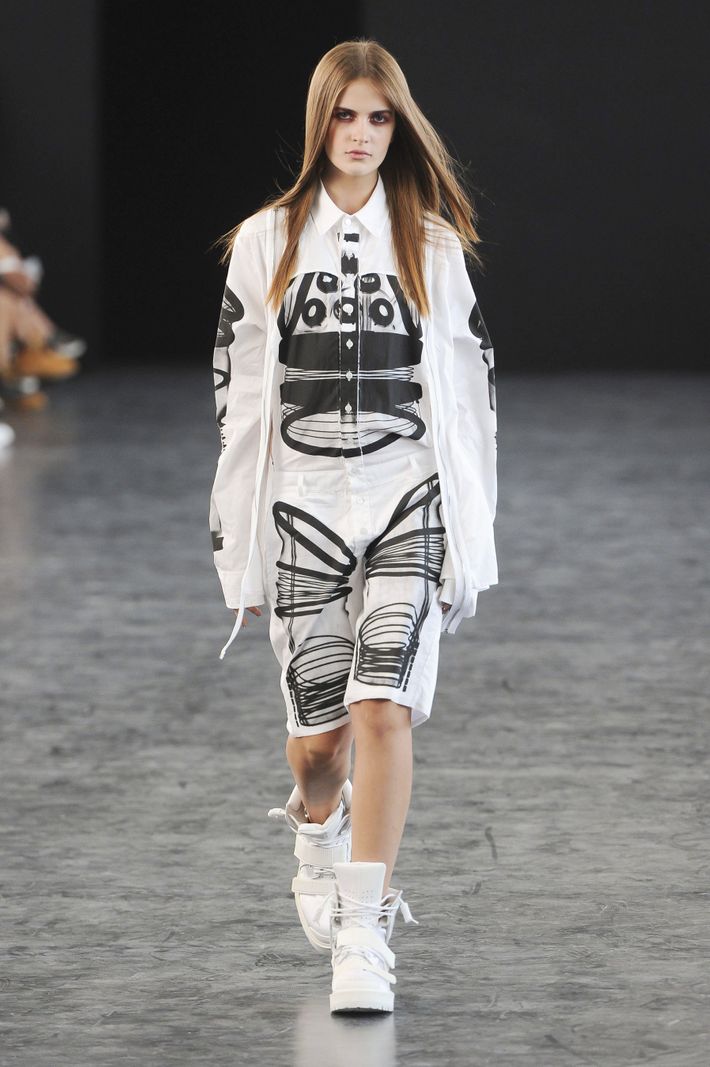 See the full spring 2015 Hood by Air show here.