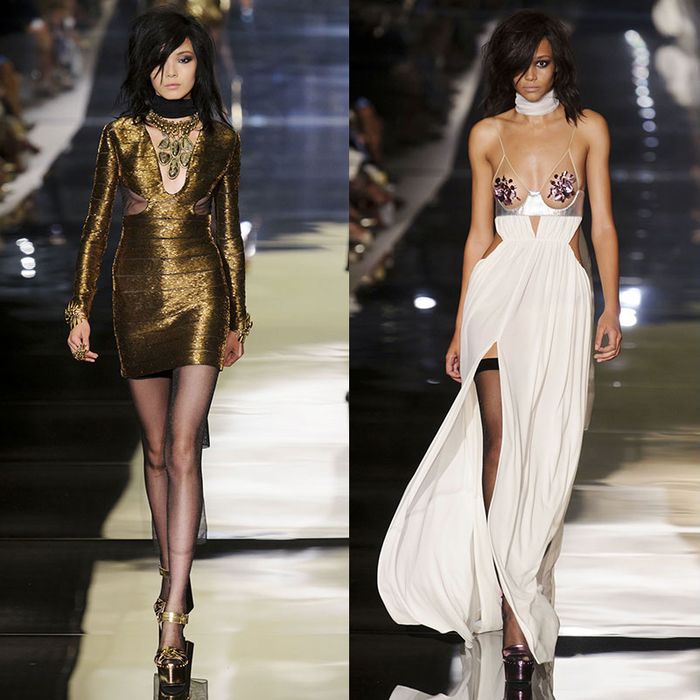 Oh, Tom Ford. We've long known that you were into sexy fashion — but was it really necessary to send models in nipple pasties down the runway on the evening that Anna Wintour brought her teenage nephew to the show? Oh, the awkwardness. What on earth will they talk about on the car ride home?
It started so wholesomely. They arrived early. Anna sat in her front-row seat of honor, next to Ford's partner, Richard Buckley, while her nephew Luke was assigned a place directly behind her. When Anna noticed that Lynn Yaeger would be sitting next to Luke, she gave him the heads-up: "Lynn works for us — she's quite eccentric." (The Cut was eavesdropping with all its might.)
Junior Wintour, as you'd expect, was flawlessly polite and immaculately presented in a suit. And boy, was he in for a treat.
In retrospect, it feels like Ford's entire SS15 show consisted of semi-nudes. If we cast our minds back, however, the early part of the collection was a fully clothed affair with a glam-rock feel. The models had shaggy Chrissie Hynde hair, black-rimmed eyes, and skinny silhouettes. They wore miniskirts, thigh-high stockings, and animal-print clogs — or sequined T-shirts with extravagant lurex flares. "Ford references his own work of the late 1990s but updates the silhouette with a contemporary edge," explained the show notes — but there was no doubt it was highly retro.
And then, suddenly, the breasts arrived. The evening gown and the nipple pasty aren't natural companions, but then these were what you might call "formal nipple pasties" — sparkling and formidable, like pairs of elaborate brooches perched insolently on the chest, against a backdrop of transparent tulle. The sheer quantity of them throughout the show made Janet Jackson's wardrobe malfunction feel prudishly reserved. By the time we went home, it had become odd to see people wearing shirts.
This was Ford at his most naughty and brazen, and when he came out for his bow, he looked delighted. Who will buy and wear these naked dresses and Über flares? Don't worry about it. For now, Tom Ford has renewed his status as the King of Sex.