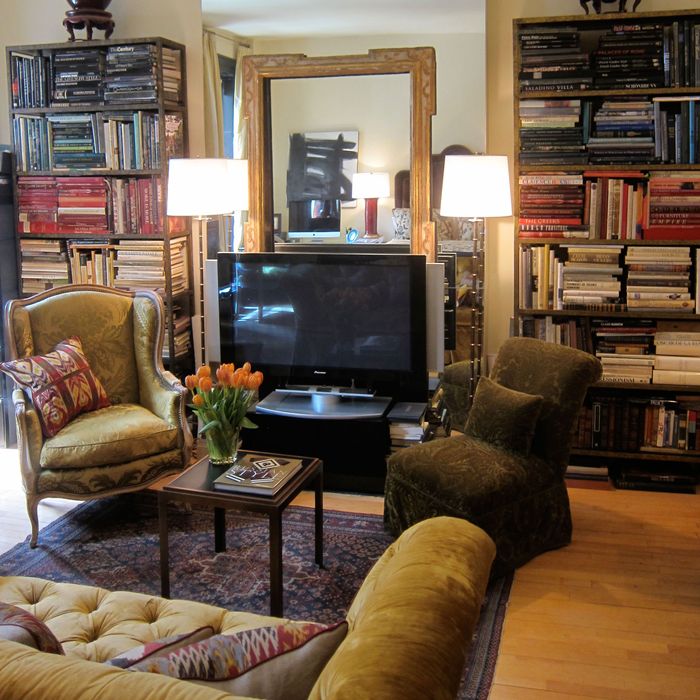 Despite some serious space constraints, interior designer Hamish Ross loves to entertain. He cooks up feasts on his two-burner stove, and guests rest their plates on their knees (atop Pierre Deux napkins) as they watch movies on his silk velvet couch from Christie's. Click here for a tour of his small yet stately digs.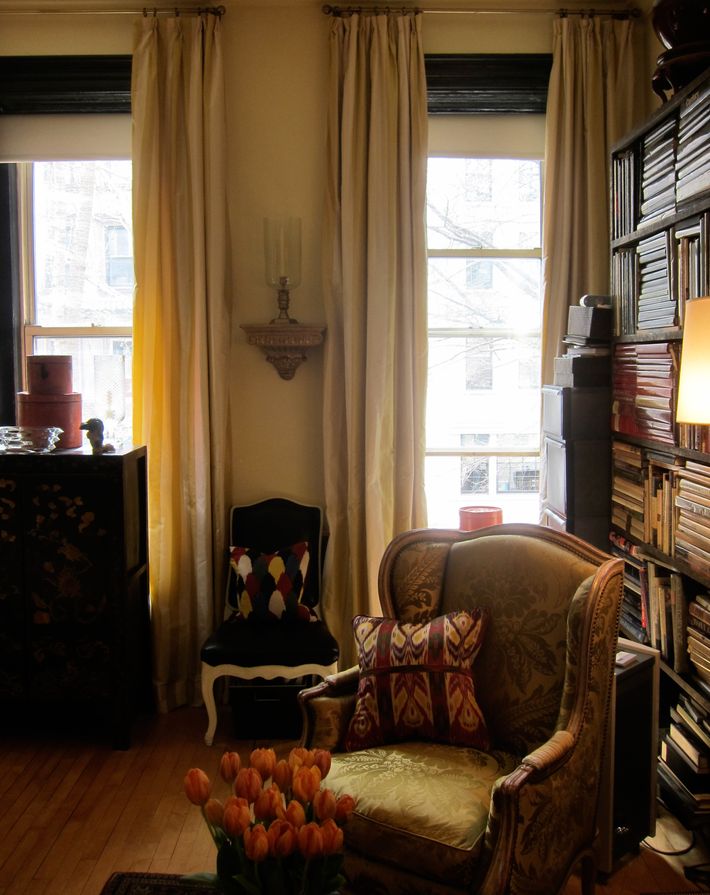 Ross lives in just the sort of townhouse that Truman Capote imagined for Holly Golightly in Breakfast at Tiffany's: a walk-up with graceful rooms that were once part of a single-family home. His studio on the second floor "serves as my office, living space, bedroom, library, and kitchen," says Ross. But unlike a lot of studios that disguise the bed, Ross has his out in the open, fully dressed, with no apologies. "Though not large, the studio works beautifully for entertaining," he adds. The silk upholstered Louis XV bergère from John Rosselli Antiques was the first piece of furniture he bought for the apartment when he moved into the studio ten years ago. "I love the color and that it is a bit threadbare."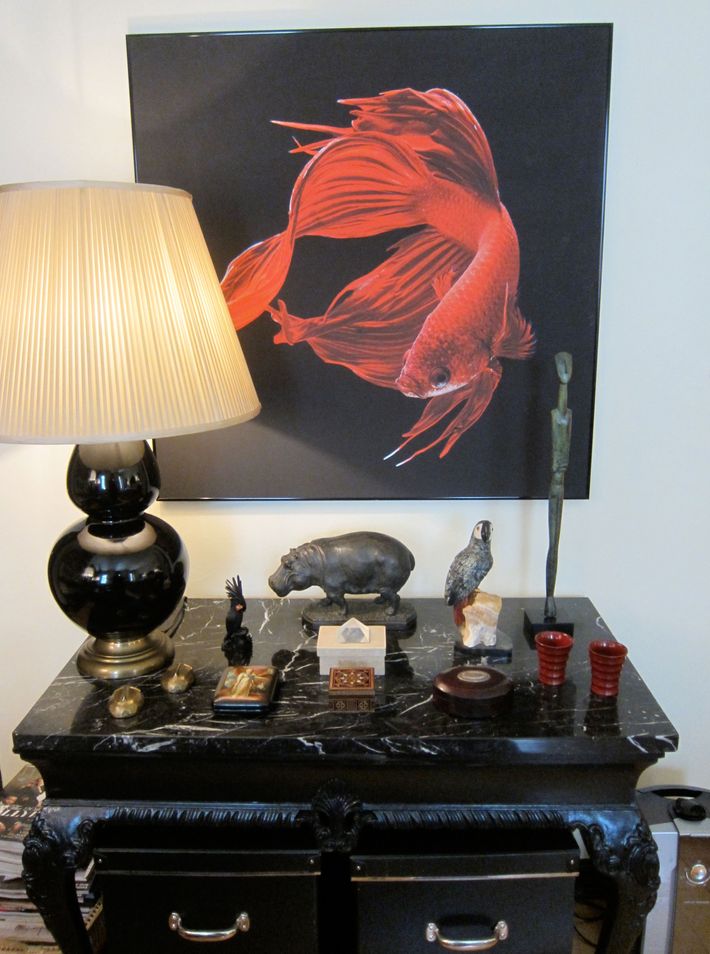 "I live with flea-market finds side by side with Crate & Barrel furniture and custom-made silk velvet upholstery," Ross says. The black storage boxes underneath the marble-topped table contain all of Ross's shirts, and he found the goldfish image online and then had it printed and framed. In San Francisco, where he lived in his first apartment, Ross says he "discovered the work of decorator Michael Taylor and his aesthetic, which mixed high and low so well. I realized that not everything needs to be fancy."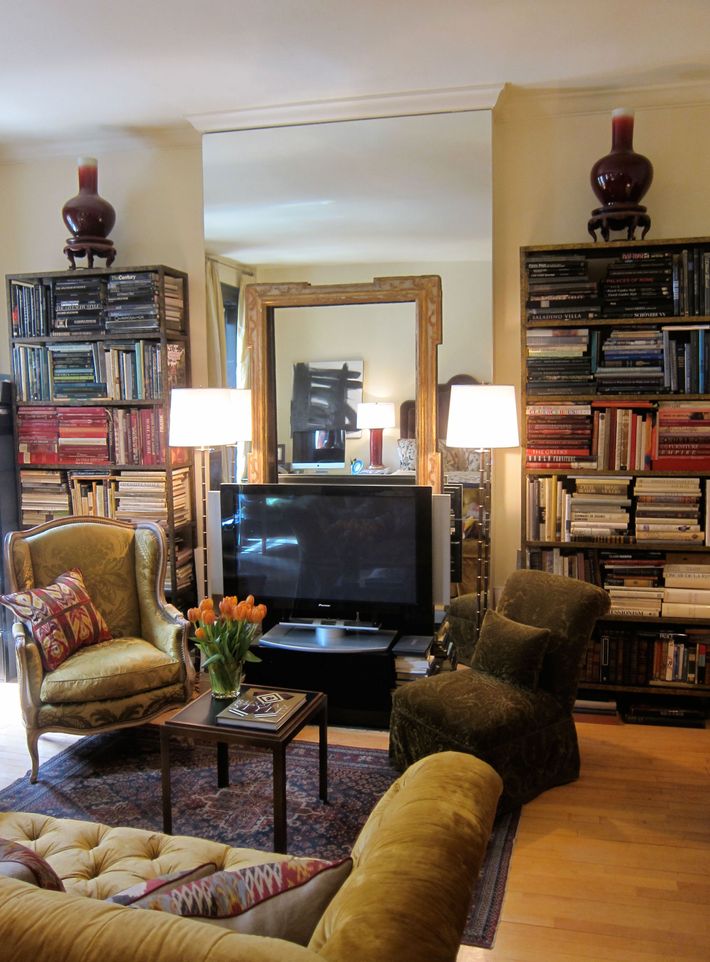 Ross proves that graceful living can happen in a studio the size of a shoe box. "I love to entertain and I love to cook. There is no room in the apartment for a dining table, so everyone eats off large plates on their knees with a huge napkin—all from the old Pierre Deux shop where I worked in my 20s—to prevent spills. No one seems to mind." He adds: "I use big, heavy Saint Louis wineglasses that don't topple over." The flat-screen TV feels like a hearth where guests gather round for dinner and movie nights. The matching bookcases are from Mecox Gardens. Ross mirrored the central wall and placed a large frame in the center, so it feels like you are looking through a door.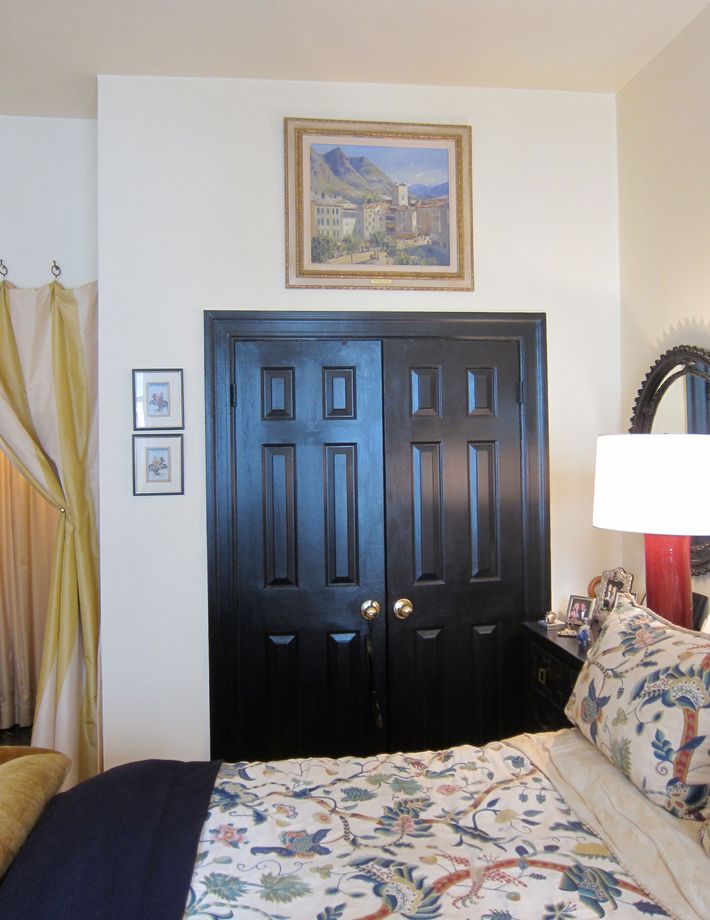 The bed faces the living area and is covered with hand-stitched fabric from Chelsea Editions.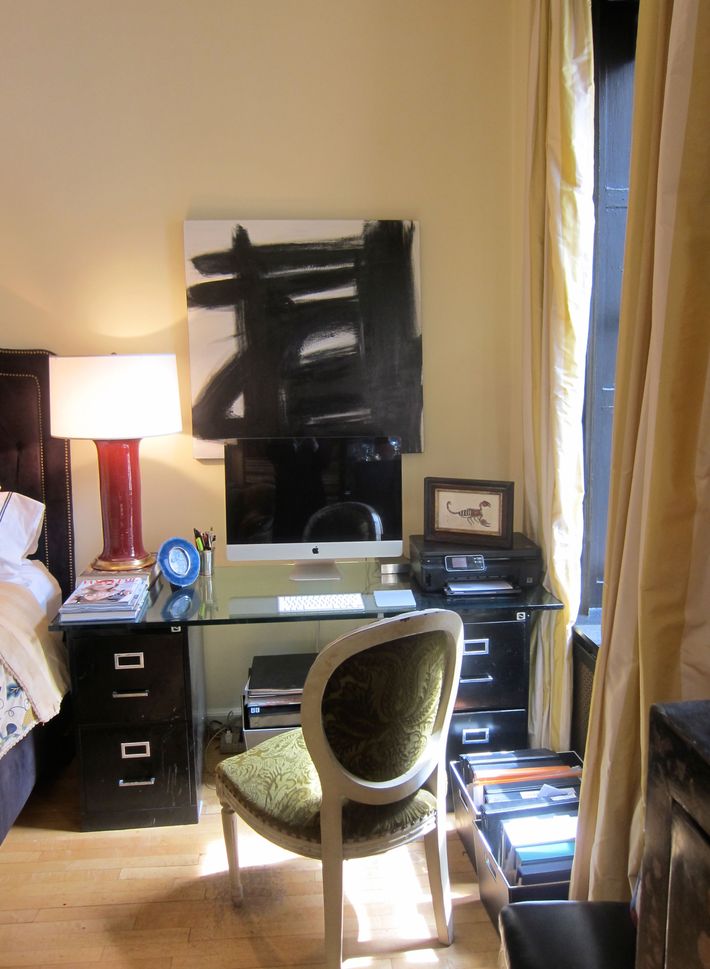 His home office consists of a piece of thick glass cut to size as a top over two filing cabinets. The Franz Kline–like painting was done by Ross's assistant; he studied the paint Kline used before attempting his interpretation, which has had Ross's curator friends doing double takes. The custom silk curtains were made from fabric found at Dolly Fabrics.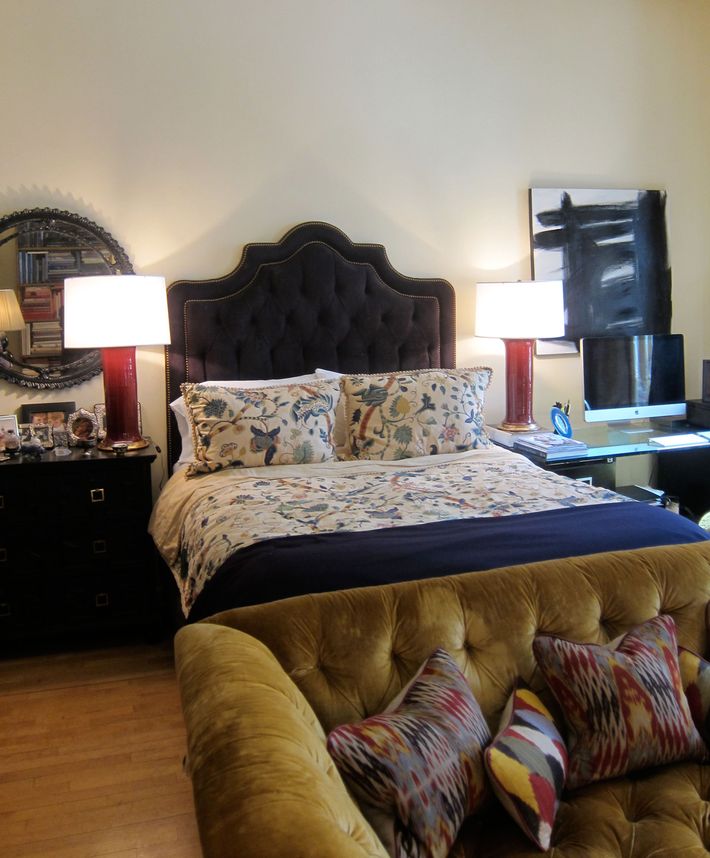 The bed was custom designed for Ross's old apartment on East 72nd Street, which was a lot larger. The silk velvet couch at the end of the bed was found at Christie's.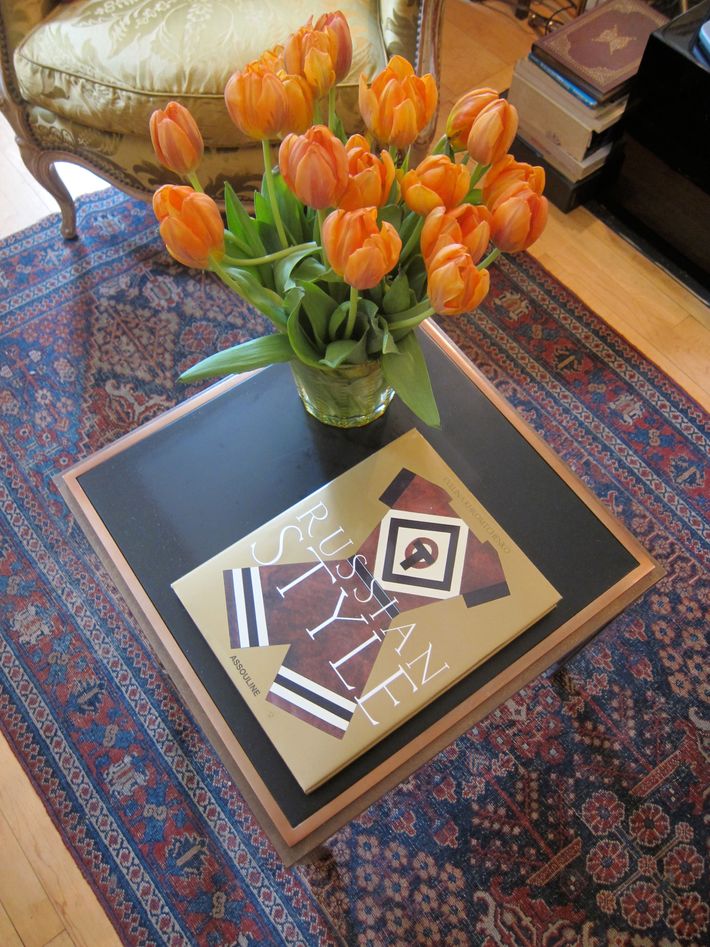 This perfectly sized coffee table is from Crate & Barrel, and the carpet is one that has been in the family for as long as Ross can remember. His mother gave it to him when he moved into his first apartment in Berkeley.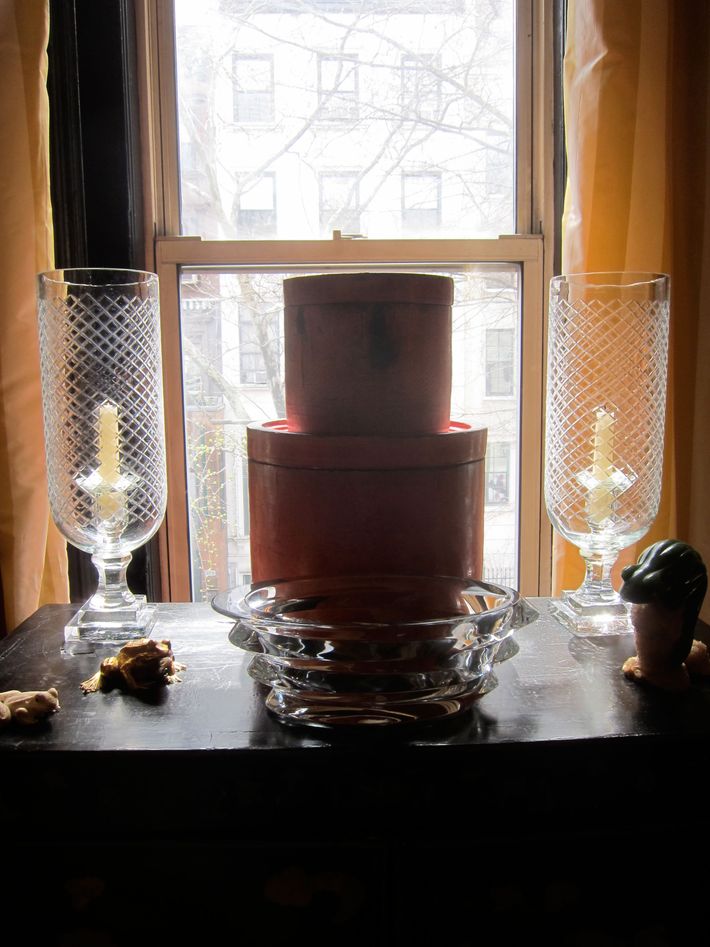 It's all in the details. The glass-cut candleholders are from the flower market, and the frogs have been collected over the years.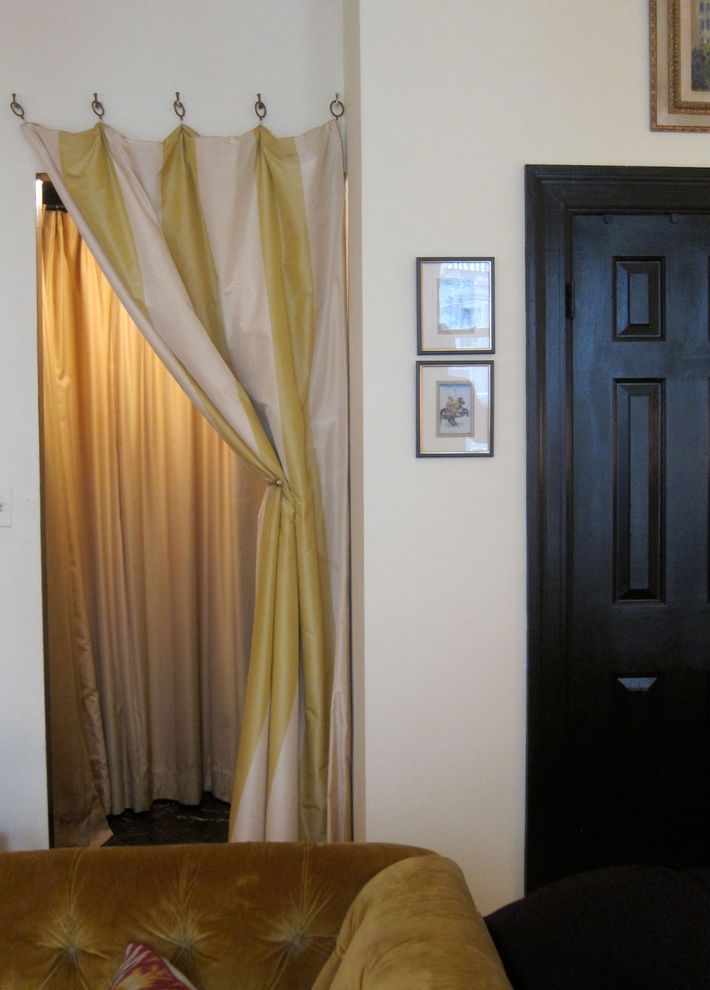 "Because the entrance of the apartment is through the kitchen, I decided to paint it black and fully drape it to conceal all the utilitarian aspects," Ross says. "When cooking, I simply pull back the curtains and get to work!" As space is so limited, he keeps only what he needs for entertaining four to six friends at a time, all stashed away in this tiny kitchen.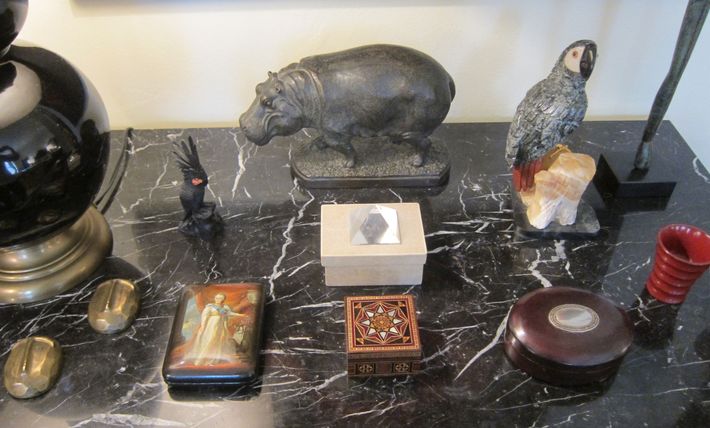 Here, a close-up of his tabletop still life: Ross's bronze mounts from Paris are placed alongside a bronze hippo from John Rosselli and a Catherine the Great–adorned box from Russia. Says his good friend antiques dealer Louis Bofferding: "Hamish can manage a half-dozen dinner guests with a two-burner stove. He lives and entertains like an aristocrat in reduced circumstances, but the atmosphere is always gay, generous, and luxurious."