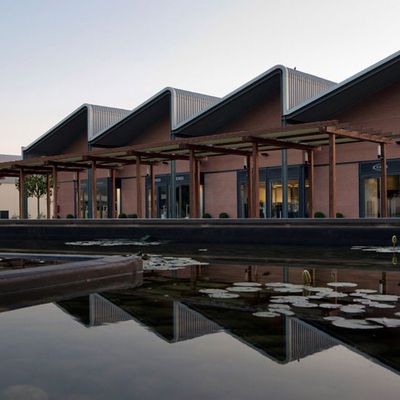 Photo: Courtesy of The Mall
My outlet finds are the prized pieces in my closet. A fire-red Alexander McQueen jersey number with a rouched-back that took me through a premiere at the Venice Film Festival, an A-list wedding, and a celebrity Thanksgiving dinner. Retail value: $1,500. Outlet price: $300. Then there are the Stella McCartney pants, perfectly tailored and quietly sexy, the staple piece for a stylish work lunch or cocktail party. Retail value: $1,000. Outlet price: $250. And then the shoes — my beloved suede Miu Miu pumps, patent leather platforms from Prada (these are less stripper than they sound), Sergio Rossi stilettos — all a steal at about 100 bucks a couple of years back.
In the years of hitting the Tuscan outlets, these highlights keep me going back. That in spite of some trips that were basically pointless, where trolling through multiple stores left me wondering what was going on with the stock or with me trying to shove my feet into a size too small like one of Cinderella's ugly stepsisters (I still regret buying a pair from Miu Miu because I get blisters every time; I guess I do get to gaze at them). And yet, like a shopping junkie, I return frequently, just in case this time I will find my next couture star, and because, unlike at many other international outlet options, these pieces are part of the real collections and marked down by 50 percent. Here are five tips to make the search a bit easier.
1. The early bird catches the worm, or the Prada: At Space, the strangely named and hard to find Prada and Miu Miu outlet, you must get a ticketed number before entering the store. Arrive at least a half-hour before the doors open (10:30 during the week and Sundays, and 9:30 on Saturdays) and after snagging your number, gear up for the hunt with a double espresso at the bar. At the Mall, which carries brands from McQueen to Lanvin and Pucci, doors open at 10 a.m., so hover outside at least 15 minutes before or have breakfast at the sleek new Gucci café. Stock is refreshed almost daily, which is why your arrival time is of the essence.
2. Avoid the busloads of tourists: Check out the bus times to the Mall and the train to Montevarchi station from Florence (from where Space has a free shuttle), and you can plan a stealth arrival without the masses. We aren't saying you won't seem crazy to your fellow travelers, but this is war, people.
3. Hit the sales early: The seasonal sales bring even deeper discounts, but you need to get there early for the best selection and deals. At both spots, the summer sales run from the beginning of July (with an additional 30 to 50 percent off) and the winter from the beginning of January.
4. Take the time to do the tax refund paperwork: If you are a non-EU resident, you can get a tax refund if you spend more than 155 EUR at a store, which works out for another 12 percent off.  The Mall has a tax back office right on the grounds but you can also take care of getting a refund at the airport, just give yourself extra time in case there is a long line of other rabid shoppers.
5. Prioritize your brands: Like with most outlet shopping, stamina and strategy are essential or you will get tired and overwhelmed. Hitting Space and the Mall on the same day is an exhausting proposition, so I advise choosing one or the other and devoting yourself to finding the best buys at each. If you worship at the shrine of Miuccia Prada, then devote your pilgrimage to her, but if you want more of a range, then head to the Mall. Now that they are carrying even more brands like Stella McCartney Kids, Tom Ford, and Yves Saint Laurent, I am on Team Mall.