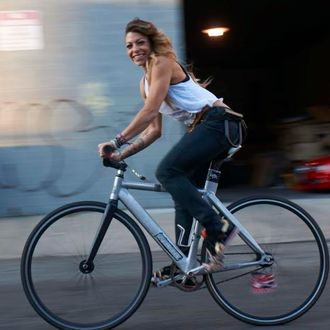 Transcendent Beauty – SK-II Series on Lifestyle & Skincare
SK-II's miracle ingredient, Pitera™, was discovered after noticing how remarkably soft aged sake brewers' hands were, in contrast to their wrinkled faces. Scientists discovered that a mix of vitamins, amino acids, minerals, and organic acids in the brew triggered skin's natural rejuvenation process. SK-II believes in the link between a healthful lifestyle and healthful skin. In part 3 of a series that delves into the connection between a balanced life and balanced skin, we explore how high-intensity exercise affects your outer beauty.
"It kinda moves away from the science of spinning and into the party aspect of it," says Kym Perfetto of her teaching style at SoulCycle. As one of the country's foremost spinning instructors, she knows that making you sweat is making you strong. But Perfetto, who grew up active (her mom was a step-aerobics instructor), has also mastered the art of motivation. As her students can attest, there are many spin instructors out there, but Perfetto is singular in possessing a big, buoyant personality that truly matches her music-thumping workouts. Her philosophy is just as direct: The happier you are, the harder you work out—and the better you look and feel.
"We turn new riders into regulars at a very astonishing rate," Perfetto says. "A lot of other workouts, when they're brand new, can be intimidating, overwhelming. They can make you too sore. But once you come here, you start to feel better about yourself." She's also mindful that an effective workout needs to be adaptable. "It's very beginner friendly, but actually has a huge range. You can make it as hard or as easy as you want to," she says. "And it doesn't hurt that we have celebrities that come…."
"The sprints are 20 seconds long, and your reps are about a minute long," explains Perfetto, of her tried-and-true classes. "And then you're going to go another 20 seconds as hard as you can. But that's just an average mainstream dance song these days. So I'll pick the ones that are perfect for that, so that the cadence is right."
"I'm a National Academy of Sports Medicine certified trainer," she says. "The mind-body courses that kind of cropped up in the past four years are my favorite: the science of willpower, and how to motivate people." Perfetto, a sprinter, keeps her students invigorated with high-intensity intervals that work fast-twitch muscle fibers, which increase power. "I like that intense burn," she says, laughing, "but nobody likes that for a long time."
A healthy lifestyle incorporates an all-natural beauty regimen. Although Perfetto spends her entire day sweating out toxins, her skin's surface needs still needs attention. SK-II Facial Treatment Essence, which enhances the skin's natural renewal cycle, is the foundation for a radiant complexion.