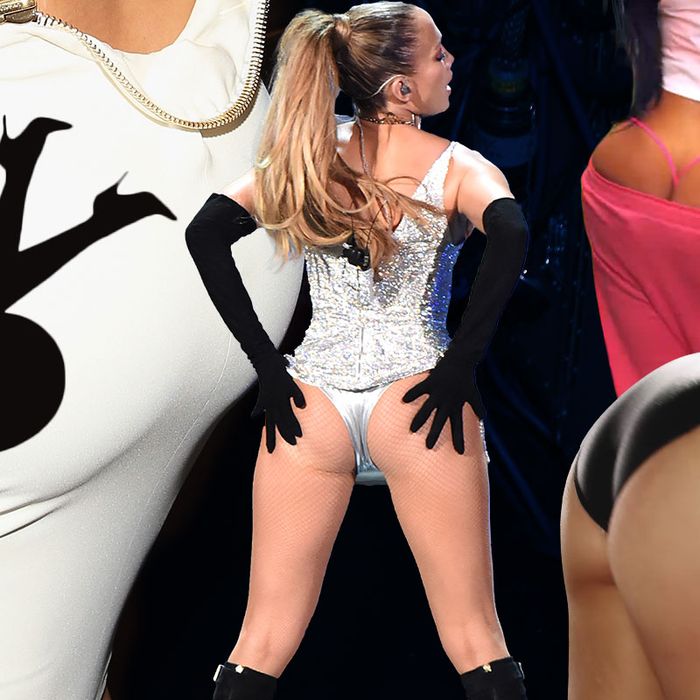 Guys. Guys! Big news. Vogue just declared big butts a maj trend. No, I know that plenty of other people have been into butts for awhile. But now Vogue (Vogue!) is endorsing a plump butt with all its might.

In anticipation of the video for J.Lo and Iggy Azalea's "Booty," they write that culture is currently having a moment where  "… in music videos, in Instagram photos, and on today's most popular celebrities, the measure of sex appeal is inextricably linked to the prominence of a woman's behind … It's safe to say that, this time around, the world is thoroughly ready for the jelly."
Brava, Vogue: Let's just call you Christopher Columbus, because you have planted your flag in something culture's been okay with for some time now — the fact that some people have big butts and other people appreciate them.
Vogue explains that, while the booty had been traditionally shunned,  "even" in the ever-accepting fashion world, the world at large was loosening up its staunch opposition to curvaceous ass because of pioneers like Kim Kardashian, Beyoncé, J.Lo, and, of course, Miley Cyrus for pushing us all towards a society tolerant of a woman with a rump.

Well, let's just stop there. If you have to cite Miley Cyrus as a reason that being proud of your curvy butt is now acceptable, you're missing the point. First, suggesting that the booty has been shunned by larger culture is ignoring much of black and Latina culture, where an ass that can shred a sample size has always been celebrated.

Besides, Vogue is completely misunderstanding the cultural moment the ass is having. It isn't even a direct revolt against a standard of beauty that favors waifs. When Nicki Minaj sings, "Fuck those skinny bitches in the club / I wanna see all the big fat-ass bitches in the motherfucking club," she isn't saying, Thank God the world (and Vogue) is finally okay with the curves that I have been given. I was not validated before this explanation. She's saying, People have been celebrating this ass in these jeans for some time now; keep up.

 But, hey, at least this is Vogue endorsing an affordable trend! Squats are free.